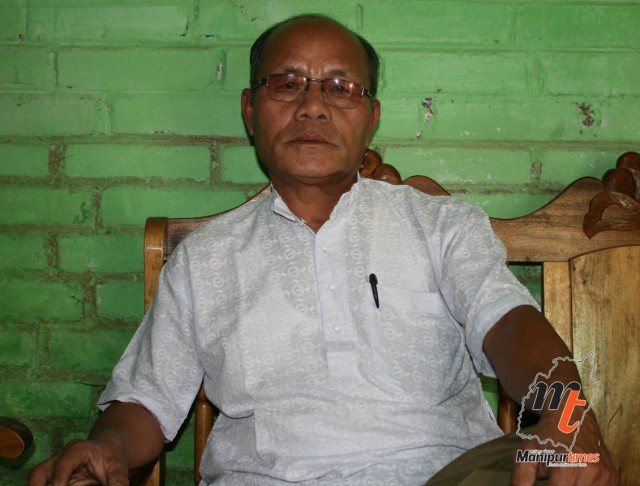 Among the rich cultural heritage of Manipur, folk Music of the Meetei ethnic like Khongjom Parva, Pena, Khullang Esei, Khunung Ishei and other songs of Lai haraoba, Lou-ngaak Esei, Naoshum Esei, Naothem Esei etc., which is closely associated with the life, legends, myths, history and philosophy of the indigenous people of the state, plays a key role in identifying the tiny Manipuri nation globally. However, this particular age-old art form is on the verge of extinction with the present young generation sidelining folk music and opting for modern Manipuri songs for instant fame and fun and the middle-aged ones going for Nat sankirtan for easy income. In such a crucial juncture of the unique art form, renowned Manipur folk singer Thongam Gose Meetei is making relentless efforts to preserve the dying traditional folk music.
The 61-year old folk singer Thongam Gose Meetei needs no further introduction. His name is very popular in every household of the state.
His yester-year life
Born on October 12, 1954 at Nagampal Singjubung Leirak, Imphal to a family of progressive culture promoter, Thongam Goshe Meetei is the eldest son among two siblings of Thongam Achou, a Nata Sankritana Artiste by profession and Thongam Ongbi Komla. He began his artistic career as a folk singer in many school functions at a very early stage. He was also a well known master craftsperson in the field of designing and making of costumes related to Meetei traditional costume as well as Radha Krishna Leela. Gose Meetei is an approved AIR Manipuri folk singer.
He got his primary education from Gandhi school, Nagampal which is now defunct and passed matriculation from tombisana High school. He joined the then students' movement 'Chaklam Khongchat' in 1965 when he was a student of Ramlal Paul high school. He graduated from DM College, Imphal.
My original name was Budhachandra. But my aggressive father, who was a man of anti-gandhian philosophy but a staunch supporter of Netaji Sobhachandra, changed my name as 'Gose' taken after the name of Nathuram Gose who killed Mahatama Gandhi, recalled Gose Meetei.
Prior to his artistic career as a folk singer, Goshe Meetei was a singer of Manipuri modern song. Once he joined Audition in All India Radio for becoming an approved singer. However, he was not selected by the AIR authority stating that his voice not found qualified for broadcast. Frustrated at this, he learnt Manipuri folk song Khunung Ishei under the guidance of various gurus like Ima Ibeni, Oja Khongnang etc. He also worked as a binder at Prajatantra press and manager at Hueiyen Lanpao daily.
Gurus behind Gose Meetei
Goshe received training in folk song from his tender age from eminent ballad singers like N Ibeni, Devi(national awardee), Wangoo Oja Khongnang, oja Kamini, Oja Thotpi, oja Joykumar of Tera and oja Uyan Ibomcha. He learnt the knowledge of dance under various Gurus like Guru Kamini and Guru Indira of JN Dance Akademy.
Professional activities
He has composed music in folk arts and styles of presentation for fellow singers and produced 23 numbers of audio cassettes to his credit till date. He was selected as an approved artist of All India Radio and Doordarshan. Goshe participated in different concert programmes sponsored by AIR and other agencies in the state and various parts of the country. A director, actor and singer Goshe so far directed a number of folk plays including the national award winning short play " Maikhum" in 1991. He also rendered folk songs in a number of Manipuri films like Kombirei, Thambalnu and Khamba Thoibi.
Goshe has also directed several folk plays and dance dramas. Among the folk plays he directed, Loikum Loika folk play, which depicts strong bond of love that existed between Princess Thoibi of Moirang kingdom and Khamba, the orphan, can be mentioned. The play takes us back to the times when Manipur was divided into small kingdoms. It revolves around the themes of love, hierarchies, and the range of the human emotions manifested in times of love and war. Chingkhuba, Thoibi's father wants her to get married to Nongban, the rich villain. The lovers encounter many obstacles and go through several ordeals, sufferings, pangs of separation and pain. The two finally united despite the efforts and schemes of Nongban, and they live happily ever after.
Gose has earlier directed more than 40 dance dramas to his credit. Koubi Kei-oiba, Petanga, Tonu Laijinglembi, Ingalei, Ingeli, Tangkhul Nurabi are some of the popular dance dramas he directed. Under his cultural institute 'Sheishak Sheitam Sheitam Shanglel', he is providing training to about 50 students.
Manipuri folk music, which was once in a deteriorating state, is now reviving gradually with many art lovers, organizations are coming up nowadays. I am so happy to see many lovers of the art form coming up. Above all, Manipuris are realizing the importance of protecting such dying folk culture, he said.
Famous Manipuri folk music – Khullang Ishei, Khunung Ishei etc evolved from the creation of earth. Preserved usually by oral tradition, there is no any lyricist who wrote the script of such Manipuri folk music.
Khullang Esei, one of the most precious folk music of the Meiteis, is completely the improvisation of the singers without any written script and musical instruments. Khullang Esei is sung while concentrating on a physical work. Singing Khullang Ishei while on work not only breaks the monotony of hard-work, but also hastens the progress of the work. Loukaa Esei, Loutaa Esei, Lourok Esei, Loungaak Esei, Nonglao Esei etc. are some of the folk songs commonly sung during work. Khullang Ishei is still vogue in some villages of the state like Kakching, he said.
According to noted Manipuri lyricist late B. Jayantakumar Sharma's article on Manipuri Esei, origin of Khullang Esei may be traced from pre-historic times. Nowadays, it is performed in the Lai Haraoba festival as "Paosha Esei", a song sung by 'Tangkhul Saram Pakhang' and 'Saram Nurabee'. It is believed that God Nongpok Ningthou and Goddess Panthoibee who disguised themselves as 'Tangkhul Saram Pakhang' and 'Saram Nurabee' sang the song during their encounter in the working field at the hill slopes. The tradition is believed to have been handed down from generation to generation orally. Myths also depict that the Khullang Esei was originated from the exchanges between Nongthang Leima and Haraba during their first meeting.
[ecwid widgets="productbrowser search minicart" categories_per_row="3″ grid="10,3″ list="60″ table="60″ default_category_id="21294227″ category_view="grid" search_view="list" minicart_layout="MiniAttachToProductBrowser"]