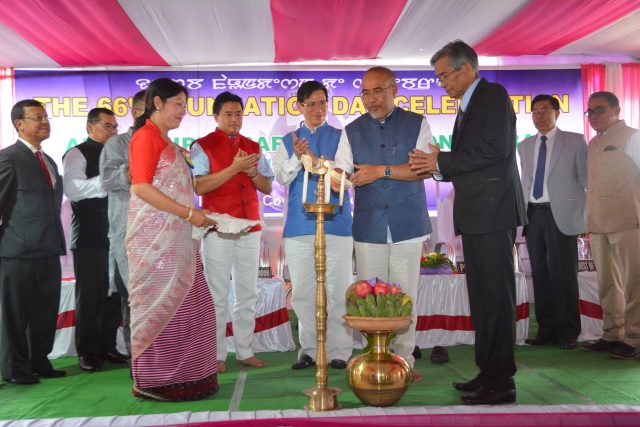 Imphal, September 15, 2017 (DIPR): Chief Minister Shri N. Biren Singh said that the new government is working tirelessly towards building human relationship in bringing emotional integration of all communities and deliver good governance with human touch in the State. This was stated by him at the celebration of 66th Foundation Day of the All Manipur Bar Association (AMBA) held at Lamphel Court Complex, Imphal today.
Chief Minister further said that the new government is working on priority basis in developmental work such as socio-economic and infrastructure development of the State. The government is working on war-footing and is committed to speed up the pace of developmental projects in the State, he added. Mentioning the importance of Judiciary, Chief Minister said that the government is giving its priority to Judiciary and would extend every possible help for the development of an effective judicial system and institutions in the State.
On the occasion, Chief Minister praised the All Manipur Bar Association (AMBA) for organising legal awareness programmes and sensitisation of legal provisions towards creating law abiding people of the State.
During the function, a two minute silences was observed as a mark of respect to the departed souls of the members of AMBA. The Chief Minister led others offering rich floral tributes to those departed souls of the Bar.
Minister for Law and Legislative Affairs Shri. L. Jayantakumar Singh, Minister for PWD/IPR Shri Th. Biswajit Singh, Chief Justice of High Court of Manipur Justice N. Kotiswar Singh, President, AMBA Shri H. Chandrajit Sharma, Judge, High Court of Manipur Justice Kh. Nobin Singh, Advocate General, Manipur Shri N. Kumarjit Singh, Chairman Bar Council of Manipur Shri O. Modhuchandra Singh, President, High Court Bar Association of Manipur Shri H.S Paonam, members of AMBA attended the function.