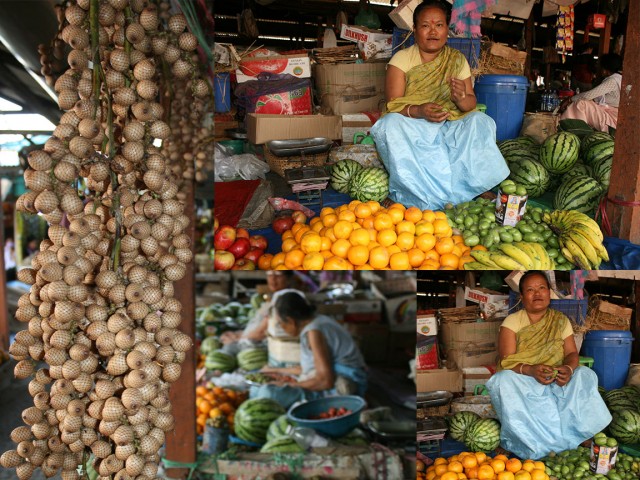 My husband passed away ten years back leaving me with all the burdens to maintain the poor family with three kids. Running a family without husband is a tough job. It was not difficult much to maintain family when he was alive. I am not educated, so all I can do is sit under the sun and sell vegetables, there is nothing much I can do otherwise to support my family. Life is not easy for a poor, uneducated village woman like me. It is a constant struggle for survival and earning my best, revealed Luikham Guni Devi, a woman vendor who elks out a living by selling varieties of fruits and vegetables at Khwairamband Keithel.
A young woman of 35, mother of two sons and one daughter, Luikham Guni Devi hailing from Langjing Achouba is a hard working woman who has come out defying all odds to show the world that women are no inferior to none and can do all the works any man does for a living. Braving the scorch sun and rain, she has been carrying out her business in the market for ten years to keep the kitchen fire burning, provide food for her kids and send them to school.
Guni Devi sells varieties of seasonal fruits and vegetables including apple, orange, grapes, pineapple, olive, gooseberries, heiri, cabbage, tomato, brinjal etc. The apples, oranges, grapes are mainly collected from the non local wholesalers while other fruits like heiri, pineapple, gooseberries etc locally available abundantly from the local wholesalers coming from the hill villages. Her space in the market is a family legacy that has been passed down from her mother-in-law who occupied this position until she turned 90.
Guni Devi got married with one Luikham Amusana of Langjing Achouba, a tailor by profession. Their marital bliss vanished all of a sudden when her husband passed away due to an illness leaving the family to an extreme poverty. She had to take all the responsibility to take care for the children without her husband.
"I don't know how I would tell you about how a poor widow strives to earn money to maintain the family with the scanty income. His sudden demise at a young age left my family in the ocean of grief. Alone, I had to take the responsibility of day to day family maintenance. I had to adopt any n job available in the struggle for survival. Now the days of my sorrow have passed with my children getting matured enough to help me, Guni said.
Compelled by poverty and unable to meet the family expenditure by weaving clothes on handloom at home, she was forced to come out as vegetable vendor like other woman in the Khwairamband market. She followed her mother in law, a vegetable vendor by profession in the Khwairamband market. She got the business know how entirely from her mother in law.  With the income earned from the business, Guni Devi has now been able to maintain family comfortably to some extent, send her children to school, buys clothes for them, provides abundant food to her children, she said adding "while my husband, the sole bread earner was alive, we could manage the family comfortably with no much troubles or hardships. Huge expenditure was also invested in the effort to save my husband lying in hospital bed. With all my children having matured fully, they are supporting me a lot", she said.
At least, I can earn Rs 500 to 1000 a day from selling fruits and vegetables. Sometimes, if luck favors the day, I can even earn more than Rs 2000 a day. The best sale is during festival and religious ceremonial seasons like Ningol Chakouba, Wedding, Cheiraoba when many costumers throng the market, she said.
She said that Khwairamband Bazar has witnessed a rapid increase of woman vendors taking up marketing business at road sides and other odd places day by day due to myriad reasons. Among these women, there are many widows whose husbands have been killed in fake encounters or died due to accident or illness. The poor widows, braving all odds and avoiding shyness, come to the market to sell different product at road sides and other odd places under sun and rain without any proper market shed. Out of the increasing women vendors, very few vendors have the advantage to market their wares at ease at their own Plots. As such, compelled by the struggle for survival, many woman vendors come out to market their products in any available space of Khwairamband keithel, may be on the footpath or odd and stinky place despite knowing carrying out such business on roadside have caused traffic congestion.
"Traffic Police used to wipe away us and throw out our products mercilessly on the street.  Even as we are proud of our contribution in running our families by selling different produces and articles at road sides, women vendors have been enduring such difficulties. Helpless as we are, we have no other option but to endure the inconveniences", she confided.
[ecwid widgets="productbrowser search minicart" categories_per_row="3″ grid="10,3″ list="60″ table="60″ default_category_id="21294227″ category_view="grid" search_view="list" minicart_layout="MiniAttachToProductBrowser"]