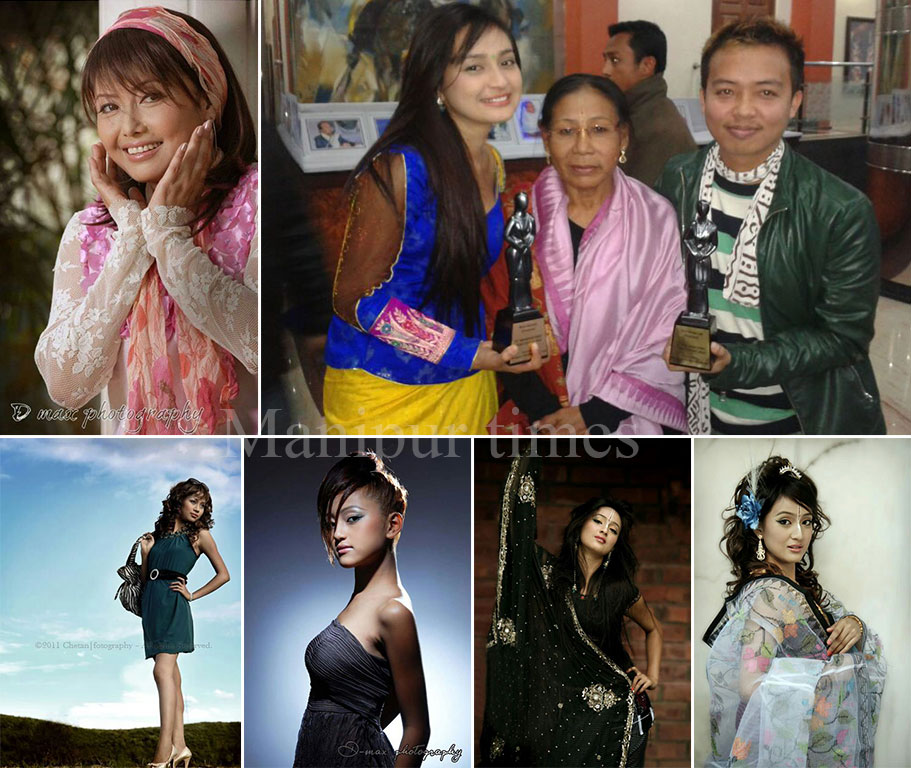 Continued from last episode 
Saloon and Film making.
I opened a saloon in Imphal for two years at Paona Bazar. Started  exploring the film industry as it make a progress.
Thabal is one film where Gyanand design the costume totally. the costumes were made on the spot with straws and leaves. His movie has picturesque landscape which he recalled and searched for during his visits for designing works. His idea behind the making of the film was not commercial. His approach was a unique piece and to show some change in the film industry through his design works and landscape choices.
After a year or two he wants to do a film again. He wants to depict his designing skills of modern outfit. Thabal was a traditional concept using old time values for an ancient taste.
So far Gyanand has choreographed several dances in 50 manipuri films. He also did make up for many Manipuri films. Recently he won the  State award for Best Make up in Yaiskul Pakhang Angaoba.
Generax Show
Gyanand did a fashion show way back in 2007 at Kakching.The event abrupted before the end as the crowd was not manageable. Huge number of people turn up. Afire broke out in the event site. He make a promised that he will bring the show again at Kakching after 10 years. Time is yet to come but he is making plans. However recently GENERAX 2014 was a success at B.O.A.T with a magnificently set up stage and an entertainment filled ramp with live music,kids round, traditional attire round, casual as well as star studded evening.
Team work in setting up Beauty Academy
I teamed up with Bhomechand who was a Chennai based musician and known to me. He was in the event management line and has worked in the field. With our own experiences we started planning for a show and an Institute. We chalk out a way, he was interested and we start off an academy.   
An academy was materialized in 2013. Our hard work and unity brought us success. For a Model agency exposure for students was needed so we did GENERAX 2014. I like kids a lot and we worked on it. From Thoubal District alone  20 talented kids were selected.  They come from well to do family. We want to groom from grass root level. In also sunday we did classes.
Tradition, culture was the main focus of the show.  There was creative round in Entertainment. We wanted to promote the indigenous things.
Senior male and female models make their appearance and around 40 kids walked the ramp. Choreographers, singers dresses were designed for the show. They make a live music performance fully attired to suit the event and set up. I had always wanted to highlight the combination of Film and Fashion industry.
We had a two months off for our institute and focussed on GENERAX 2014. Graphic work was a good contribution from Bhomechand. All my team mate did well and our show was a success.
Marketing
The Main academy Gyanand Beauty Academy is in Kakching, Department of Fashion operates in Imphal. Gopeshwar Meitei looks after the Kakching department of production. Beauty focus products for Male like Meitei Pumyat Pheijom are the main focus of production to meet the local demands. The Academy makes their own design giving figure fitting designs. Meitei prints symbolizing – thangtup mayek etc. are made to give an indigenous touch to the products. The academy is collecting prints till now. The outfit would appear like imported product but deep inside you can distinguish it as that of Meitei indigenous prints. The academy has been promoting traditional items.
For Female – Blouse, Tops, Phanek Mapan Naiba, Chuni, Muga Enaphi, Pure Silk Rani Phi, embroidered local traditional designs on plain clothes.  The skilled weavers took 7 to 10 days in completing a design product.
We focus on traditional wedding dresses as demand is high. The academy also gets order for extra film album or any show. Some people ask for Saree or Ghagra and we deliver them but demand is very less.
In Thoubal, the Academy is a big demand.
Rani phi is the most priced and special dress. Man's garment is easy to stitch while woman's is hard to work feels Gyanand. 
In earlier time the academy procure raw material from Guwahati, Kolkata and Delhi and designs were put on for a finish product to be sold. Nowadays putting designs on Rani Phee is quite popular. Paste work is quite a trend in Manipur feels the academy.