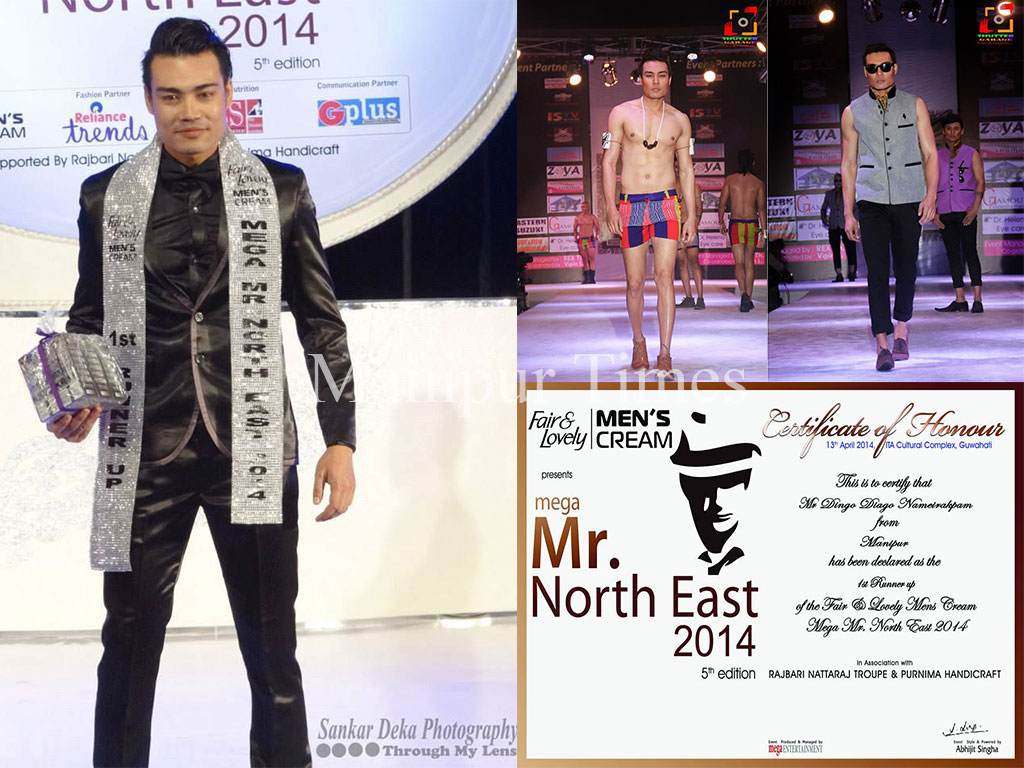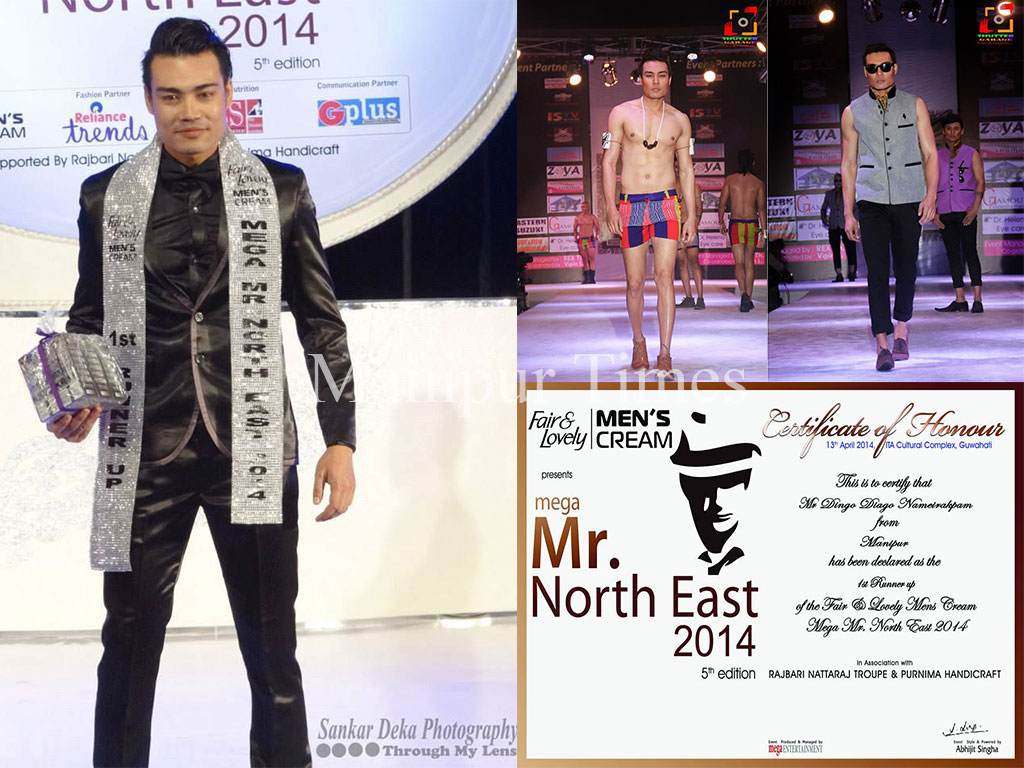 An exciting chit chats with Nameirakpam Dingo who clinched the first runners up title in Mega Mr. North East Contest. The humble young man who believed and excelled in modelling had to share few of his thoughts.
Tell me something about Mr North East.
The Mega Mr. North East as well as Miss North East is the most prestigious Mega Fashion Event of North East. Every year Mega Entertainment who organized the show is in hunt for three most desirable man and women from the entire North East.
The man behind Mega Entertainment is Abhijeet Singha. This time it was held at ITA Cultural Complex, Guwahati.
We have to reach six days earlier before the event. We were groomed by experts as soon as we reached for the competition. A very exciting and challenging event was the day when we were given a coupon worth a thousand Rupees in a Shopping Mall by the organizer to access our fashion flavor.
We have to buy a dress of our choice. Then wear and walk along the aisles of the mall where we were witnessed by visiting crowd in the mall.  We were then put into a question round where we justify our choice of cloth within the budget. That was quite lively for a competition it was just instant and refreshing. It gives us a real test.  
Fourth day was the prejudging round where every participants were interviewed individually by a panel of judges. I was asked about our State. Post interview I have to walk a ramp before the jury. From this round best 15 were being selected.
How do you come to know about the contest?
I happen to meet Kavita, the State Coordinator for Mega Entertainment during Manipur Fashion Extravaganza 2012. She is known to me since then. Kavita a resident of Sega Road near Hotel Excellency alerted me to join the audition for the contest. I got selected and that is how I get into the competition.
During the contest we were given facilities and escorted in luxury car and the event was a grand one. They have organized the event very well.
How do you feel when you meet people from across the North East?
All participants of Mega Mr Northeast were staying at Shilpagram Guwahati a guest house for all the States of North East. The Guest house also host stalls from each State with cultural representations.
They provided a big hall where all participants gathered. We were interacting with each other. It was a good time for exchanging ideas. We chat on culture and tradition moreover we were also making fun with each other. Jokes, prank, laugh and feeling of togetherness.
Question in the last five finalists round
The question I was asked by the Jury in the final round was –
What is the advantage and disadvantages of today's social network?  
From among 6 contestants 3 each for Mr and Miss North East representing Manipur four of them got into the last five finalists round. All representatives of Mr Contestants from Manipur – myself, Agu and Suman entered the final round. Purnima Chakpram from Manipur was among the five finalists in the Mega Miss North East contest (Fifth Day) held a day earlier from the Mega Mr. North East contest.
After the competition photo shot of title holders with official photographer Rahul Biswas was held.
What do you feel when you clinch the title.
Everyone's joyous and happiest moment is when they achieved something in their life and I felt the same when I clinch the title. In fact a proud moment too as I stood second position among 27 contestants from different States of North East.
I am glad to have represented successfully for my State. Little depress for not winning the title as the crowd supported me most when I gave my answer in the final round. My mood changed at the end of the day as people started greeting me. I was exposed to several photo session and got lots of encouragement from different people belonging to different communities. I felt like touching the sky at that moment.
Prospect of winning the First Runners up Title
Now I am in a year contract with Mega Entertainment. I have to appear in any fashion show or photo shoot alerted by them. They will send me the travel tickets and I will be allotted hotels for stay and they will bear all my expenses.
At the end of the year they will hand over contract fee for my engagement during the contract period. 
Hobby, Message, and first ramp you walked.
Hobby – Social networking, chatting, group discussion on a topic, loves to play all sports.
Fav. Place – I wish to visit Dzuko Valley which appear like a hillock with uniform grass. If I do a photo shot with traditional attire it will represent our dress and natural bounties as well.
Food – Season's variety, nowadays I like Sougri (May 2014).
First Ramp – I participated in Manipur Fashion Extravaganza two years back and that was my first appearance. Ms Schrider from Bangalore who came for the show as ramp choreographer groomed me for the show.
What inspires you to be a model?
In my childhood days I used to sing and dance a lot in front of my family members. As I grew up I was more involved in my studies. After finishing my graduation my friends and whoever person I came across gave remarks that I could be a good model. I gave a try and that was how I joined my career.
Guide
My guide who help me during my career as a model are Halley Laitangbam, Somen, Sailesh Nongmaithem.
Modelling in day to day life
After I entered modelling I felt like working out to be healthy all the time. I felt the need of staying tidy and to be well dressed. I sense a clear mind and thought in me. I started interacting with stranger in social, gathering. My Career helped me involved in higher knowledge. Personality character build up is another thing I gain from the career.
How did you keep your health?
I usually go to gym for five to six days a week. Cardio exercise which includes running till we sweat where we burn our fats is one compulsory thing I maintain.
We have to be fit all the time because we never knew when we have to walk the ramp it could be any point of time in a year.
Playing gym for modelling and body building contest differ as the later includes gaining masses for competition. There is off season to gain mass in body building gym approach. For a model like us there is no off season. Every morning I am regular to Gym.
In the beginning I even took supplement in credit from the shops. I was so enthusiastic about my modelling career. I save all my money for the food supplement. I cut my expenditure in other youthful activities. The gym shaped my muscles with my regular practice.
Prospect of a model in Manipur.
Fashion market is small so modelling prospect is less in Manipur. We need to be very professional. And only the professionals should walk the ramp. This way model will have a place in the society and a niche in the glamour world with good source of income for the events they appear and contracts they sign with any brand for promotion. 
Professional Model
During my starting days I use to even buy food supplements in credit as I ran short of money. I use to save money for food supplement and I do not spend in any other things.
I want to be very professional in my career. I knew some of my seniors who gave no consent for appearance at a music album after gaining popularity as a model. I want to keep my profession and grow as a model like my seniors. It is always good to be in the profession and bringing out the best in ourselves by just following a straight track.