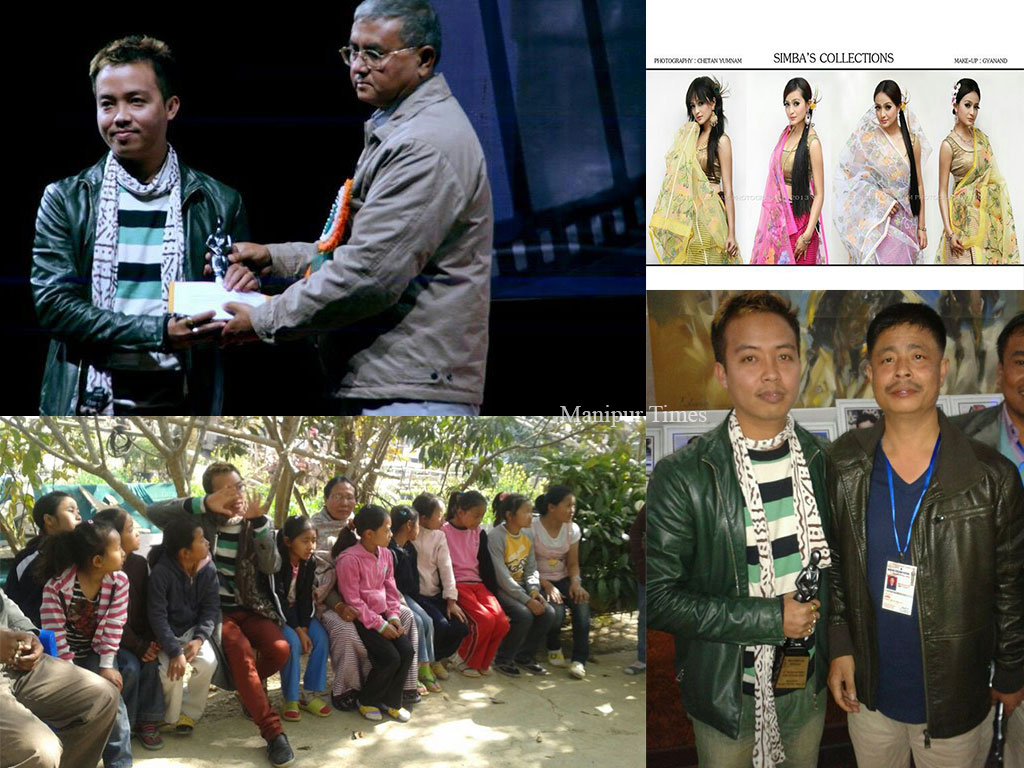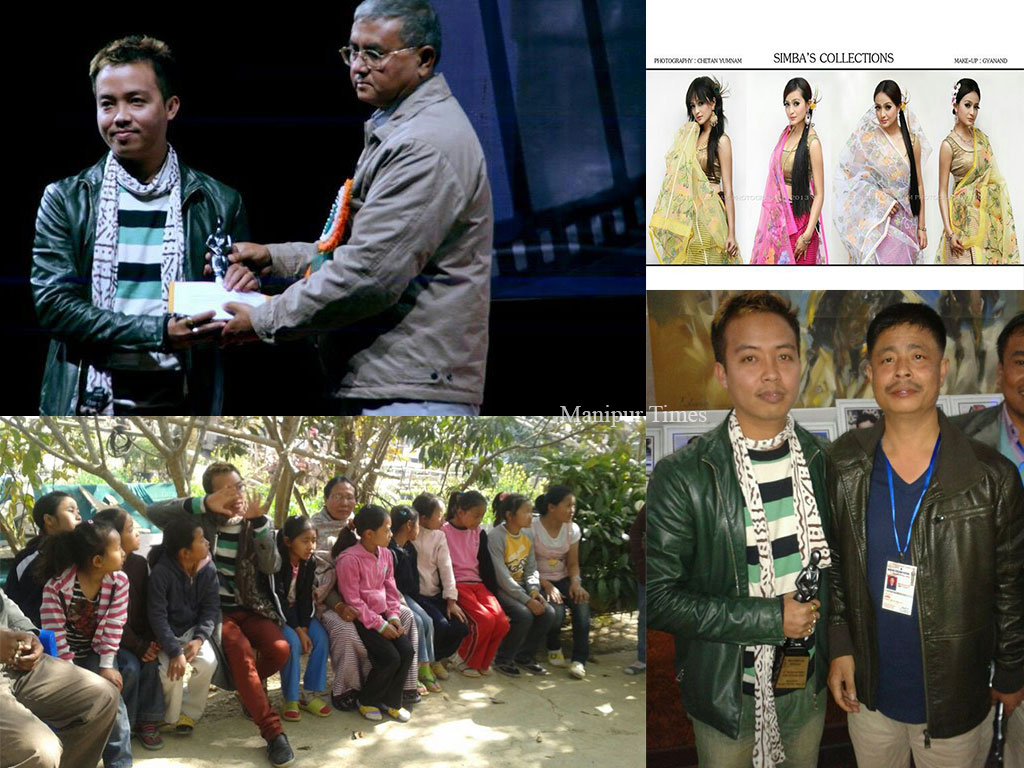 "After my Higher Secondary exam I have started working steadily besides continuing my graduation classes. Family members try to restrict me from my work but my pre plan was well paved.Then I gain experience as a make up artists. People  remarked me as very young when i go for make up works of a wedding ceremony. I became popular as Gyanand, my full name is Gyanandra", says fashion designer Gyanand in an exclusive interview with Manipur Times.
So far Gyanand has  got the best designer award in Miss Moirangthoibi Contests,  2nd runners title for the model whom he groomed, Miss Gang Ngai Title, Miss Kakching, Dawn Actor Actress Tiles for his student  Janeman, Atul, Kennyson. For consequitive three years his students got the Dawn titles. Miss Sangrela, Miss Kut Title by student Minerva, Miss Chandranadi and many more titles in the count. 
He loves to dance on social, patriotic and youthful themes. He got the Dr Ambedkar award in dance choreography. 
Gyanand also hold 50 certificates in debating and other competition on co curricular activities during his school days.
Dancing Days in my Childhood
I was not a designer or a make up artsists  in the beginning. I was a good dancer known to everyone in my locality during my childhood. My father was strict to my dancing. Most of the time we stay indoor and make less friend in the locality. Our family is mostly academic. We are 6 brothers and sister all are working now. 
When I was studying in Class 3,  an entertainment program caught my attention during durga puja time and I found people learning dances. I observe their dance. I was invited by elders to join the other kids. I did a demo and they encouraged me to dance for the puja entertainment. I disguised as a girl to hide my identity and I was popular from the event. People in kakching recognized me and start searching for me. 
My mother use to sell clothes in bazar. "Jungle Love" a hindi movie has a good number and people ask me to dance on that number and I dance in huge crowds. My audience were stunned i came to be known popularly as Gyanand from that time.. People come to pick me up for performance. My dad advise me to pay attention in study and leave dance. My three brothers also called up from delhi. I did stopped dancing and paid attention in studies.  I am the last son and evryone cared for me.
Teased for playing a lady role in School and encouragement from teacher.
Before council exam I dance a song  from "kuch kuch hota hei" at my school as my teachers insisted. I played in a drama too. I was in commerce stream. We represented our house and competed I played the role of a very wicked lady. I didn't go to school after the performance and dance as I was shy.
I was teased in school as i played the role of a lady. My teacher encourage me and the artists in me. Our school teacher adviced other students not to tease Gyanand. Our teacher openly spoke about me appreciating the artistic talent and also mentioned that one day i willbecome a star. Late Oja Lukhoi of Kakching Higher Secondary was the one who have encouraged and gave a visionary remark about me. I became very strong at his words. My shyness or fear of people was the obstacle and my late teacher help me overcome with courage and encouragement.
My first flair of designing in a co incidental institute
I like fine arts and have a flair of painting. After giving my tweleve exam my brothers took me to Delhi.I said I want to do fine arts for my further study. I never do what is not interested in me. But I pursue what is interested so they know my intention. 
I prepare for entrance test but I wasn't with my documents so I  missed the entrance test. I learn computer DTP  and other basics for some time at CCI of South Ex, New Delhi. My teacher was a NIFT passed out, he liked my designs, colour combination and drawings.
My teacher advised me to collect magazine on fashion like famina and other newspaper to see model designing. Asked me to keep documenting. He told me that i have a taste in designer so I started cutting the pictures of models from the source. I learn photo framing from the clippings. It was an addiction. 
Dance Choreagrapher in Manipur film industry and my Guide
I also learn dance choreography for three months at Delhi. I dance in Qutub Minar hidingly. My brothers were worried as I came back late after the dance. 
I asked my brother to get me back home. I was admitted at DM College of Arts. 
I met Tom Sharma when I come to Manipur. He is my guide to the door of fame in Manipur. He introduced me to film personality as I did dance choreography. "Lamhenlabi Thamoisina" was my first film in dance choreography. Kamala and Kaiku acted in the film. I requested not to mention my name and my name was not featured in the film.I choreographed in "Fairenthahi Angaoba Leichin" and many other films. I was in DM Arts College Boys' hostel. I use to meet my clients at Khuyathong. 
Continuing make up, dance choreography during college days
People suspected my absence in the hostel and reported my family. That was the time i started earning money as i assisted Tom Sharma in the make up artists profession. I told my story to the General Secretary of our college and he supported me. Artists came to pick me up from the hostel even the film stars, my hostel mate started recognizing me and stopped suspecting. 
Mixed and multi facet approach towards perfection
At a Lai haraoba event I designed three dresses and i proved my calibre. Doren a photographer from my locality came out from Delhi and he started his photo studio at his residence. His brother is my friend. Tom sharma and Dimjit click snap when I was on duty as make up artists and Doren knew me through the photograph so he invited me to do make up at Kakching. 
I learn a lot from Tom Sharma as I followed and assisted him. Those days we put eye lashes with dendrite i also do make up for Actress Kamala.
I also learn dance fom Bonomali the dance guru during my college days. I was very thin that time doing make up and learning dance also studying for my exams simultaneously.
Back home I started working with Doren. That time people are not accustomed to male make up artists. We had many photo shots. That was during second year. Third year exam I had my role in youth festival. I use to get honorium for my make up from the college too. 
I gain name in Kakching as a male make up artists, my brothers tried to stop me. I was the first male make up artists. People use to talk a lot about me but I persisted. 
Coming up with an institute for students
Those days When I organize fashion show some individuals use to back bite but they enjoyed the show.Then  I plan to come up with an institute.I started researching . If I focus on beauty of a model, a place to learn for make up artsists or  designing an institute was a must. I was not commercial I was so much into creating jobs for the aspiring people. I also have a challenging mind to beat the mockery I got while pursuing my occupation. 
People started  liking my designs in the embroidery it was the time when 11 / 12 students approached me for learning the art. Some say I become a teacher even before I learn. But people started accepting my work. My hard work and creativity gave me a boost according to me. I organise a show with my students who learn weaving and designing both. I go in any miss competition with my models who won titles along with my designing work recognitions. 
Marketing  Strategic stitching
I recognize my market.  Wedding and lai haraoba festival were my focus. So i design for these occassions as people buy it as basic needs. It was a good business for me too. 
My market in Thoubal district was flourishing. 
We have a market only we could not supply the materials that time.
Further study on Make up Artists
My photographer team Doren trusted me a lot and he was my mentor too.  We went for a Delhi tour. I saved Thirty Thousand Rupees for some course. I was more popular in make up as I earn too. I did a course in Habib at South Ex New Delhi.  I search for perfection and I left all my project at home. 
i was selected for the course after an interview. I was the only Manipuri in the institute. I manage the deposit money from my elders as it costs me more than a lakh at a one tiomedeposit system. Doren was against my idea of staying back as there was lot of contract to be done at home.However he encouraged me. 
In 6 months time I did my course.  I open salon as I come back. There was crowd. Doren was happy at the improvement. Presently my friends from  Habib are hairstylists in Bollywood. 
I also learn fashion designing from Devson Yengkhom a fashion designer who have clinched title at the international level. I got lots of designing ideas and he guide me on what is design when he was in Lajpat Nagar, New Delhi.Whole night I studied on designing from the designer so simultaneously I started designing.
Generax Show 2007
I organised a show titled  Generax in 2007 at Kakching.  it was overcrowded and the show break out and there was fire. We never expected the crowd. It was a success. 
Students came to learn saloon. So I requested my fren Bhogeshor to help in running the institute. After 6 months he joined and I passed on all my learnings to him. 
I also learn designing from IFT and taught my students what I learnt.
to be continued in the next episode…