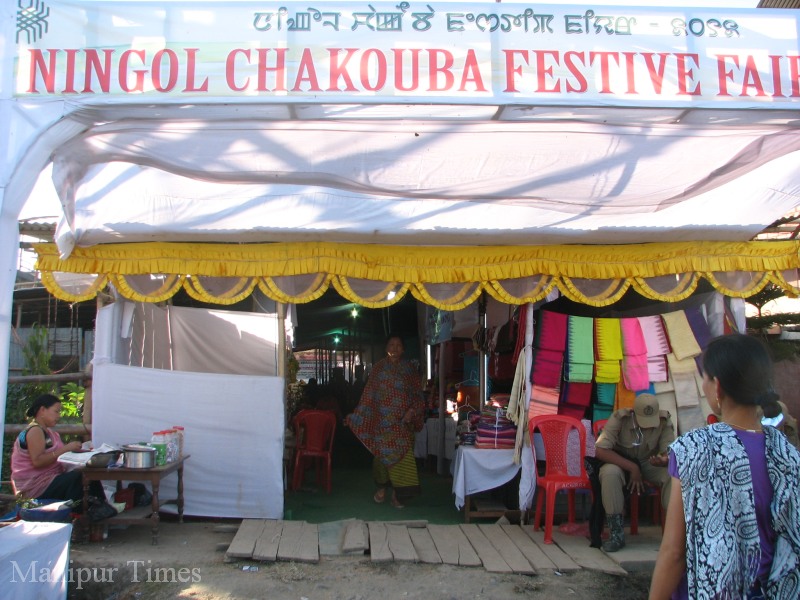 In a State like Manipur where there is no ample job opportunity in government and private companies, self employment is the only answer to have a daily earning.
With Handloom Clusters are currently doing well, self employment is likely to get a new lease of life.
 Under Government's Integrated Handloom Development Scheme, the first Handloom Cluster came into existence in the year 2007 in Manipur. In the same year 19 Handloom Clusters were launched in the first phase. 
 After experiencing some initial hiccups, the figure has increased to 66 Clusters in 2012 with Imphal West district alone has 22 Clusters.
 The activities of Handloom Clusters are supervised by the Project Manager of District Handloom and Textile of each district. 
 A Cluster Development Executive, CDE is appointed for each Cluster and their role is to look after the Clusters physically. These Clusters will be looked after by a Consortium after the completion of three years of its existence.
 In November 2012, Manipur Times talked to some of the weavers and Cluster Development Executives on the benefits given to the weavers of Manipur by these Clusters.
 M. Ibeyaima, Cluster Development Executive of Kabrabam Handloom Cluster said that each Cluster consists of a number of Self Help Groups. 
 Minimum number of weavers in a Handloom Cluster should be 300. Each cluster is provided 300 looms under this scheme. Every Cluster has a yarn depot and common facility centre, she said.
 A sum of Rupees 3 lakh has to be deposited in the National Handloom Development Corporation by the Clusters, and the weavers will get fabrics in subsidised rate from the yarn depot.
 Besides this, many skill development programmes like dyeing training, weaving training, design training, management training and exposure visits are being organised for the weavers. The Manipur Government also provides stipend to the selected weavers for attending training programmes.
 Weavers of these Handloom Clusters produced a number of products like phanek (female loin cloth), khudei (male loin cloth), cushion cover, towel, chuni, salwar kamij, shawl and others. 
 In order to sell these products, a number of exhibitions and trade fairs are organised. Each cluster has to organise three exhibitions in a year.
 Th. Sunita, another Cluster Development Executive said that earlier many drawbacks were faced by the weavers in buying fabrics and selling their products.
After putting in a lot of effort and time, the weavers used to sell their finished products to the middlemen and they got a minimal profit.
 But nowadays, the weavers directly sell their products by themselves in the exhibitions and fairs in subsidised rates.
 As such, there is no need to depend on the middlemen to sell the products and the customers automatically make a beeline at exhibitions to buy the products in cheaper prices.
She said that the number of weavers was considerably growing in the last few years with the advent of various facilities for them. 
Policies for weavers and clusters
 New policies like Mahatma Gandhi Bunker Bima Yojna and ICICI Lombard Health Insurance encourage the weavers to embrace weaving as their profession.
Mahatma Gandhi Bunker Bima Yojna ensures a sum of Rupees 60,000 in case of normal death of the policy holder. If the holder passes away in accident, she will get Rupees 1,50,000. The same amount is given if the holder loses both legs, both eyes.
In case the holder loses one leg or one eye she will get half of the said amount.
Following uninterrupted supply of yarn and new guidance the weavers of Manipur are benefited extensively.
Earnings
 A weaver nowadays can get a benefit of Rupees 50 to 60 when they sell a finished product. Earlier they used to get Rupees 20 only when they sell the finished product to the middlemen.
Normally a weaver can make 40-50 phaneks a month and with this they can earn up to Rupees 2500-3000 per month.
Revival of Hope
At one point of time, there was a situation in which the weavers sold their looms and left the occupation of weaving.
At that time the production rate of handloom products was shrinking immensely. 
Looms became an object which was neglected in day to day life. But with the birth of Handloom Clusters, a change has come and Manipuri handloom revived with a new hope.
As of now the production is not able to meet the demand of market but hopefully it will be coped up in the near future. 
When the Cluster can stand alone after three years of its existence the economic condition of the State will become better and the weavers will take a major role in improving the lifestyle of the people of Manipur.