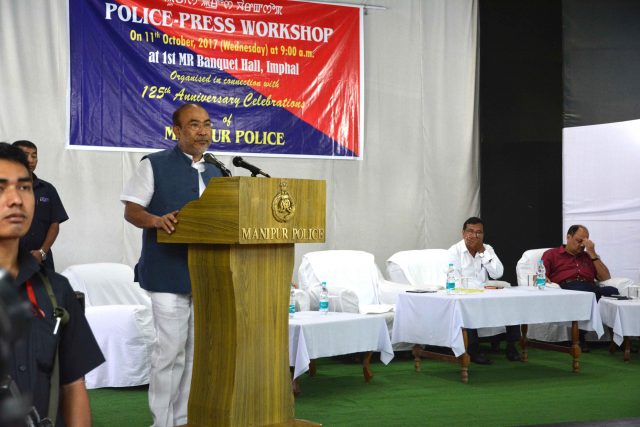 Imphal, October 11, 2107 (DIPR): Chief Minister Shri N. Biren Singh stated that change should start within ourselves to bring positive change in the State and honesty, sincerity, transparency are the integral characteristics to bring change in society. This was stated by him at inauguration of the Police-Press Workshop held at 1st MR Banquet Hall, Imphal today. The workshop is being organised by Manipur Police Department in connection with the 125th anniversary Celebrations of Manipur Police.
Speaking as Chief Guest of the function, Chief Minister said that the government is giving priority to maintain good and healthy relationship with the people of the State. He maintained that in order to build a cordial relationship with people, we should try to solve the small issues faced by the people of the State. People oriented schemes and projects are being introduced by the new Government and will try its level best to deliver better governance in the State, he added. He further stated that if the demands and aspirations of the people are met, the gap between the people and government would be lessened.
Stating that media is the fourth pillar in a Democratic State, Shri N. Biren Singh said that the media invariably plays an important role to uphold the Rule of Law in the region. Professional ethics should be maintained by the journalists while reporting sensitive news so that police could control the crimes happening in the State, he continued.
Mentioning that people have faith in Police nowadays, Chief Minister said that people living both in hills and valley are requesting for police patrolling along the State and National Highways. This is a sign of healthy relationship between the people and Police in the State.
Shri N. Biren Singh said that the sole responsibility of the Police is to maintain and control the law and order situation of the State. If police don't know the ground realities such as complexities of social and political nature at grassroots level, then police cannot prevent from deteriorating law and order situation, he added. He stated that the cyber crime unit of the Police Department has solved many cases and thus preventing various crimes and mob justice in the State.
Highlighting the recent developments in the State, Chief Minister said that after the recent meeting with the Union Minister for Road Transport & Highways Shri Nitin Gadkari last month, an amount of Rs. 32 crores has been released by the Ministry for the repair of the flood damaged National Highways in the State. And a proposal has been sent to the Ministry for the construction of 12 new roads connecting to State and National Highways in the State, he added.
Resource persons and subject experts spoke on various issues relating to media and police such as media management, safety of journalists, ethical reporting etc during the workshop.
DGP Shri L.M. Khaute, President AMWJU Shri Wangkhemcha Shamjai, top police officers and media persons attended the workshop.