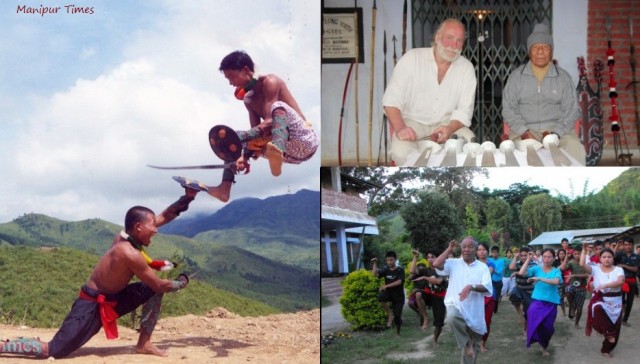 Manipur is a small hilly state of North east India with an area of 22,327 sq. km.  The state's indigenous martial art form, thang-ta (sword and spear) is well known internationally. The state is renowned for its rich art, culture and sports traditions. In a tireless effort to show the rich tradition and identity of Manipur throughout the world, the role of Huyen Lallong Manipur Thang-Ta Cultural Association, Irilbung, Imphal East has contributed in a big way.
75 yrs old Padamashri awardee, Gurumayum Gourakishor Sharma, Director of Huyen Lallong Manipur Thang-Ta Cultural Association, despite his age, is still resilient and works to promote and preserve the Thang-Ta martial art, a precious tradition and culture of Manipur. Thousands of Thang Ta artists have trained under him. At present, around 700 students learn Thang-Ta at his Association. A team of 18 dedicated instructors teach Thang-Ta to these students. Huyen Lallong has its branches at Hailakandi in Assam and Moirang Tronglaobi, Thoubal District in Manipur.
The Huyen Lallong Manipur Thang Ta Cultural Association has been in existence for the past 54 years. It was established on 25 October 1958 at the Mandav (Community Hall) of one Takhelchangbam Shajou Sharma of Keirao Bitra Makha Leikai, Imphal East under the patronage of Guru G. Gourakishor Sharma. It was registered under the Indian Societies Registration Act of 1860 against No. 696 of 1966.
The then Education Minister, Late Irengbam Tompok laid the foundation stone of the Huyen Lallong office on 20th December, 1980.
There are three courses that are offered to learn or practice Thang –Ta in this Association – Foundation/Certificate course, Diploma Course and Degree Course. Lessons of thang-ta like Discipline, fijet-fithup (use of dress), khonghai-khuthai (movement of hands and legs), thengourol,khousarol (spear fight), Ta khousaba (playing with spear), Thang chunggoi yanaba (fighting with sword), Thang-Ta chainaba (fight between sword and spear), yethang-oithang yannaba, Thang apunba haiba, Thabi kakpa (cutting of Cucumber), Thang leiteng haiba, Yotpak thangjou yannaba, thang ahum yannaba, thyangjouy ani yanaba and thang-chung taga yanaba, research works etc are taught in these three different courses.
Thang ta Guru and Padamashri G. Gourakishor Sharma did not receive any formal education. Nevertheless, he got the knowledge of thang ta art from his father, late G. Sanajaoba Sharma. He learnt this art from Various Gurus (teacher)- Late Angom Leiren of Keirao, Ibungohal (Ahallup Lakpa in Sana Konung of Manipur King Budhachandra) of Singjamei, Angou Jamandar (Laiphamlakpa in Manipur Royal Palace), Toijam Birhari, Lairenmayum Damu of Keirao, Padamashri Pangambam Tarangou, Chanambam Birhari, RK Sanahal, Thokchom Sambru and others.
To learn thang-  ta from Guru Ibungohal of Singjamei, he had to walk on foot to Singjamei, which is around 8 km away from Keirao barring all the cold and chilly winter morning. Thang -Ta teachers inthose days did not teach a student easily. They always tested their perserverance, enthusiasm and discipline. Guru Ibungohal, sometimes, made him wait for long hours at his home when Gourakishor went to the former's house to learn thang- ta. The Guru at times would ask him to come early in the morning amidst the chilly winter morning. These were to test his patience, recalled Padmashri Gourakishor.
His father was a thang ta teacher by profession. Many students visited their house everyday to learn thang ta. As a child, he saw the activities of learning thang ta at their sanggoi (thatched hut). It imprinted in him the urge to learn thang ta. He urged to his father to teach him thang ta. He was rejected at which he cried many times. Relenting to his son's  pleas, his father started teaching him.
Having learnt thang ta from his father and other different Gurus, he established his own thang ta teaching institute- Huyen Lallong with 20 students. It was formerly located at Keirao Bitra and was later shifted to Irilbung. Some senior citizens of Keirao like Late MLA Abdul Matalib (Yaima Haji), Takhelchangbam Sajou Sharma, Heikham Angou, Mutum Kullabidhu, Taorem Chaoba, Angonjambam Tampha, Puthem Ahaljao, Shamjetsabam Natek of Khanarok, Atom Ibetombi of Kongba, Konsam Manisana and many others were key in setting up this thang ta learning institute for the first time in Manipur. When they approached the state government for registration of Huyen Lallong Thang Ta Cultural Association under the Manipur Societies Registration Act, officials were reluctant to do so. During British rule, learning Manipuri Thang-ta was banned fearing that Manipuris would revolt against them. Even after the British left Manipur, ban on thang ta learning, celebration of Khongjom day, Bir Tikendrajit Day etc. which would provoke nationalism among the minds of the Manipuris continued for a long time.
Manipuris, since time immemorial have been practicing the art of thang ta. They were very patriotic and loyal to their king. It was a tradition to keep a sword and spear in every houses of Manipur for self defence. All men in Manipuri families were soldiers, were fearless and would defend when outsiders invaded. Learning of thang ta was compulsory for all the Manipuri youths in olden days. Only by the dint of thang-ta, Manipuris could expand Its vast empire and could enjoy sovereignty under kings, said Thang ta Guru Gourakishor.
In recognition of the various contributions rendered by G. Gourakishor Sharma towards promoting and preserving the Traditional Manipuri martial Arts THANG-TA ,he has won various achievements and awards. To note, some of his achievements are:-
King of Manipur, late Bodhachandra conferred him Gold Medal and Khamen Chatpa fi (a traditional Manipuri dress given to brave soldiers by kings), in the year 1953.
Akhil Manipur Kalakar Sanmelan conferred him the Title 'HUYEN LANJANG THOUBA (brave warrior) in the year 1976.
Manipur state Kala Academy conferred him Fellowship in the year 1978.
Sangeet Natak Academy, New Delhi honoured him with the Sangeet Natak Academy Award for the first time in the field of thang ta in 1983.
Film Taibang (film makers and Artists Association of Manipur) conferred him Lifetime Achievement Award in 2003.
Manipuri Sahitya Parishad honoured him with the title'Kala Ratana' in the year 2008.
Former President of India, Smt. Pratibha Patil conferred him the prestigious title of Padmashri award in 2009 in recognition of his dedication for the cause of thang ta art.
He was conferred Tagore Ratna Academy award in 2012.

Huyen Lallong – Thang Ta Galley
Thang ta learning institute, Huyen Lallong has its own auditorium, administrative building and hostels at Irilbung now. The hostel is constructed specially for those disciples who learn thang ta in this institute. Foreign nationals from USA, Switzerland, Germany, France, Sweden etc. have visited the institute for research on Manipuri Thang ta Martial Arts. Recently,a Swedish national, Karolin Kent visited the Huyen Lallong office and participated in a one day workshop on contemporary movement and creative work held at this institute on 22nd May, 2012. French nationals, Anjela Sofia with her husband and son Unatone visited this office in 2012 and learnt thang ta art. One Hendrik Waithase from Germany also visited the Huyen Lallong office in November last year for research.
Since the inception of this thang ta institute, artists of Huyen Lallong have visited many parts of India and the world and performed at various stages .In 2012, the artists of Huyen Lallong showed 286 Thang ta performances at state level, 141 at national level and 21 at the international level. Internationally, the artistes gave 10 thang ta performances  at the  Louyeng International Folk Festival in China on 16th September 2012, 6 performances at the 57th Festival International Del Folklore in Agrigento, Italy on 7th February, 2012 and 5 performances in Myanmar on 14th March at the Indo-Myanmar Car Rally. A team of artistes led by Instructor G. Bishesor, the youngest son of Padamashri  G. Gourakishor, performed in the USA on 23rd January this year.
Huyen Lallong – Thang Ta In Action Gallery
"Manipuri thang ta is not a simple or merely an entertaining art. It has various moral values. Thang ta learners have to maintain strict discipline, good moral character, good food habit. Traditionally, to learn thang ta, a disciple would go to the Guru's house and request him to teach thang ta art. The disciple would undergo " Guru Boribha " (honouring teacher) through some offerings like "Dakhina" (money), kwa maru mana (betel nut and leaf), bananas and so on before the start of the learning. To learn thang ta, strict discipline, high moral values, identity and age-old Manipuri culture, is a must for the younger generation", said Gourakishor, while adding that he dreams of constructing a thang ta museum at his institute and open a Thang ta department  in Manipur under the Manipur  government
Presently, the Huyen Lallong office is running under the annual financial grant provided by the Ministry of Culture (Government of India), Sangeet Natak Academy, New Delhi, Manipur State Kala Academy and from financial assistances rendered to this Institute.
Manipur Government also included Thang ta art in the school syllabus from the year 2009.