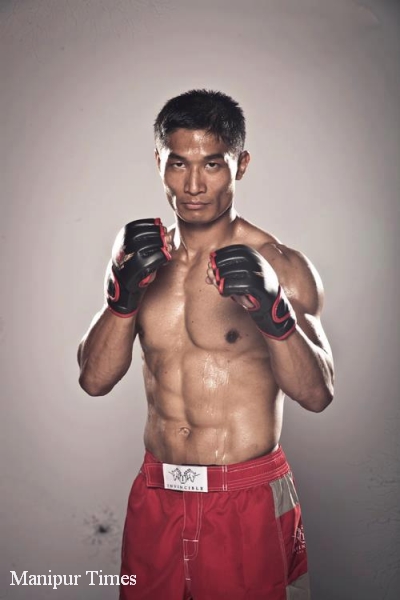 Courtesy: Good Times of the North East.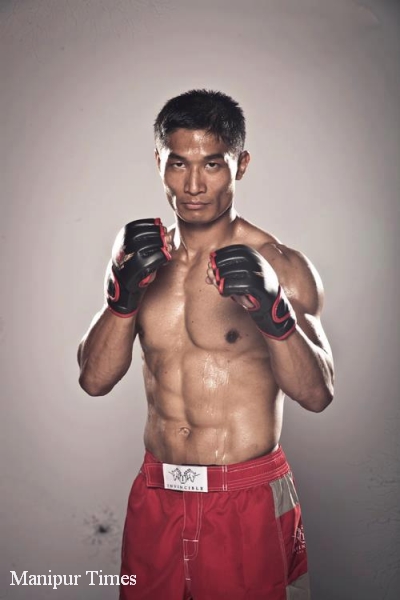 Mixed Martial Arts or MMA is a new entrant into the Indian Sports Entertainment domain and it seems to be catching the fancy of both the contestants and the spectators in the short time that it has been around. Introduced in India by Bollywood Superstar Sanjay Dutt and prominent businessman Raj Kundra, the Super Fighter League has already spawned a champion from our very own Northeast.Kario Issac became the first SFL winner after a series of Hard fought bouts and has now ended up with a lucrative contract with SFL. James Khangenbam talks to this fiery lad from Manipur.
He fought he won. He is 5'7'' in height, his will power is strong. He puts his back on the floor and takes down his opponent with the power of his leg and thigh. This is Mixed Martial Art competition by Super Fight League.
The first season title in the first kind of MMA competition in India Kario Isaac from Manipur won a contract worth Rs.25 Lakhs over a period of three years with SFL.
Born to P F Nisa and Late Loli Ashikho of Karong Village Senapati District.Kario is the second child with an elder sister and three younger brothers. Kario started looking after his three younger brothers since 2007 by serving in different sector like B.P.O and attending flight in Jet Airways as flight steward.
Kario did his primary schooling in Mumbai. He completed High School from St Joseph School, Tadubi and graduated in B Com with honours from St Joseph's College, Jakhama, Nagaland.
Like cotton to droplets of water Kario had absorbed the zeal of a real fight in the fresh mind of a child when he was just 7 years of age at a school in Mumbai.
The ring of the MMA was the right platform to show off the fighting spirit burning within Kario's spirit and he did the right thing within the rules and regulations of MMA. He clinched the Super league fight from amongst 8 male and 8 female competitors from across India.
At the warm receptions back home Kario was honoured with the traditional warrior's wear of the Nagas. Thousands of people gathered at the Senapati main town ground for his reception organised by ICHAM and participated by Naga bodies and people of Senapati District.
The determination and will power of the people living in the region had an outlet at Kario's achievement and it is the time of joyous moment and feeling of nationality amongst various ethnic group of the State.
The celebration was not ordinary. The happiness was predictable. There was the feeling of pride. The outcome was manly. The fight was thoughtful and this man has done his people proud.
The love for adventure and sports is well placed inside the heart of many in the conflict torn State of Manipur. From mountaineering to trekking as the geographical feature promotes people usually indulge in the game. The survival skills of the people left them fearless as they grow up in the sounds and stories of gun battles between the separatists' moment and the oppressors.
Ancestors do indulge in games and sports after the seasonal occupation of agricultural farming and the annual harvest. Martial arts and energy sports like the indigenous game of Heavy Stone (shot put), long jump from a higher platform, and other mighty competition.
I was browsing the internet on Mixed Martial Art as I had the flair of sportsmanship in me since my childhood till my college days and I never had a chance to get a good platform. I came to know about the Mumbai Club and I started looking for my Jet Airways flight duty to Mumbai. I stay back a night and went to Daniel Isaac for enrolment. He asked me to grapple with 3 persons in their gym that day and he selected me on my stamina after seeing my performance.
Once my shoulder got bounce while training MMA and I also sustaininjury at my legs. It is not an easy game and you need lots of hard work.
I use to read a lot of books during my school days. I almost finish a novel in two days and I read the books from my school library. I studied till class eight at Catholic High School Canchipur near Manipur University. Then I had to continue my study at TadubiSenapati as there was an ethnic clash between Naga and Kuki and my parents want me to stay nearby them.
I completed my higher secondary from Nagaland Board in Commerce stream and nearly missed the position holder status by 6 or 7 marks. I graduated from Nagaland University
During the Super League Fight we were in a camp for nearly two months. We could not come out of the camp. It was like eat, live and train with the participants and coaches during the fight. No phone, no internet, no communication with the outside world. Coaches from different martial arts background trained us. It is very tricky though as everyone is trained in the same area and everyone knows each other's weakness.
In Mixed Martial Arts there are three phases of fight
1) Stand up or striking (punches, kick and elbow knees)
2. Takedowns as the transitional phase of fights to determine whether to keep it standing or on ground
 3. Ground game which includes grapping, locks, and submissions.
Winning is determine in 3 ways –
1)      Knock out, technical knockout.
2)       Submission
3)       Referee decision.
MMA is the closest thing to a street fight and rules.
My semi-final bout was with Rajendra of Haryana. In the final round I fought with Andrew from Maharastra who has wrestling background.
I feel strong and more athletic even if I have not played any martial arts and I think I got all thesestrength from the sports I played during my high school and college days.
I was trained for only two months about different form of martial arts by coaches in MMA as a part of the Super League fight. Other fighters share their experiences of long training and practices of combat sports.
After winning first season Super Fighter League I have become a professional fighter as I won 3 years contract fight worth 25 lakhs.
During the super league fight we cook ourselves and they give what we ask. We had only chicken meat.
One plate of eggs and two chickens a day was my diet. 8 times a day I had my meal in balance. My meal sequence goes like this
Protein sake when I wake up – breakfast- start training – protein sake – go back to sleep -lunch – snacks – protein sake –resume training – protein sake –snacks – dinner  and something to eat before sleep.
One gets very tired when in training. You have stand up trainers, ground fight trainers, strain and conditioning trainers. It requires u to be all-rounder in MMA.
Agile, stamina, endurance, strong, technics, flexible are some of the quality an MMA fighter need to possess and acquire during the Super League training.
We sleep a minimum of 7 hrs. at night and 1 hr. during day.
The Cage is the name of the arena we fight. There was no sunlight and if we have a fight our family and friend are allowed to visit a day ahead and during the fight day.
It is a very tricky environment u r trying not to show but still u r trying to learn while training in a common platform. We use four ounce thin gloves.
In the near future I am planning to build my own fitness centre to make the youths sense the magic of fitness and athletic.
In God I would like to pay credit to my success. I always prayed to God that " I want to win this but that and it was. His will that I did… "
Original article was in Good Times Dec. 2012 Edition.