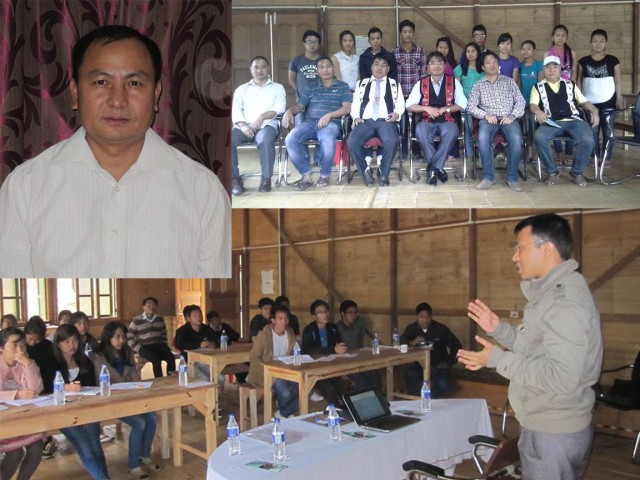 "The best help one could give to any child is giving good education", with that motivation behind, Dr Thyelnai Dawn Khaling, Wing Commander, Indian Air Force founded Ascension Educational Trust (AET) at his home village, Khangsim near Kakching Lamkhai under Thoubal district and now the IAF doctor with his wife Shangnairan A Khaling is providing free home tuition for children of domestic helpers at his posted area Air Force quarter colony at Vayu Vihar in Bangalore.
Presently Dr Khaling and his wife is teaching as many as 30 of such children at his home after his duty hour at day time. They with the help from other friends have been providing notebooks and other various stationary items for the kids to encourage them from the 1st day itself and with the hope to guide those children to school education again.
They were compelled to take up the initiative when they come to know that many of children of their domestic helpers in the colony had dropped their schools due to migration of their parents from village to Bangalore city, shared Khaling.
"It's been 5 months of joy", expressed Dr Khaling with joy.
"We are very much thankful to my seniors and friends who have been pouring in with stationery items and gifts for the kids", said Dr Khaling who believes unity in charity.
"We celebrate birthdays, Christmas, New Year together with the kids. Today they are like our own children" adorned Khaling.
But what Dr Khaling and his wife were worried about their children was that, what if he got transferred!
And he was not really kind of to abandon them in between and now he has shorted out a long term solution, added Khaling.
"Now our hope to let those children get school education again will be fulfilled soon", Dr Khaling said with joy.
While sharing his short though lovely period of 5 months, Dr Khaling said since the children were from financially poor background, majority of the children were in Govt School and a class VI student couldn't even read or write English letter properly needing to teach them from very basic.
"As our ultimate hope for the home tuition was to guide those children to school education again we first decided to move a step further that was to put all the children in English Medium Schools. But after realizing that the children would find difficulty in English Medium as they just started learning basics of English we have decided to look for a small and not so famous English medium school and luckily found one such school called Alpha Omega School which is at walking distance", narrated the Wing Commander.
He said now he has met the founder principal of the school and narrated the financial condition of the parents. And on his request the founder Principal was kind enough to give concession not only both in admission fees and monthly tuition fees but was agreed the payment of admission fees in interest free installment, exclaimed the Dr Khaling.
He could also have raised the fund requirement to admit all 30 children in the English medium private school. He strongly believes that with the help of his friends the couple will be able to provide good education at least till 10+2 or their graduation, said Dr Khaling in firm believe.
While sharing about AET, he said "I founded Ascension Educational Trust with the help of my friends and relative who are board of trustees".
It is a complete free boarding, free mess and free study materials to economically backward students from far-flung villages irrespective of caste, creed or religion, so that the students can pursue their dream of becoming doctors" said Khaling.
Ascension Educational Trust (AET) is a registered public charitable trust, registered at Sub-Registrar, Imphal, Manipur, under Registration Act, 1908 bearing Reg No 2351 of 2013. AET provides free coaching with free boarding, free food and free study materials for MBBS entrance tests (AIPMT) to students from economically backward families irrespective of caste, creed or religion.
Now AET has only this centre; it is targeting that by 2017 more free coaching centers is expected to be opened.
About Himself: Khaling's childhood life and inspirations
As being struck by poverty in his childhood days he had school breaks in his early life, remembered Dr Khaling. He said even today he clearly remembers how his auntie Rose Saka and sis-in-law Damnu Khaling put him in a school at Imphal for 4th standard after the break.
Later, his uncle Mosyel Syelsaangthyel Khaling took over the responsibility of providing him higher education including sponsoring throughout his MBBS days, Khaling shared.
He said he was inspired by his father Koshang Khaling, who was not only being first to pass matriculation examination from Uipo (Khoibu), one of the smallest Naga tribes but also was sincerely involved in many social and political activities. Again he was also inspired by his relatives for their kindness, he added.
"My parents and relatives taught me charity, kindness and the importance of education", Khaling said with pride. Most people know their aim in life but not the purpose of life, he continued.
"The quest to find out the 'purpose of my life' led me to start a charity work. The purpose of my life as I found out was to help the needy irrespective of religion, caste or community.  I found out that the best help one could give to any child is giving good education", Khaling maintained.
More about AET could be found at its website http://www.ascension-edu.org/