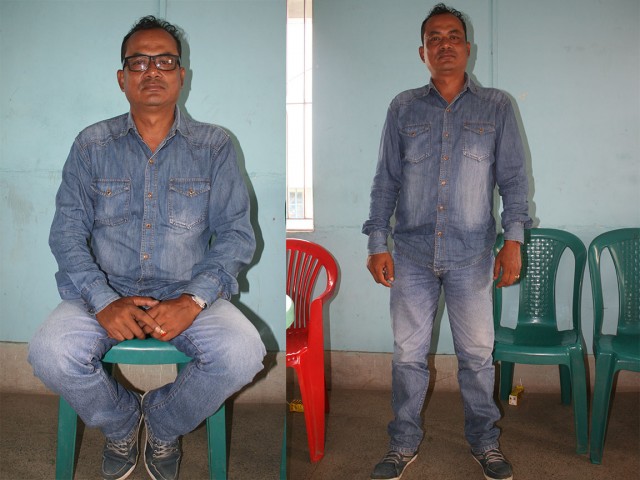 Laishram Jiten (Jiten Lai) is a budding music director cum singer filled with loads of talents. His masterpiece song Taibangda Eigini Haiba Ngamdrasu Manglanda Lak Uko Nungshirabi is an evergreen music which touches the heart of many listeners in the state.
Laishram Jiten is the eldest son of Late Laishram Tomchou and Khomei Leima of Kontha Ahallup Mayai Leikai. He started his artistic career in singing in 1982 under late Inakhunba Langamba of Luwangshangbam, a AIR Lyricist. Inakhunba was instrumental in producing his debut music album Kala Toubi Iteima released in 1984 when he was in class VIII standard.
As a playback singer of Shumang Leela
Prior to his entry in the world of music, Jiten was learning dance at his locality and met Inakhunba. Inakhunba who knew Jiten's talent in music, suggested him to learn music in a formal music college. He got admitted in Government Music College in 1982 and completed Bisharat degree in 1989. While he was learning Visharat in Government Music College, he joined in Shuamng Leela Parties including World Artiste Union, Jupiter Artistes Association, Panthoibi, Drubatara as a play back singer in 1986. Since then, he has been singing as a playback singer in many Shumang Leela plays.
Best playback singer Award
In 1989, he won Best singer in a Shumang Leela play Ashagi Meiri of Panthoibi Drama cum Leela Association scripted by Dinesh Tongbram staged during the Manipur state Shuamng Leela festival organised by Manipur state Kala Akademy for the first time. After leaving the party, he joined World Artiste Union in 1994 which bagged "Best play Award" in the popular Shumang Leela play Triveni Sangam during the Manipur state Shumang Leela festival. In 1996, he became an AIR Approved singer. AIR Imphal has so far broadcasted many popular songs of Jiten.
"Art is not a simple thing. It is expression of life. Budding singers should devote to the art they opted for to gain success.  Singers who confine themselves to one form of music cannot be a successful artiste. They should explore music in many possible ways as they could. They should learn to compose their own music and become independent of others", he said.
His new venture in Music
Fed up by the factionalism among Shumang Leela parties, Jiten who sang for many Shumang Leela plays as playback singer left Shumang Leela Art in 1997 to start his own new venture in Art. His last Shumang Leela group was Pakhangba Artistes Association.
Jiten also learnt music from veteran Music director and singer Aheibam Shyam. He along with Shyam's son Tony Aheibam set up Talented Artistes Amateur Life (TAAL), a new Music group. The group moved from place to place to perform Music concert. After working for TAAL three years, he joined Mahabharat, a musical orchestra group as Tabla player. He visited many places like Kolkata, Delhi.
His heart was seriously hurt when the orchestra group Mahabharat got split due to differences among the members. Leaving the group, he set up Tamna Institute of Music and has been providing training to many students.
As a music director in Manipuri digital films
In 1991, he made his debut as a music director in a Manipuri digital film "Best Friend" directed by Sanou under Ching Tam Film banner. So far, he had worked as music director in about 10 films like Mongpham, Nongalakpa, Aruba Echel, Chatloko Nungshiba, Washak, Mangla Taibangla. As a music director, he is working in six films waiting for release schedule.
Jiten's artistic work is not limited to music composition and singing only. He has started his venture on making films too. Under his direction, two Manipur digital films Mirem and 2030 are on hectic shooting. His Manipuri film "2030" depicts the possible extinct of indigenous people due to unrestrained of non Manipuris in 2030.
His popular songs
Taibangda Eigini Haiba Ngamdrasu Manglanda Lak Uko Nungshirabi, Ahing Kaya Tumda Tumda Nangi Wakhal Khanna, Ngalli Ngasi Mandir Nungda penned by Binod Tensuba, Thagi Eshei-Pukning Wakhal Olangtha Tala Urum Makhnda are some of his popular numbers broadcasted by AIR Imphal.
"The contemporary music tune/lyrics are different from that of the past. In past, music expressed a theme by referring to nature while the modern music expressed directly. It reduces the aesthetic beauty of music", he said.
A well expert player of musical instruments
Jiten is well expert in playing musical instruments including Guitar, Tabla, Dholop, Key board and Flute. One of his unique talents in music is that he can sing in both male and female voice.  Once he alone presented duet song in GM hall which surprised audience. Singing duet song without female singer was acclaimed. Jiten used to sing both male and female voice in Shumang Leela shows when the female singer was absent due to illness.
Value of music listening
Music is an art of sound in time that expresses ideas and emotions in significant forms through the elements of rhythm, melody, harmony, and color. Music provides a positive effect on one's mind. It has the power of healing certain ailments, a calming effect on the mind. It helps fight anxiety and has a soothing effect on the brain. Soothing musical notes help increase the Serotonin levels of the brain, thus alleviating mental depression. Music can make you cry, music can make you smile; it has a direct impact on your mood. How music affects your mood also depends on what you associate that piece of music with.