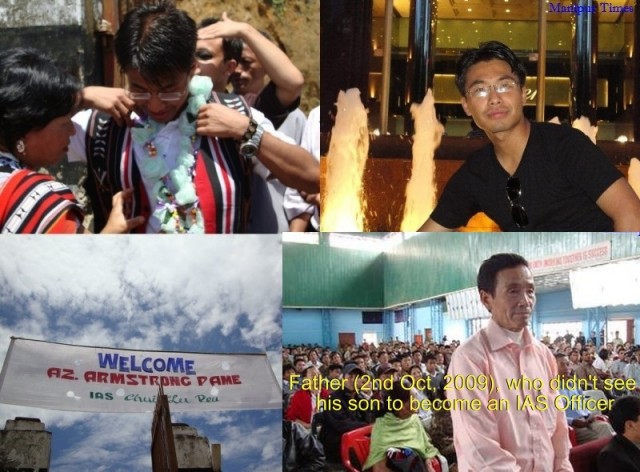 In Collaboration with FindingTheVoices.com
"I woke up at 4.30 am before the break of dawn and walked for 3 km into the deep jungle stepping on the morning dew grass to collect fire-woods and washed up for study and take food and go to school" said Amstrong Pame, an IAS Officer born to Heitung Pame and Ningwangle Pame hailing from Impa Village in Tamenglong district, Manipur.
Amstrong Pame was born on 23rd September 1984 as 5th child, named by his father inspired by the great success of first American astronaut to walk on the Moon, Neil Amstrong. He has eight siblings- 5 sister and three brothers and some of them are in reputed positions. His village, Impa is nearly 50 km away from district head quarter and being a very remote village, there is no electricity and no good roads. The first five years of his life were spent in his village. In search of a better life, the family shifted to the district head quarter in 1989. The new environment was a favourable place to earn a living and children's education too. Amstrong started his regular schooling very late but was soon picking up pace as he was granted double promotions. The very fist kindergarten school he was admitted to, was run by a Church. He studied at the Christian Grammar School for primary Schooling where he studied till class VII. He had experienced a very hard life and the family could not afford his extra tuition fees. He then went to study at a bigger School at the same town and studied till 10th standard from united builders school. In 2000, he was enrolled at St Edmund's College, Shillong, and completed his 12th standard in 2002. He had to walk on foot for 4 km to his brother's place to eat when the hostel's mess was closed for vacation. Most of the time, he used to pack his lunch from his brother's place for dinner at hostel. But he never let a day gone in vain without studying never went to sleep without praying for his illiterate mother. He went on to complete higher studies from his dream college at St Stephen's College, New Delhi, in B.Sc. (Physics Honours) and finally, he became a graduate in 2005 with distinction marks.
Amstrong dreamt of joining the IAS since he was in the 2nd standard. He shared his dream with his father and brother. It seemed like an impossible dream to accomplish to his brother and father at one time sitting under a pouring roof. His father, even though he a primary teacher, always encouraged him. The family, relatives, villagers and well- wishers encouraged him a lot and now his dream has become true. Despite having done Physics Honours, he opted for new subjects – Public Administrations and Geography in the run up to the IAS examination. He even gave up IIT, although he cleared it, to follow his dream.
His first attempt was in 2006. In 2008 he wrote the same exam again and cleared but missed IAS. He instead made it to the Indian Revenue Service. He worked as an assistant commissioner in IRS for one year. As he was not able to work at the grassroots level, he again wrote the Civil service exam in 2009. When the result was declared on 10th May, he was in Mumbai and one of his friends staying at Delhi told him that he had made it to the IAS. It was hard to believe that he made his dream of joining the IAS come true. He felt like he was the most relaxed person on the Earth and that the prayers of the people back home had been answered.
Amstrong is the first person in Zeme tribe to clear the Indian Civil Services. Zeme tribes, a sub-tribe of the bigger umbrella of Naga tribe, live in Assam, Nagaland and Manipur. Zeme tribe in Tousem are most backward tribe due to their remoteness from the main town. In 2012 he became the Sub-divisional Magistrate (SDM) of Tousem, which is in Tamenglong, his home district. He still regrets that his father could never saw him as IAS Officer. His father passed away on 2nd October, 2009 while he was still on probation. The Tousem sub-division has an area of about 1300 sq.km with a population of 33,000 (approximately). There are 63 villages and among them 21 villages are yet to see electricity and 15 villages are yet to see a motorable road. Tousem is popular for King Chili, the Guinness record for hottest, and Orange both in quality and quantity. Unfortunately there is no provision to market and no all-weather road to transport.
To fill up the communication and transport gap, he recently took an inspiring initiative of making a 100 km road in Manipur with no funding or help coming from the government. A story which has touched people's heart all over the world. This great leap was made after experiencing the hurdles faced by the villagers in remote areas in Tamenglond district. He saw how people were carrying sacks of rice on their back, walking for hours from district headquarter to home. It took two days for anyone in the village to make it to the nearest hospital on foot in the absence of a motorable road. Hundreds of patients were carried on bamboo stretchers, and very few made it to the town alive. And town doctors were unwilling to come to villages because of its inaccessible terrain. The villagers wanted him to do something for them and their only wish was for a good road, he recounted. Frustrated with the situation and receiving no response and very delayed responses from the government, Armstrong Pame turned to his family and well wishers and initiated the project of making the 100 km Tamenglong – Haflong Road Construction in August, 2012 and targeted to be completed by Christmas that year.
He was really moved by the plight of people; so he decided to raise the funds on his own in August 2012 through Facebook. "Charity must begin from home; so I put in Rs. 5 lakhs and my brother Jeremiah and his wife Avitoli , who teaches in Delhi University, donated Rs. 1 lakh. Even my mother paid my dad's one month's pension of Rs. 5,000," he added. One night my brother Jeremiah got a call from a person in the US who wanted to donate 4000 dollars for the road. The next day a Sikh gentleman living in New York said he would give 3,000 dollars. And after the media reported about this effort they never looked back. In a short span of time, Rs. 40 lakh was raised for the road but it was not a huge amount for building a road, so the group convinced local contractors to help them with earthmovers and roadrollers for free. Enthused by the way Pame had been able to put together the resources, the residents of Tousem sub division villages volunteered to build the road – thus saving labour costs. He still draws the plan to extend the road so that the villagers have a chance to communicate with the word entire easily and frequently.
Armstrong Pame (IAS) Gallary
The funniest moment in Pame's life was when a policeman mistook him as Chili seller. Once he was travelling in a truck, that carried goods mainly chili, from his work place to Imphal for an official work as his official vehicle had broken down because of the bad roads, They were stopped at a check post and a police personnel asked him to identify himself. In response to the question he introduced himself but the personnel said that SDO cannot go in that vehicle with those chili sellers. It was not the fault of the personnel, the dusty road made no difference him from the rest chili sellers and sitting in such vehicle was just not believable. It was unable to see even the colour of his hair. Pame is a man of extraordinary determination; he still wishes to devote himself and his service for the welfare of the underprivileged people.
"Sometimes I still cannot believe that we have done it. It is a miracle. I don't know whether I can do it again," Amstrong Pame said.
---
One can follow the progress of the People's Road Construction at Facebook page – Tamenglong – Haflong Road Construction
Original Podcast is available at Finding the Voices by Monica Ingudam Episode 10