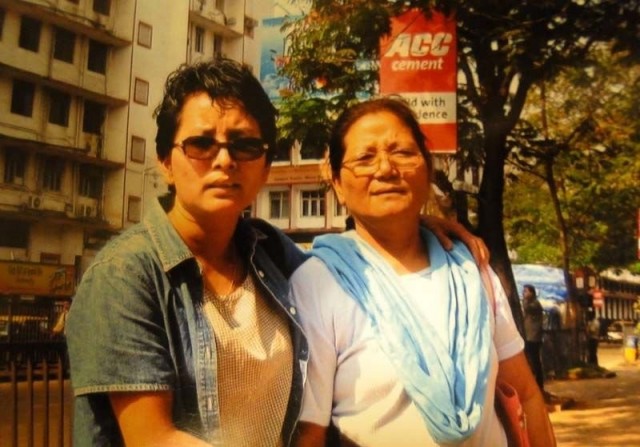 In collaboration with FindingTheVoices.com
Shanti Thokchom who is presently working as a Nursing Assistant in a facility for the elderly in Oklahoma,United States is a Manipuri of diverse background born to a Meitei father and a Kuki mother. She grew up in a shanty /shed like house along the Naga River in Thangal Bazar amongst her neighbors from different states of India like Bihar, UP, Rajasthan, Punjab etc. She was born into a poor family who faced a hand to mouth existence nearly everyday. She was the eldest of seven siblings. Her father ran a small shop selling second hand clothes at the Aloo-Gali in Imphal near the Old District hospital for their livelihood which was just not enough to meet the greater needs of the family. Her mother was a housewife and a hard working woman. She used to weave ethnic Kuki shawls and wrappers/sarongs (Phanek) to sell and supplement the family's meagre income. Her parents could not send all the children to private schools as they could not afford it, barely making enough to feed them. Being uneducated parents, they never had the far sight of higher studies and its importance. But they always wanted to be the parents of educated children. Their first and foremost thought was that completion of  high school was the final stage of formal education and they never looked beyond it as they had no other option. They continued to encourage their children to keep working hard and complete their high school and start looking for jobs.
Her father was a Hindu and a great devotee of the Hindu god Mahadev but gave his children the freedom to follow any religion they wanted. Her paternal grandmother was an orthodox Hindu who followed extreme measures to safeguard her Vaishnavism faith. Her grandmother never fully accepted her mother as her daughter-in-law due to her being a Christian and from a different community, so they lived separate from her paternal grandparent's home. Sometimes she went to visit her grandmother. The most annoying & ridiculous ritual and custom was the changing of her dress to enter the kitchen to drink a glass of water as per her grandmother's   law. But looking back, she does not blame her grandmother as she could now understand that it was the tradition prevailing at that time and there was strict institution of purity and extreme cleanliness in a Hindu orthodox family which does still exists amongst some Manipuri families. Another thing, she always had to be conscious of the word "meat" and not use it in her grandmother's presence. In contrast to her grandmother, her father was a much more liberal man; he never imposed any hard rules and regulation for his children to follow any particular religion. At home, Shanti and all her siblings spoke in Kuki language with her mother and in Meiteilon (Manipuri) with her father. Her father had little time to learn the Kuki language as he was busy whole day in his shop .So he did not know any word of it except for some colorful cusswords and few common words.
Shanti along with her second sister studied at the Nirmalabas School in Imphal up to 4th standard /grade as there were no more classes after that due to the construction of the new building. Their persistence in studies and hard work made them top their class with all the kindness and love they received from their school teachers and nuns who loved them and also loving classmates there. They wanted them to be in school and not drop out due to their parents' inability to pay the school fees. The school authority of sisters and nuns were so kind hearted and considerate towards their plight. They granted more concessions for their school fees and provided books at half price and even their classmates offered those pencils and erasers; thus they could study there up to 4th standard/grade. But unfortunately, they could not attend the Little Flower School, Imphal despite being granted free education as their parents could not afford to pay the school bus fees. So they had to opt for a government run Adimjati High School in Chingmeirong out of choice. Her parents bought a used bicycle for her to go to school. This was a totally new experience for her and very different from the short walk to Nirmalabas School back and forth and now she had to bike daily to school carrying her sister. She was very sad and missed all her former classmates but she did not let that dampen her spirits. The challenges she encountered since her early age are endless but her extraordinary determination did not let her down and she never gave up at any cost. After completion of her matriculation, she enrolled in a morning college in Elang Leikai. At that time, she was called in to help teach kindergarten students @ her high school's junior section. This was a big boon and a big morale booster to her as she could at least be helpful to her family. This was her first teaching job and she just loved it. Thus she could earn few bucks to support her family and for her pocket money. She was paid Rs.300/month but that was like million rupees to her @ that time. This made her so happy and much more confident. Her sister accompanied her in teaching the Nursery classes at Adimjati Little School for some time and they loved it. Shanti joined the Baby KG School at Paona Bazar in Imphal & taught for 3 years there. Thus she started earning while learning.
She used to give private tuitions to her students at home to supplement the family income. She was able to provide free tuitions to needy students of her class whose mothers were vendors at the Ema  Bazar or either had alcoholic parents or just unable to pay the tuition fees. She could relate to that as she herself had gone through it and wanted to help these students.
Shanti got enrolled into the nursing school after completion of her 12th class /grade @ the Jorhat Christian Medical Center in Assam. She loved nursing from an early age and dreamt of being one too and she was so happy to be selected for it. During those days the nursing program in this Christian Mission hospital was free except for the textbooks and other miscellaneous things. The candidates were selected on their merits. But they had to agree to sign a 2 year bond with them to work there after the formal training was completed. She completed her training and internship in 1992 but there was just no hope for her to get a nursing job in Manipur since her family would not be able to pay the required bribes to get a job there in the hospital. So she finally decided to go to Bombay out of no choice into the real world.
She had been corresponding with a staffing agency there for quite some time. She had been assured accommodation and work there by the owner of this agency whom she had met in Kerala during attending one of the All India nursing conventions held there for which she represented Assam. Her family was very scared and anxious but she consoled them to trust her and thus she left Assam for Bombay during 1992 in search for a job. The thought of wanting to help her parents and her smaller siblings spurred her to be more than ever determined and not be fearful of anything in her path!!!
The staffing agency owner lady provided accommodation in her own building where we were housed in with 3 other migrant nurses who were also looking for jobs. Those were small rooms with 4 beds each. But knowing the space crunch there, she felt very lucky to be in a safe place at least. This lady would charge 10% commission to her for any work/job she provided. Thus she began to work as a private nurse for 7 years and thus she helped her family. Her brothers and sisters came to Bombay and went to college there and to get themselves stand on their own feet. She worked in Bombay for first time in the Breach Candy hospital caring for rich patients' .She was very hard working and sincere. Her patients recommended her name to their family and friends. She was even recommended to the friends of friend of the family and thus, her working sphere began to expand more. Thus she built herself a reputation for her hard work, responsibility and sincerity.
To be Continued.
 Original Podcast is available at Finding the Voices by Monica Ingudam Episode 24