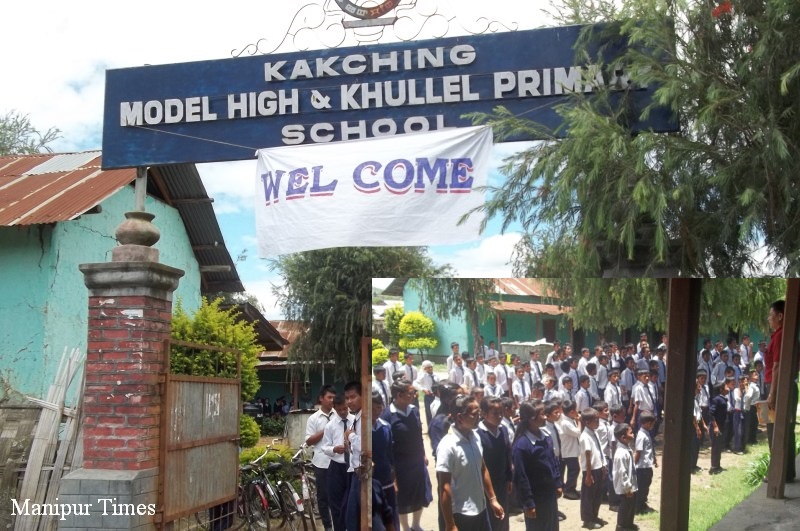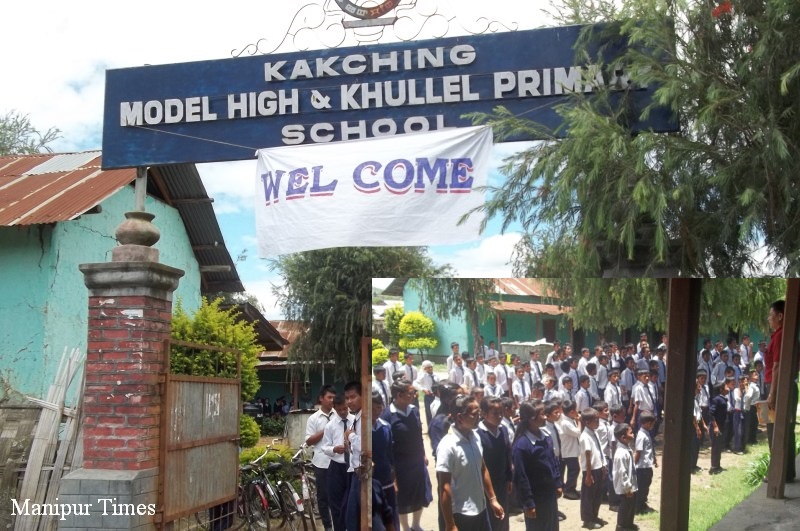 "The years 2004 and 2005 were bad for the school; the pass percentage in board exams was almost zero. However, this did not continue for long with the hard works and initiatives by both teacher and School Committee. From 2007 onwards, the students of the school fared well in the board exams. Again in 2008, sixteen students out of nineteen passed out, six secured 1st division and ten in 2nd division. Thus the school's performance improved gradually that led to the strengthening of number of students", told Naorem Birchandra, Head Master of Kakching Model High School in a conversation with Manipurtimes. 
Kakching Model High School is a forerunning government aided school in producing high pass percentage in Class X Board exam regularly. The School is located at the Burma-Sugnu Road and around 2 km from Kakching Lamkhai. The School was established in 1971 and grant was aided in 1980.
Currently the school has 308 students and 14 staffs including 6 non-teaching staffs. Of 8 teaching staffs, 3 of them are in contract basis.
Along with the conversion into English medium and the improvement in School performance, the student strength raised up to 308 number (2013 admission record), i.e 60 students per class in average. Because of limited grants, there are no sections in the classrooms as yet.
The School almost closed down like many other government and government aided schools in Manipur. But with teachers and committee efforts an initiative in 2006, was started to have residential camps at School for class X students just after their pre board test exam,  said School Head Master. He further said that by doing so, students could keep in touch with teachers all the time till the board exam comes and could give much concentration to their studies. Moreover, during the residential camp, students are given Yoga training, specializing on brain improvement techniques from Yoga instructors.
It is encouraging to know that since the students in the school are mainly from poor families, the camp run by contributing students' shared  their food with these children.
The students are very active in participation in any competitions organized at district and state level, such as painting, Debating, Quiz competitions and Science Congress and so on. The School organises annual sports and literary meets every year as to bring all round development.
" In National Means  cum Merit Scholarship Exam which is a centrally sponsored scheme for class VIII to XII, among 18 students for Kakching zone, 7 of them are selected from our School, above this, the school is a member of DNA-Club, so the club provide us science instruments and equipments like Simple microscope (3), Compound microscope (10), Refrigerator (1), Hebraism set (2), Hebraism  Godrej cavort (1), Computer set (2), and printer (1)", announced Birchandra happily.
It may be mention that DNA CLUBS (DBT's Natural Resource Awareness Clubs) program is the flagship School outreach program of the Department of Biotechnology, Government of India. The program has evolved significantly since it was first launched in July, 2007.
Kakching Model High School was also selected by an inspection team. 57 schools are selected for the CLUBS membership out of which 10 are from Thoubal District. 2 schools are selected from Kakching Zone; the School itself and Kakching Girl High School.    
While asking about the further development of the school, he stated that "the school will be improved and developed more and more if we get support from government authority, and if staff salary is paid by government though the governing part should remain on school committee".
Photo Credit: Kakching Model High School
About the difference in performance outcome of the school with other government schools at Kakching, he said, since ours' is an aided school there no transfer for teacher as in other government schools. Again at the school, it is fully and actively governed by school committee and the committee has the authority to appoint or withdraw teacher as per their performance and welfare of the school. Repairing of the school building and infrastructure is done by the committee itself.
Regardless of their small salary, it has been observed that the teachers of the school were actively interacting with students. No doubt if the effort continues and progress like today, the school will lead in producing more and brighter students like it did some years back. The school has produced many bright students since its establishment. This year in class X board exam, out of 41 appearance 31 students passed, two were in 1st division and others were in 2nd division, securing 75%