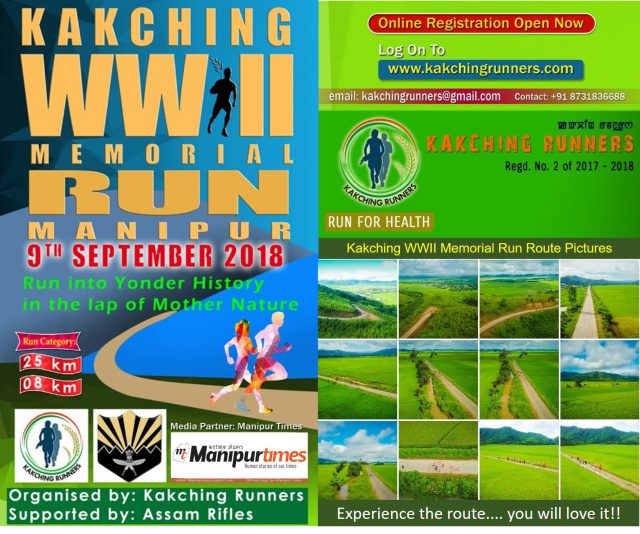 Kakching Runners with support from Assam Rifles are planning to conduct a historical, socio cultural, environmental, sporting memorial run to commemorate The Second World War in Manipur 1945.
Kakching World War-II Memorial Run-2018 to be held on September 9, 2018 will be dedicated to The Valient Soldiers of Allied and Japanese Forces, Azad Hind Fauj & Common People of Manipur, 1944
Online Registration opens at
http://KakchingRunners.com or
https://eventjini.com/kakchingworldwar
We will have a relook at the events, fill up the gaps and include missing stories from a common mans perspective. With this event we would like to show our solidarity and pay homage to all those brave soldiers and their families from all over the World who descended on this sacred land of ours. To those who lost their near and dear ones, we intend to provide them an opportunity to come here pay homage and be with their loves ones once again.
This run is expected to be participated by both national and international runners and well-wishers. A large number of State runners will also be taking part.
The run will be conducted in and around Kakching Aerodrome, the erstwhile Pallel Airfield which was very important airfield and one of the only two all-weather airfields constructed in Manipur for the War.
The route will pass through the beautiful lush green fields, woody mountains slopes which was once a bloody battlefield.
We Kakching Runners request for your kind support and help in the conduct of this event. Your inputs and advice if any will also be immensely important and invaluable for us.
Where to Register:
Online Registration at
http://KakchingRunners.com or
https://eventjini.com/kakchingworldwar
Date: 9th September, 2018
Venue: Kakching Aerodrome (Erst while Palel Airfield)
Run starts at 6:30 am
Age categories for 25 km:
1. Men above 45
2. Men below 45
3. Women above 45
4. Women below 45
Age eligibility for both men and women: 15 years as on 09-09-2018
Kakching Runners are a registered non-profit social organization based at Kakching for promoting a healthy environment and society with membership from all walks of life, across the entire spectrum of our society.
Brief activities timeline of Kakching Runners
30 Sep 2017: Save Sengmai River Run. Sengmai River is the lifeline of Kakching. In the last few years, the pollution level in the river has increased manifold mostly due to manmade causes. Save Sengmai River Run was conducted all along the river to highlight the importance of preserving our natural water resources from pollution.
21 Nov 2017: Airtel Delhi Half Marathon. A contingent of Kakching Runners participated in the prestigious Delhi Airtel Half Marathon. Two women Kakching Runners secured 2nd and 3rdranks in their respective categories.
26 Nov 2017: Social Voluntary Work. A stretch of local road became slushy and slippery due rampant spread of loose mud. It was becoming a safety hazard for people using the road. A voluntary work was carried out to clean the slush along stretches of the road to prevent road accidents.
03 Mar 2018: Yaoshang (Holi) Run. Yaoshang (HOLI) Run was organized by Kakching Runners to upkeep traditional value and upkeep social harmony. The participation was very encouraging by both people and town officials.
25 Mar 2018: Friendly Exhibition Football Match. This was the launch event for our upcoming World War II memorial Run. A large of number people turned up to participate and witness the event. We are very grateful to the Manipuri Film Football team for their overwhelming support and encouragement given to us in our endeavor.
01 Apr 2018: Sunrise Run Imphal. A team of runners participated in the above run.
Sunday Health Runs. Health Runs are conducted on Every Sunday Morning for all people who are desirous of joining it.