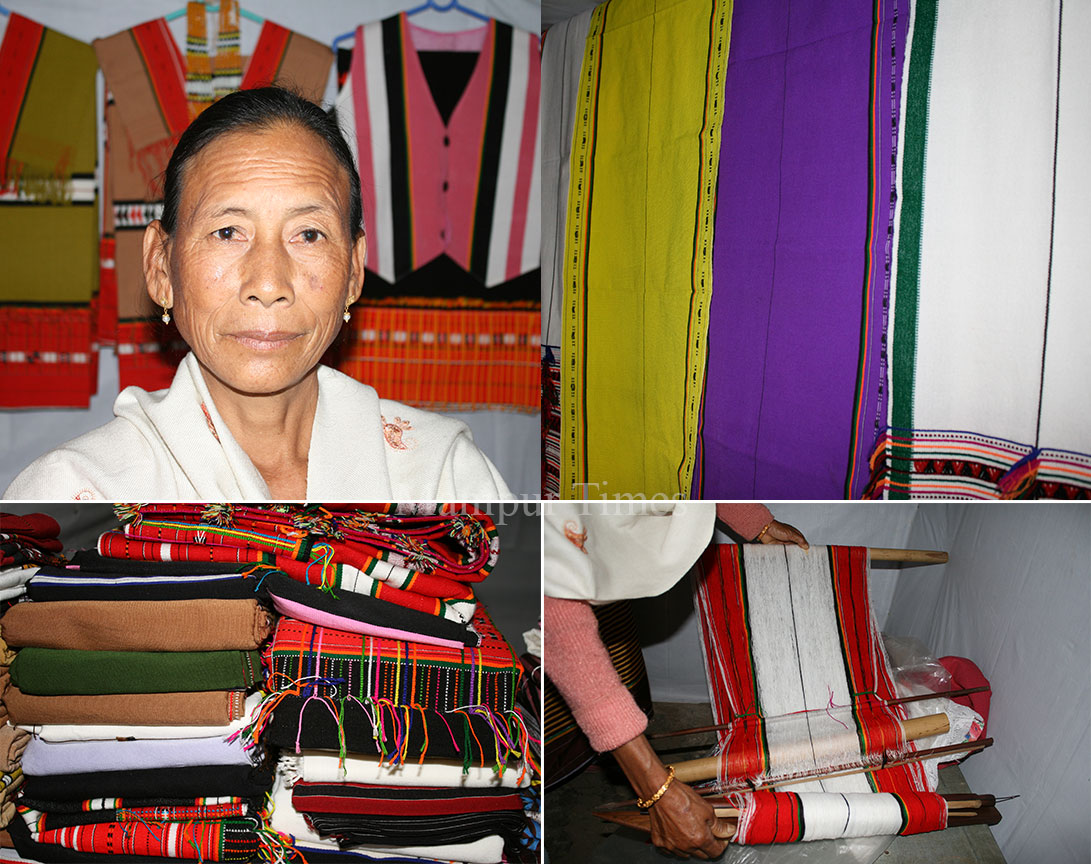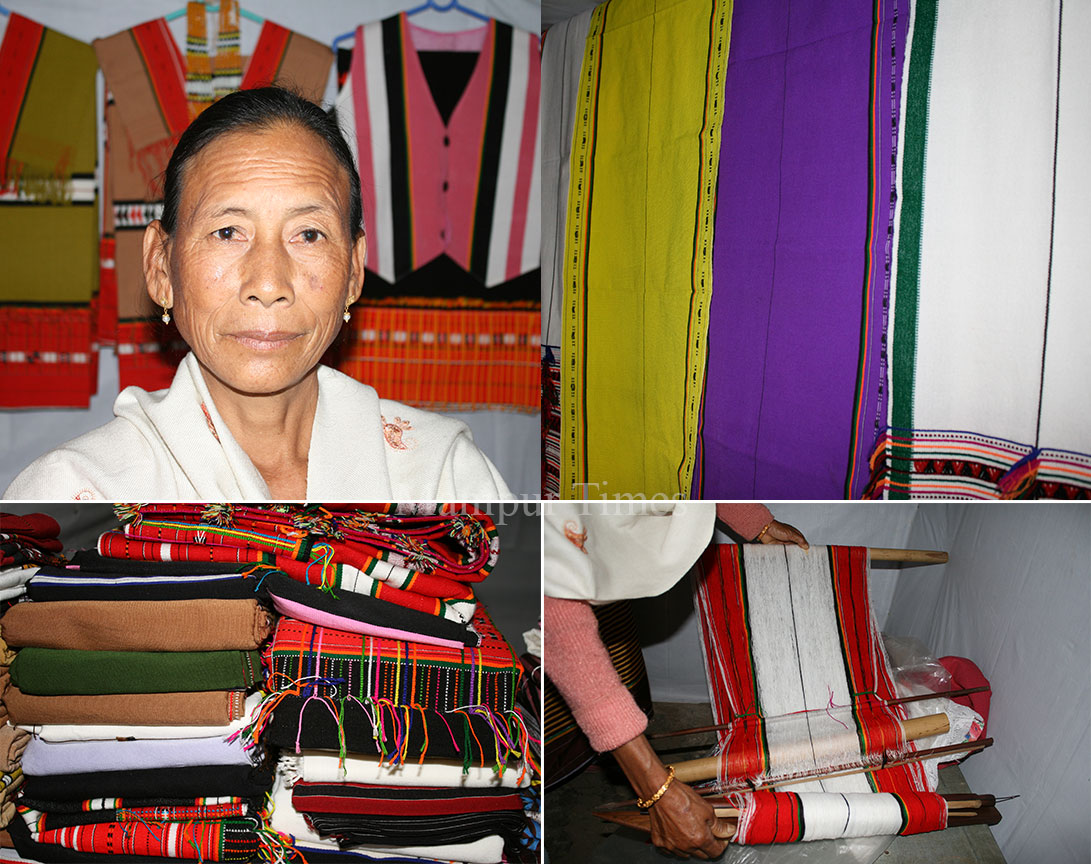 Embracing the art of crafting traditional Kabui handloom fabrics learnt from her late mother, 60 years old Kabui lady, Khomdonbi Rongmei has been working with dedication to promote the craft for years. Khomdonbi Rongmei is the wife of Kamei hailing from Konthoujam Kabui village, Imphal West district. She learnt the craft from her mother right from her tender age of 13.
My mother was greatly acclaimed for her artistic skills in weaving traditional Kabui handloom fabrics like Langjen Pheisoi, Bungkham, Pheingao Pheisoi, Lengrang, Lakmu Pheisoi, Pheingao Phei (shawl) etc.
"Among my sisters, I am the only woman who still carries on the family legacy in weaving Kabui handloom following the footsteps of my mother, said Artisan Khomdonbi Rongmei during a chit chat with the Manipur Times.
A mother of three daughters and two sons, Khomdonbi Rongmei was honoured by the Commerce and Industries Gepartment, Government of Manipur by conferring the master craftsperson award in recognition to her contribution in promoting the languishing Kabui traditional handloom fabrics in 2008. Her eldest daughter is working as a teacher under Autonomous District Council while others are doing jobs in private firms. With her daughters and sons getting matured and helping in family maintenance, she can now have a sigh of relief to some extent.
She has participated in many handloom and handicraft exhibitions (mela) such as Gandhi Shilp Bazar, sponsored by Ministry of Textiles, HADO Craft Mela, Manipur Sangai Festival etc. Her handloom products have been showcased in some of the handloom exhibitions held at New Delhi, Guwahati, Rajasthan and others as well.
She markets her colourful, traditional Kabui clothings to retailers in Imphal. She has been doing this job for almost 20 years. She can earn more than Rs15000 a month from this business. As her husband Kamei is a cultivator by profession and unable to maintain the family with his meagre earnings, Khomdonbi plays a key role to meet all the demands of her family requirements for years by dint of her weaving profession.
KHOMDONBI'S DESIGNS
Langjen pheisoi, Bungkham, Pheingao Pheisoi, Lengrang, Lakmu Pheisoi, Pheingao Phei (shawl), Lenglan (worn mainly by boys used in traditional dance), Mareipan, Haopheishoi, Lakmu Pheisoi are some of the Kabui traditional fabrics she designs with artistic motifs. She is specialised in weaving such traditional Kabui handloom clothes. Traditional waist loom is the only loom she uses to weave these clothes.
Locally known as Langjen Pheisoi, Pheingao Pheisoi, Lengrang in Kabui tribe parlance are mainly worn by Kabui woman during occasions like wedding and festivals while Lakamu Pheisoi by girls and Lenglan by boys during cultural dance. Pheisoi means Phanek (loin cloth) in Manipuri language, Pheingao Phei means Innaphi (shawl) and Bungkham means Khwangyetphi (small waist loin) worn during cultural dance, she said, highlighting some of the Kabui traditional handloom dresses used since time immemorial.
Mareipan is a popular shawl of Manipuri Kabui tribe, having fourteen categories of hand woven cloths out of which seven are used by women and seven by men. Mostly they are woven on loin loom. The borders of these cloths are artistically designed where white colour is predominant. Black and red form the complimentary combinations for Mareipan. Mercerized and acrylic yarns are used in crafting these designs. Pheingao, worn by both men and women is another popular Kabui shawl. These traditional clothes are woven using loin looms. Like Mareipan shawl, these cloths also show predominance of white colour.
Haopheisoi, a waist loin (Phanek) worn by Kabui woman has some similarities with Phanek Mayek Naiba worn by the womanfolk of Meetei community in its design and motifs. The only difference is the yellow color motif embellished on the border of the fabric which signifies Kabui tribe. This fabric is prepared on fly shuttle loom. Acrylic or mercerized looms are used in the production of this fabric. The fabrics are embellished by border and longitudinal warp designs, traditional motifs and traditional knowledge.
She sells Mareipan shawl at the rate of Rs1000 to 1300 a piece, Pheingao at Rs 4000 to 4500, Haopheisoi at Rs 3500, Bungkham at Rs 500 and so on. The clothes manually woven by her are marketed to Khwairamband Bazar. At times, costumers used to approach her house for buying it.
FAMILY AND PAST LIFE
She is the sixth daughter among seven siblings out of which four are female and three are male in the family. They were brought up by their widow mother as their father left them behind at an early age. All her sisters were also taught weaving of Kabui traditional handlooms by their mother. However, they have left weaving and chosen different trades. She is the only daughter who is still practising the aged old profession of her mother.
"Those were the worse hardship days for our family as our mother had to maintain the family alone without her husband with her small earning from weaving clothes. I still remember the days my mother used to work on her loom till late night braving the black smoke emitted from the oil lamp locally known as Thaomei Podon", Khomdonbi said. With the meagre income earned from weaving, she managed to maintain family including sending us to school, recalled she.
TEXTILE SECTOR
In fact, handloom industry of the state which is the only surviving industry in the textile sector in the state is providing maximum employment to large numbers of women community and supporting the socio-economic conditions of Manipuri families. It is the largest and most important cottage industry in Manipur. The womenfolk of the state are naturally endowed with unique artistic skills in handloom. Manipur handloom sector is popular globally these days through these artistic skills. Handloom weaving revealed the artistic genius of the Manipuri weavers in respect of colour combination, animal, insects, floral designs, geometrical designs, textures and durability.