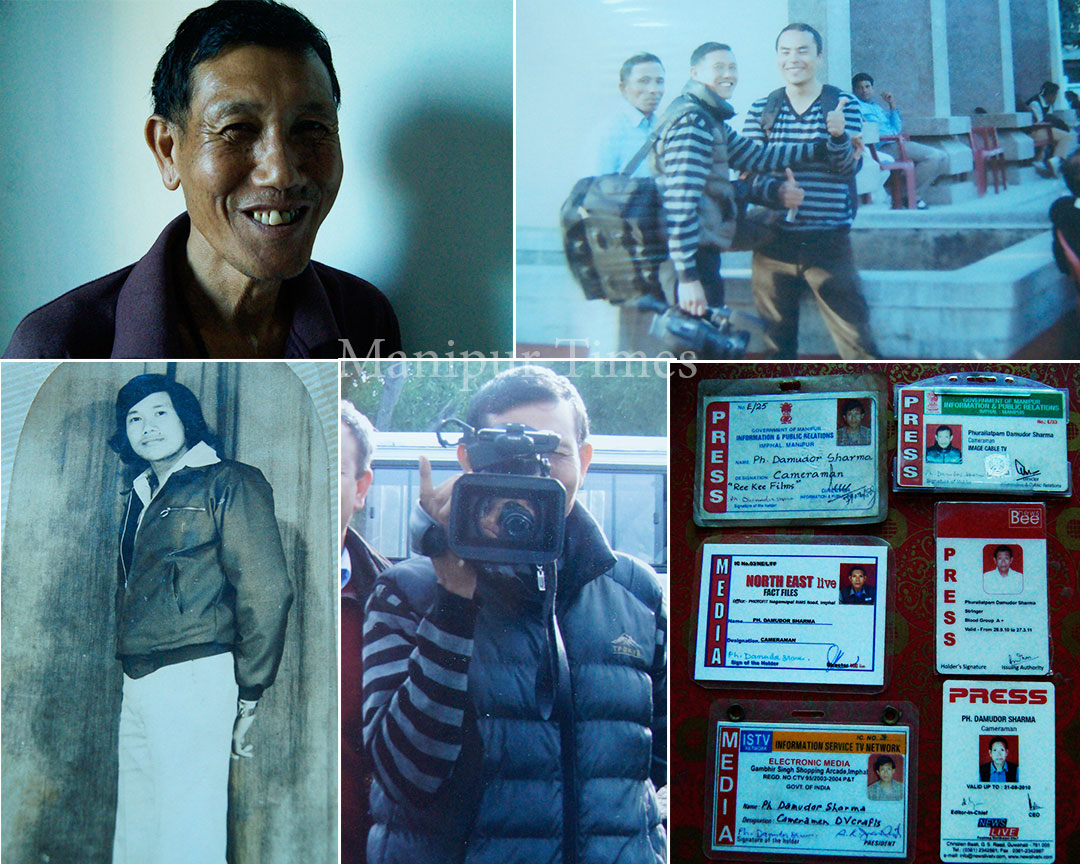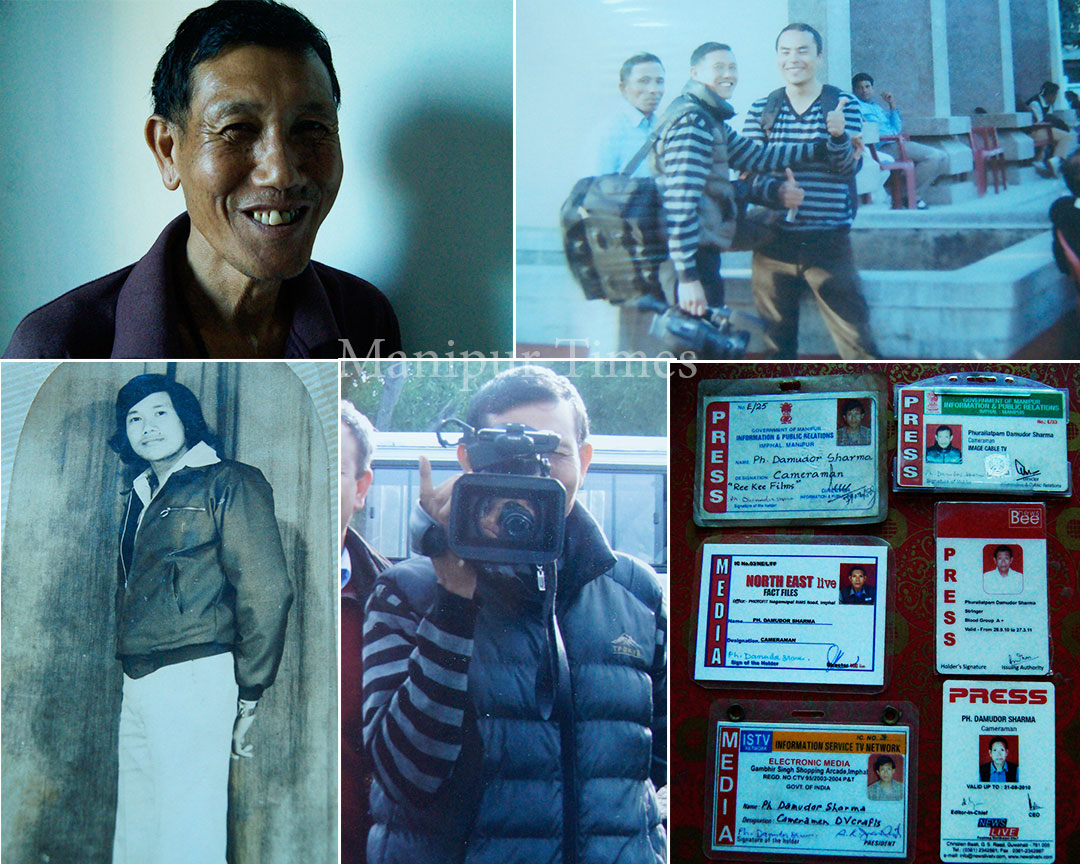 Young and old people who know him affectionately addressed him as Mamo. He has been a cameraman with DDK Guwahati since 1990. He is a cameraperson to more than 40 plays and dramas of DDK. He was an active volunteer in movie clubs during celluloid time. By profession he is a journalist. His video work is appreciated by many and he has been earning a lot of money from his videography assignments for wedding and functions since the eighties.
Manipur Times had an exclusive interview with Mamo whose actual name is PhurailatpamDamudor Sharma from Khuyathong and we are taking you back to the seventies, eighties and nineties as Mamo narrates the story about photography and videography from his own experience.
Night life in Imphaltwo decades back
"When I was in X Cine StudioPaona Bazar we use to open our studio till 11.30 pm expecting customers who came out of cinema hall after the last show that began at 7.30 pm. Night life was very much there", says Mamo.
Getting exposed to photography
"After I pass my matric exam I join X Cine studio at Paona Bazar. The Proprietor Late Ibohal who is my eldest sister's husband asked me to volunteer in his studio work which I readily agreed. That was the time when a Passport photo cost only 25 Paisa. That was how I join a photo studio.
Slowly the price rise to Rs 2.50, Rs 3, Rs 4, Rs 5. For outdoor shooting the rate was Rs 7 when the studio shoot cost Rs 5. Then it rise to Rs 10.
There were times when only 5 snaps were taken for the whole wedding ceremony @ Rs 10 per photo. In some cases the customers gave an advance of Rs 10 and never came back to collect the photos from the studio.
I went for an assignment of photo shot in a wedding as I never go for long year after I join the studio, everyone was curious and they found my photo perfect then I started to go for assignment. I ask the ushers of bride and bridegroom to coordinate while I shoot, making it a good angle.
Nowadays it is 100 percent different. Even the camera is technologically advance.
You can brush shot now with your DSLR camera. In our times we were very careful. We call 35 mm camera where we use 35 negative shots. The camera was also big. There were also 12 negative roll cameras. I donot see the object I shot. Nowadays we shot and look if it is good and click for another time in digital camera. Those days were single shot. One chooses the best from multiple clicks at present", opined Mamo.
Getting exposed to videography
"From 1973 till 1982 I was working with X Cine Studio. It was around 1984 before the Asian Games took place in Manipur when a big tournament was played Video camera was seen for the first time. It was also the time when Television was introduced in the State along with VCR machine. Our proprietor Ibohal bought an M 1 video camera. His son Vimol who is presently taking care of X Cine studio bought another higher grade camera for the studio.
People use to watch at us when we go for video shot. On my first assignment I kept pressing the red button till the end of the shoot as I was instructed to press the red button. Few days later, I get to know that it is like switching the electric button on and off and not like pressing all the time", narrated Mamo.
Photography and Videography Institute
"X Cine studio use to run an institute imparting photography knowledge to students from 1973 onwards. There were 25 students in a batch for a three year degree course. The students are working in various Manipur Government departments or they have opened up their own studio. I was an examiner at one point of time and students use to call me mamo affectionately.
The proprietor of Cine Still late Dougee was also working with me at X cine studio. In 1975, I got a certificate of my own from the institute", says Mamo.
Opening a studio
"By December 1982 I opened my own studio at Khuyathong under the banner DEE CINE. Ten years later my younger brother converted it to a Pharmacy. Now I have reopened DEE CINE studio recently", told Mamo
Active Volunteering at State Movie Clubs
" I was a volunteer in Imagee Ningthem. My brother in law was the main cameraman of the film and we processed the negatives in the dark room. In big tubs I use to process the negatives. A tub was for developer, one for fixer and another for water for washing. We again dry the negative after developing. The 100 feet stretch rollouts was done in a hall.
We have a big hall of our X Cine studio.
I was an active volunteer in Imphal Cine Club and Film Society where personalities like late MK Binodini, RK Bidur, Chand, AKSingh and his group took great role. We use to screen movies for Imphal Cine Club.
We use to hire State Museum Hall for organizing film festivals. After the Cine Club expanded we organized Soviet Film festival where good movies from aboard were screened", narrated Mamo in an enthusiastic mood.
Started earning
"As I get married I started focusing on earning. I bought the M1 camera from the studio is use to work in 1993/94 at Rs25 thousand. I took order for marriage without knowing how to shoot professional in the beginning.
I do not attain class in photography but I was a good photographer. It was uncut shoot for the whole tap in my early days. No editing. Rs1500, Rs800, Rs 600 was charged for a wedding.
Then I took off the unnecessary shots and use cuts, making improvements. M5, M7,9000, 1000were the names of the Camera models in those time", informed Mamo.
A film at Ukhrul
"In Ukhrul I went to shoot for a program and later converted the cultural show into a movie after coming to an understanding with the organizers. The film was titled Afinao. Some say it was the first film in Ukhrul. They screen the film in the town. Afinao was the depiction of the cultural water fetching and ceremonies in a proper sequence", narrated Mamo.
Wedding Videography workouts
" I use to ride in my scooter till Ukhrul for camera order and drove the interiors. Those days I use to get order for 20 days in a month. I took orders for wedding ceremony, functions, sports, festival and other religious ceremonies. My earning was around above Rs 30 thousand a month in those time.
The landlord of DEE CINE studio was from the hills so I use to get orders from his friends and relatives too.  On Christmas Eve I use to leave home by 22nd December and come back after New Year and come back with good earning. I pay a rental fee of just Rs 250 at the onset of our DEE CINE studio the last payment was Rs 3000 a month. My younger brother converted the studio into a pharmacy.
 I travel till Churachandpur for video coverage. I got many clients from Moirang, Kakching, Hiyanglam during those days. Mapping of my regular customer stretches from Moirang Sena to Tronglaobi, Kwakta, Thanga Karang Chingmang, Keibul Lamjao, Kumbi, and Dam Kollup. Besides I got lots of order from Imphal area", recalled Mamo in a happy mood.
Camera order in vogue
"Nowadays many cameramen have started their business so my old customers have not turned up. Yet many new customers from my vicinity etc are there. But the number is very less compared to old days.
Most of the engagement and wedding videography for the North Indians settling in Khuyathong and Thangal Bazar are done by me. Every function of Tribal Research Institute Chingmeirong is covered by me", opined Mamo.