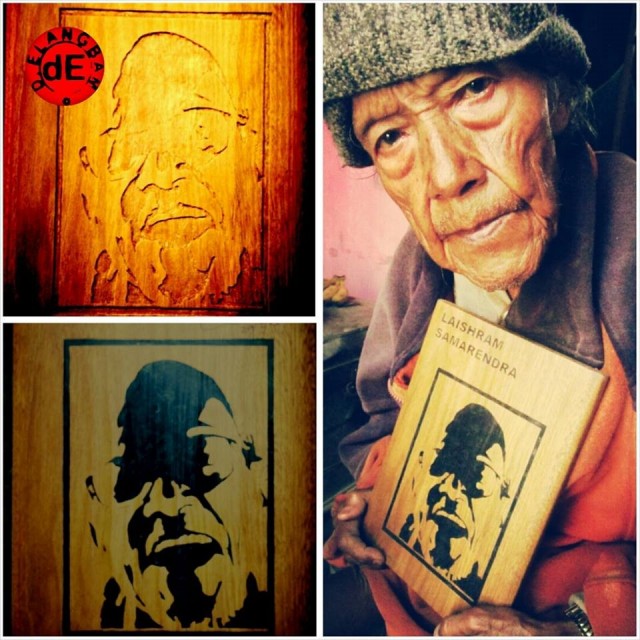 By Lenin Ksh (Team D. Elangbam's Editor)
Laishram Samarendra is a great Edhou*(*a name which we address to a great grandfatherly looking respectable individual). Physically he is very weak; he cannot stand up, hold a walking stick or walk by himself. His entire limbs, from thigh to ankle, seem to be just only bones covered with skin. He takes the help of a small, one man sized, metal bearing-wheeled bench for his essential locomotion and stretches.
The reputable old man who is just turning to celebrate his 90 years' birth anniversary on 20 June, 2015 with grandeur is a personality of prominence. He is a unique individual who carries the history of a century. He is a person who has imparted light and hopes to the young formative and creative minds of the historic post Japan War Manipur (1945 onwards). He has inspired the people of our parents' time as a teacher, as an artist (cartoonist), a writer, a film director, a theater actor, a music lover and a critic. His name is mostly celebrated by all the literary sections of the Manipuri society as one of the most important pioneers of Modern Manipuri Poetry along with late Elangbam Nilakanta Singh who is known as the trend setting poet of Modern Manipuri Poetry.
This living legend who is well known for his unique sensibility, the details about him; his unduplicated satirical style of writing, his humor and rhythmic lyrical poems, his combined works, introductory article and critical commentary given by two reputable state and national award winning veteran poets Oja Thangjam Ibopishak and Oja Yumlembam Ibomcha could be read at length from Poknapham Publications' "LAISHRAM SAMARENDRAGI APUNBA LAIRIK (Complete Collected Works of L. Samarendra Singh)".
To be able to discover him; get a chance to meet him and cater inspiration from reading his works that would always carry us far into the vivid vision of possibilities and that would always leave us recharged with forever multiplying wits, creativity and perspectives is, indeed, considered to be our luckiest and one of the most priced moments for our journey in Art.
For this famous individual a lot of reputable personalities of our state, who we have directly interacted with earlier so far, have recounted their stories of wonderful memories and true enthrallment associated with him. For this I would like to share to you a brief about our handful of experiences in coming up with this article.
It all started when our young team members of D. Elangbam went to meet Edhou Aribam Syam Sharma (Our renowned legendary film personality) through the appointment assistance of The Koi* (*a young experimental, folk, poetic and psychedelic music band) and Aribam Uttam Sharma (their musical mentor, Classical Guitarist and Edhou's son). At the end of the knowledgeable session, when we were about to leave, Edhou Syam suddenly reminded us about Laishram Samarendra whom we had never heard of before. Sensing our unknowingness he told us that he was a renowned poet, artist (cartoonist) and a fantastically unique individual. He continued that he was very old and weak and insisted us on having an appointment with him in the earliest time possible before he died. To make it more clear he told us that he was the younger brother of the renowned Manipuri singer and Folklorist, 95 years old Dr. Laishram Birandrakumar Singh who we had already met before.
Time went by and we had a series of other works and appointments. It was during our meeting with Kumari Yengkhom Roma (a veteran evergreen beauty, the 1st lead actress of Manipuri Cinema, Matamgi Manipur) that she recounted us about him. She just had realized recently that it was her Oja*(*teacher) Laishram Samarendra Singh who, unknowingly, had guided her into the field of art. During her young days in school (Tamphasana Girl's Higher Secondary School), this oja used to always catch her up and made her do certain things whenever he saw her during recess or early mornings at school. She was made to rehearse a dialogue or a monologue in front of a huge audience which she shied a lot.
In one of the school functions, on stage, she was made to act a sick girl child who had fallen asleep after playing her laifadibi (dolls). The theme of the scene continued to impart into the audience- the vivid dreams of the sleeping child filled with the thematic and colorful Manipuri Classical Dance of Radha and Krishna that followed. Yengkhom Roma still believes that it was him who planted the first seed of the creative fusion art form where both dance and drama went together hand in hand in our soil. She also remembered her vivid memories of the way he taught subjects in the class. The children were always fascinated by the cartoons that he drew while explaining. He also made the students draw posters and diagrams that were to be pasted and put up on the notice board and walls of the school for later education purposes. Those posters remained for many years.
A few days after meeting Roma, at around 10 AM, Momoson Thoudam (our event photographer) and I went to his house at Yaiskul Hiruhanba Leikai, with our usual equipments including a few Midnight Sketches of his elder brother- Dr. Laishram Birendrakumar, and the legendary writer- M.K. Binodini's. The first sight that we saw was disturbing; a very sick looking old man was sitting on a torn kouna fak (a kind of traditional mat) near the corner of his lawn absorbing the sun. Our first interaction was a surprise from both the sides and there were less verbal communication and more of gestures. I couldn't believe that a person of such an honor could be spending the last part of his life like that in such a worse condition. I came to realize later that he had only daughters(seven) who are all married and no son, or any offspring at home to take care and look after him personally in his everyday chores. He also insists on staying in his own home and not with any of his daughters. Only his old wife and a neighboring boy who claims to be his helper are his only consolation.
We, however, succeeded in explaining our stuffs and our purpose to him. We showed him the sketches and told him that we wanted his brief life account and bio-data. He understood it and requested us to come after 3 days as he had other works to do. He also told us that his bio-data and completed collection of his works could be had from his Poknapham Publication's book jointly compiled by Oja Thangjam Ibopishak and Oja Yumlembam Ibomcha Singh. We happily obliged and came out.
On the morning of the next visit we bought the book he had told from one Rajesh Book Store (Pologround Maning, Imphal) and moved to his house. He was there in the same place as usual and waiting for us. The experience of pure interaction was profound. Although we could not quite understand half of the words that he muttered with his peculiar hand movements and bodily gestures, we were quiet certain that we were made to dissolve all our inhibitions and remain calmly in the secure comfort zone within his artistic excellence. In fact we were spellbound; it was a unique experience of a life time. To add up with words of enthrallment, I would like to tell you that, he even took a sheet from me and drew a live portrait sketch of me in a moment of just 2 minutes. The sketch bearing his autograph is still with me and it reflects the smiling me, exactly the elated state of what I was, at the moment of his drawing. Before we leave he told us to contact Oja Ibopishak and Oja Ibomcha (they are the ones who took the pain in publishing his complete collected works). He wanted to ask them for a copy published in Poknapham about him few years back.
We had plans to meet the two Ojas; Thangjam Ibopishak and Yumlembam Ibomcha, who we had already known before as the inspirational poet and sources of Da Akhu Chingangbam's forceful lyrical output (front man of the Imphal Talkies band) and always waited for favorable time to make an appointment. Now it was ripe time so we planned ahead for further works.
Due to unavoidable circumstances that had came into our lives and that had to be faced, it had been quite a while since we had updated our last piece; late Playwright Pabung Arambam Samarendra on Yaoshang Meithaba numit (on the day of Hoil) on our page. However, we are happy to come back again bringing up springs of hope. Our silence doesn't mean we had lost contact with this Edhou or had completely forgotten what we were about to do. Edhou never stoped inspiring us; I had spent almost every night absorbing stuffs from reading at least an article or a poem from his book. I had analyzed the introductory part and the critical commentary written by the two above mentioned Ojas. Their way of writing and expression inspired me to such an extent that I actually wanted to become a writer in my professional life.
Meeting with the two established award winning veteran Ojas were difficult and were another new great experiences. It's a journey which I would like to recount separately in another article along with their honorary Midnight Sketches. However, what I would like to mention is that in all these meetings these Ojas have recounted their days of inspiration and enthrallment with this legendary poet, one way or the other, in their own experiences. Oja Ibopishak is his student; many of his poems reflect his Oja's styles. Oja Ibomcha also had known him personally for more than 32 years and knew many intimate things about him. He knew about his gramophone record disc collections from all over the world. Few to be mentioned are works of Beethoven, Mozart, Harry Belafonte, Tchaikovsky etc. and other cassette collections which had Hindustani Music, Karnatic Music, Assamese, Bengali, Punjabi, Manipuri Folk, Pena, Tribal music, Ngangbam Nimai's collections and even English Pop songs that that included Elvis Presley, Michael Jackson etc.
Just 4 days back we went to his house again with the Midnight Sketch of his portrait which our Matao (our soul Artist, Dinesh Elangbam) had already given the final shape. We were going to have a last moment of photograph with him. He was inside the house sitting on his bearing wheeled bench. He looked at the Sketch, examined it closely. He looked at it by keeping it near and again from a distance. We had to wait eagerly for the feedback until we finally receive a welcoming smile. We were elated and naturally bowed down to his feet to which he blessed us by putting his palm again and again on our respective foreheads. It was the most wonderful feeling that I had ever experienced in my entire life time. I guess Momoson would also have felt the same.
It is believed that venturing into the works and life of this legendary personality would provide a wide range of perspectives for the interested individuals pursuing their career in the field of Arts and Manipuri Literature. If you ever got any inspiration from reading any of his works earlier or if anyone finds this article providing a few new insights about the poet, we consider it a great success. Our palms would always be open for the interested everyone to go hand in hand in discovering and projecting more about the essence of this living Jewel to the world.
[Brief Bio-data:
Born: 20 July, 1925 at Yaiskul Hiruhanba Leikai, Imphal, one of 5 children; 3 males, 2 female.
Father's name: Laishram Tomal Singh
Mother's name: Thiyam Ningol Ibhemal Devi
Education: Passed Matric in 1944 and graduation in 1948 from Calcutta University.
Occupation: School Teacher, officer in Education Department, Social Welfare Dept. and Art and Culture Dept. till retirement
Spouse name: Huidrom Ningol Binapani Devi
Number of Kids: 7 (all daughters, Married)
Profession: Poet, writer, Artist (Cartoonist), Movie director, Theater actor, Art critic and a regular columnist with a pen name in Poknapham Daily.
Awards: Jamini Sunder Guha Gold Medal (1975), Manipur State Kala Academy Award (1975), Sahitya Academy Award (1976), Kabirtan (1992), Khoirom Tomchou Ningsing Sanagi Medal (2000), Jananeta Irabot Mana (2003) and Dr. Kamal Kabirtan Ningsing Shelgi Mana (2004)]
Thanking you Edhou Aribam Syam Sharma, Oja Thangjam Ibopishak and Oja Yumlembam Ibomcha for providing us with such a wealth of a lifetime.
More about D. Elangbam @ https://www.facebook.com/d.elangbam1