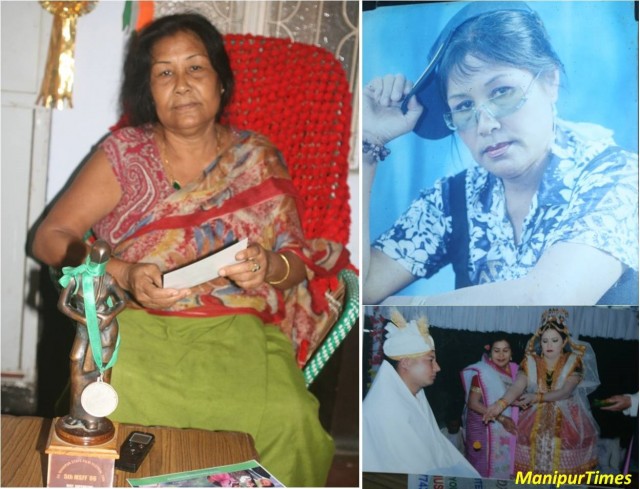 Longjam Ongbi Lalitabi Devi is a witty, resilient and good-humoured Manipuri film actress who has played mother to many of the leading actors and actresses of the State. She is a down to earth actress brim with multifaceted talents.
Her yester-year life
Born to Laishram Giurachand and Laishram Ongbi Chandramukhi Devi of Porompat Thawantaba Leikai  on Sept 11, 1953 as the youngest daughter of eight siblings (one brother and seven sisters, Lalitabi began her acting career with no formal training in acting or a long-running relation with the theatre or the film world.  Her father, a mason by profession passed away at her young age. As such, the penury driven family had to be maintained by her widowed mother with her meager income. The siblings in the family helped the widowed mother by weaving all kinds of clothes for mother to sell, she recalled.
Since her childhood days, Lalitabi had a great passion for art. She took part in recitation, dance and music competition in her school days and could win prizes in many competitions. She began her primary schooling from Thamchet Girls High School, Nongmeibung and then shifted to Wangkhei Girls for her Class IX and X. She could not pass matriculation as she had to help her widowed mother in maintaining the family.
Beginning of acting journey
At her 17, Lalitabi married to Longjam Tomba of Porompat Chuthek at her young age of 17. Her husband was an employee of United Bank of India. Lalitabi is now a mother of two children – a son and a daughter. Her husband passed away a few years back. It was while her husband was posted in Kakching that Lalitabi initiated her journey in theatre. She joined the Kha-Manipur Dramatic Union and acted in many plays.
Lalitabi said, "I began my acting career very late i.e at the age of 25 years. Initially, I did not know what art is when I was a young girl despite my passion for acting since childhood. My passion for art realized only after marriage. My initial acting career had to face some hardships as my banker husband did not encourage me acting. However, he never prevented me from acting in dramas and films directly. I started learning acting at Kha-Manipur Dramatic Union and Manipur Dramatic Union (MDU) after my husband had attended office. I always managed to return home before his arrival from the office.
A good Artiste of Nokphade
Lalitabi is also a humorous actress who had acted in many episodes of Naokphade including Laphoi Lousing comedy play series produced by Thoudam Ruhinikumar of Khurai Thoudam Leikai. She is highly acclaimed for her dialogue delivery in the Kakching parlance in the Laphoi Lousing.
Regarding how she learnt speaking of Kakching dialect used in Laphoi Lousing, she said that while the family was at Kakching, she used to help her husband by engaging herself in Phousu lalol (rice business) with the womenfolk of Kakching from whom she imitated the way the women were speaking in their parlance.
She became AIR approved artiste in 1997
When she returned from Kakching, one KK Wahengbam suggested her to Join Radio audition as a drama artiste. She was apprehensive about her selection as she had to face the interview among the then noted artistes. Her happiness knew no bounds when she found her name enlisted in the selection list, recalled Lalitabi. Thus, she became an approved artiste of AIR Imphal in 1997 and had acted in some radio plays including Dhramagi Mingda Imagidamak (episode 1 to 13), Wakatlamdrabi, Keithel Hongba and Yumburembi.
Apart from acting in films and dramas, Lalitabi is also a Nat Sankritana artiste who sings during Meetei marriage ceremonies as a Keina Puthopki (a lady singer guiding the bride).
Manipuri films she acted
Lalitabi has acted in over 300 Manipuri films including seven celluloid films apart from acting on the proscenium stage also. Lamei produced under Kangla films banner was her first digital film she acted. Some of the digital films in which she acted are Tellanga Mamei, Thajabagi Wangmada, Nangtana Helli, Keithel sendrang, wanted Linthoi, Lambisina Loidringei, Angaobagi Macha, Lakhpati, Pirangee Ichel, Nongdambada Tanoubi, Numitlei, Lihongbagi Ahing, Nongin, Ashithel, Kangla, Handymangi Mama, Nungshi Shaktam, Chitrakar, Tamoyaigi Ibecha, Thangningkhok, Thoibi, Nganthoi, Hemogi Helloi, Thamoina Kari Hairiba, Pakhang Shari, Sanadi Sanani, Kangla Karbar, Kokchak, Nanga Thengnaramdrabadi, Thabal, Eegi Khingul, Nangtani, Purnim.
Her celluloid films include the film Jehera based on Hijam Anganghal's novel by the same name which tells of the love of a Musim girl Jehera and a Meitei during the royal regime in the 1930s and the racial prejudices the two lovers undergo. Besides Jehera, other celluloid films she had acted are Thawaigi Thawai, Inthoklabi, Yaosanggi Meiri, Cheina, Wahangsina and Ayukki Shingarei.
Dramas she acted  
Nunghirei, Ijat Masingga Kari Kumeino, Sunugi Mahao, Irabot and Bir Tikendrajit are some of the dramas she acted for MDU. She was honoured for her role in play Sunugi Mahao during silver jubilee of MDU.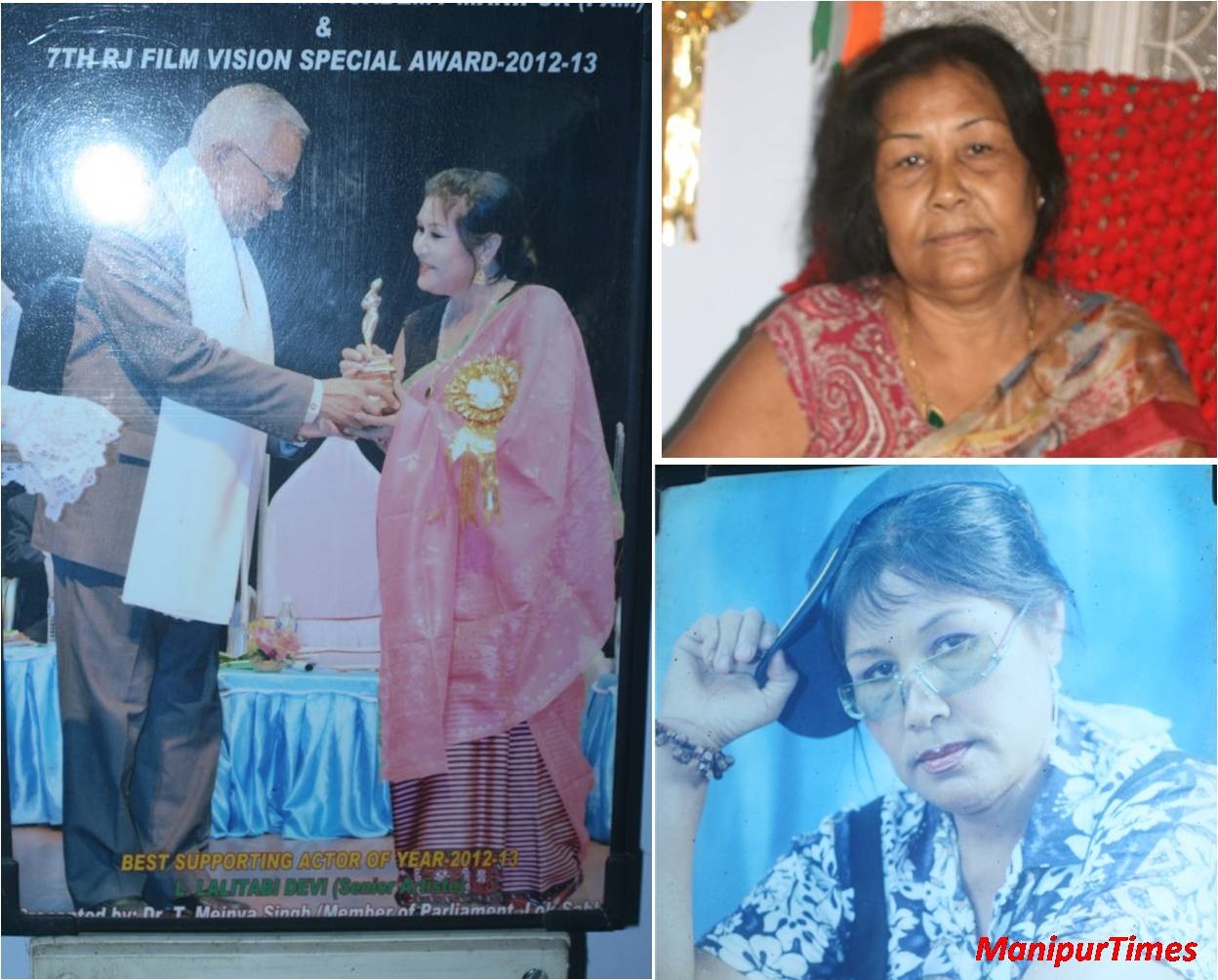 Assignments in hand
She has now assignments for 21 Manipuri digital films of which some are under shooting and waiting for release schedule. She is acting the role of a mother in Manipuri digital films CM Mainou, Sanagi Nga and Pizza-2 which are currently under shooting.
"I was a bit apprehensive about my role of a mother in the film Sanagi Nga which is going to be cinematized from Sumang Leela play. As Robindro has already acted well in the play enough to win the heart of audience, I am suspicious that I would be able to act well as Robindro did. I am trying to act with a new difference this time", she said.
"While two films would have a similar storyline, similar character I always strive to give something new and something different with each performance – be it in dialogue delivery or in acting," she said.
Achievement
Lalitabi has won the best supporting actress award for Inthoklabi at the Manipur State Film Festival, 2006.
Message
Artistes should maintain proper discipline, respect to senior artistes and teachers. Contemporary artistes are well talented, but most of them lack discipline and their ego increases after having acted in two or three films. Acting from within the heart is necessary as it would make the acting performance more realistic. I want to do art films, for I want to do leela, not show off my good looks. But sadly there is no market for these films in Manipur," she said.