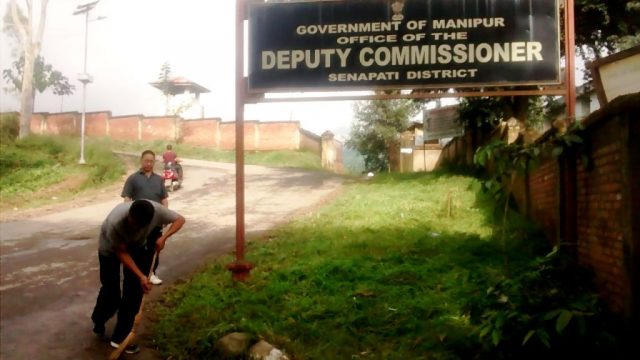 October 2, 2017 (DIO Senapati): In continuation of the Swachhta Pakhwada (Cleanliness fortnight),which started on the 1st of this month for Senapati district, today the 2nd October , Mahatma Gandhi Jayanti was observed by taking up cleanliness programmes throughout the district. All the District Level Officers, Civil Society Organisations (SCOs) and the Public took up cleanliness drives in their respective office premises, rooms, streets and drains, etc.
As part of the program, a cleanliness drive was also conducted in the Mini Secretariat of the district under the supervision of the Deputy Commissioner, Shri Athem Muivah. More than 150 employees from all the different departments took part in cleaning the premises and their respective offices.
It can be noted that a District Level Meeting was held on 26th of September 2017, under the chairmanship of the Deputy Commissioner, wherein all the stake holders of the district took part and reaffirmed the Chair's vision of adopting a holistic cleanliness living as part of life starting from individual, family and society and not just end up in momentary observation.
Swachhta Pakhwada (Cleanliness fortnight), which is a part of the Swachhta Bharat mission is being observed in the district from 1st Oct. to 15th Oct, for the year 2017. With a vision of adopting holistic cleanliness living, different programs and competitions like debate, essay writing, marathon race, street play, tree plantations awareness programs etc are being organised as part of the fortnight long observation. (DIPR)