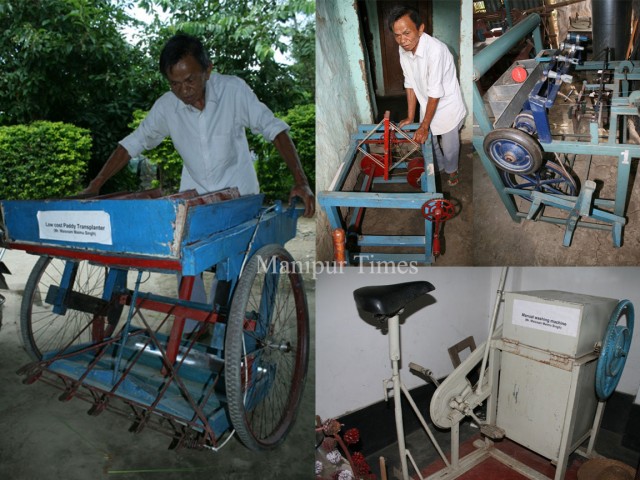 Meet 79-year-old Maisnam Maimu Singh, a multi-faceted and enormously talented man with varied qualities and skills in the fields of carpentry, sculpture, art, mechanics and above all a prolific innovator. However, with exception to some appreciations from his relatives, neighbors and people whose problems he had solved in the past, his talents and innovative pursuits, however, remain unacknowledged and unexplored like a gem in the ocean.
MAIMU'S MACHINES
Hailing from Nambol Thangtek Leikai in Bishnupur district, Maimu is a retired linesman of State Electricity Department. Despite his old-age, he has developed more than 15 different prototypes of various innovative machines – sometimes on his own and sometimes in response to people's requirements.  Low cost paddy transplanter, paddy seed-sowing machine, four different prototypes of silk reeling machine, manual washing machine, manual paddy thrashing machine, modified pounding machine for spices, dried chilly, ginger etc are some of his successful innovative inventions.
PERSONAL BACKGROUND
Born on March 6, 1935 to late Maisnam Ibomcha as the fifth son among seven siblings of six sons and one daughter, Maimu, who possesses varied talents and skills, studied only upto eight standard at a local ME school. He joined Electricity Department as a work-charge linesman in 1974 from which he received only Rs220 as monthly salary with one rupee annual increment. Before joining government service, he worked as a mason in construction of houses, churches in remote hill villages. At one point of time time, he was removed from the government job due to a massive downsizing policy of the government in 1976 which compelled him to resume his masonry work for livelihood of his family. After one year, he was again appointed as electricity linesman and posted at Leimakhong. He was then transferred to Nambol electricity sub-division. After 29 years of service, he took voluntary retirement in 2005.
Guided by his love of machines since childhood, Maimu once applied for undergoing training course in Machinery trade at ITI Takyel. Due to non-availability of seat, he could not undergo training in the trade he desired.
Maimu is a father of four sons and three daughters.  His sons are doing government and private jobs outside the state.
HIS INNOVATIVE PURSUITS
"When I was transferred to Nambol electricity sub-division which is my native village, my office boss assigned me with night roster duty which provided me plenty of time to work and think about my innovative pursuits in day time. Since I was always free from morning to evening and had nothing to do, I began my venture on innovative pursuits", he said.
For the first time, Maimu came out with his first innovative masterpiece – silk reeling machine. Considering the difficulty and wastage of time and need for manual work in reeling of silk/muga in traditional reeling method, he came up with a simple machine.  He also developed a pounding machine prototype with a cape, which prevents the pounded items such as chilly, ginger, garlic, spices etc from scattering. His newly developed pounding machine for spices and other items is a more useful device for domestic kitchen purposes with reducing manual work and time while preventing scattering of powdered items from the mortar rather than the traditional pounding device using mortar and pestle.
MANUAL WASHING MACHINE
One of the most prominent innovations of Maimu is the manual washing machine which doesn't require electric power at all but operated manually by revolving the cycle pedal. From health point of view too, the new device makes the operators healthy besides washing dirty clothes. The machine has become so handy in washing soiled or heavy/large clothes that even his neighbors borrow the machine to wash their soiled clothes. National Innovative Foundation recognized his new prototype of manual washing machine and even provided him some financial assistance to develop the new technology when he displayed the machine at an exhibition held at Guwahati. Maimu has also developed a manual mini threshing machine, which simulates the hand threshing process. The residual advantage of the machine is that the stalks are not broken into pieces and still can be used as fodder and for roofing purposes. Maimu has also been helping students in developing prototypes for their school projects, many of which have won prizes at various competitions.
STILL YOUNG AT HEART
Despite his old age, Maimu is still taking keen interest in his innovative pursuits.  In 2005, he developed a low cost paddy transplanter and paddy seed sowing machine which are manually operated. In traditional paddy cultivation, Manipuri women usually plant rice seedlings manually which takes much time, manpower. However, this innovative machine that can carry out the task alone done by five women simultaneously with speedy work and reducing labor has reduced the difficulties in paddy plantation.  The rice planter is mainly comprises of seedling tray, the seedling tray shifter, five pickup forks. The seedling tray is like a shed roof where rice seedlings are set. When the rice transplanter is brought in the field, the seedlings are fed on the seedling trays. Like a typewriter work, the pickup forks take seedlings from the tray and put into the soft and muddy ground. The pickup forks act like human hands by taking seedlings from the tray and pushing them into the earth.
Apart from these innovative machines, he is a good sculpture and an artist who looks at things from artistic point of view.  His wooden sculptures of Irom Sharmila, lengthy python, tiger attacking man figures sculptured out of the dried roots of banyan tree growing near his house also show his artistic talent in woodcraft.
A sense of frustration appeared on the wrinkled face of this old man when he said, "I have showcased my innovative machines in several exhibitions held in Manipur with clinching first prizes in various occasions and appreciations from varied walks of life. I am old and physically weak now making me unable to pursue new things despite many things left ahead to do. Government is, however, yet to recognize my works."