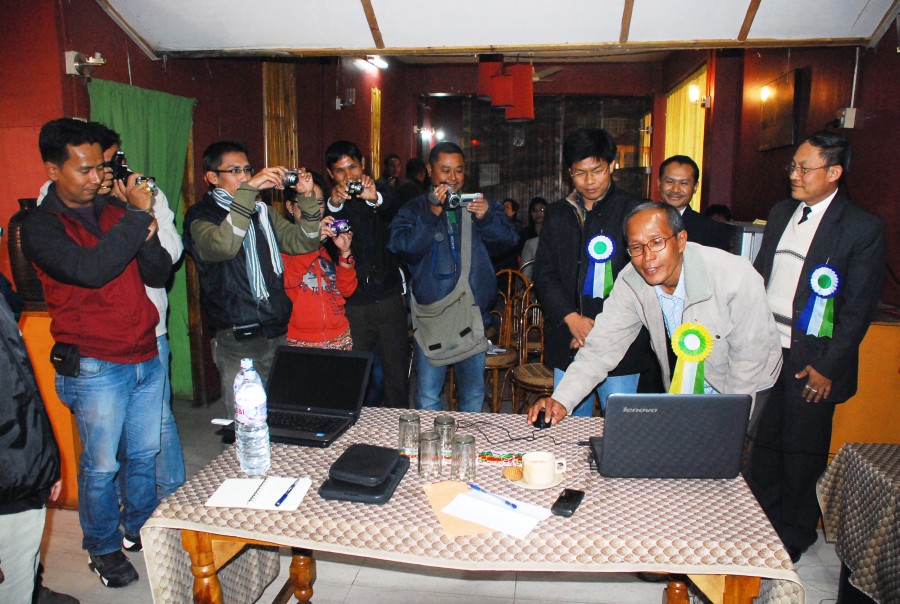 www.manipurtimes.com which will give emphasis on entrepreneur, education and entertainment stories was formally launched today at Hotel Yaisana, Imphal.
The launching function was attended by A. Mobi, President All Manipur Working Journalists Union as chief guest, Prof. N. Rajmuhon, HOD, Chemistry Department, Manipur University and Adviser of Manipurtimes.com and Advocate Wangkhem Gokul, Adviser of Manipurtimes.com as guests of honour and N. Jiten Singh, Chairman of Manipurtimes.com as president.
Speaking on the occasion, A. Mubi, President of All Manipur Working Journalists Union stated that this website medium will bring some positive outcome in our society.
In fact, media is the easiest form of communication. We have to give priority on developmental news. Media is lagging behind in terms of bringing value and good news to the people, he said while expressing hopes that Manipurtimes will take a major role in bringing many inspiring stories to the people of Manipur.
Prof. N. Rajmuhon said that if people could create influence on the potential of the youths in a positive way then altogether it can convert the earth into heaven saying that one needs to focus on good news.
Concept of a developed country has changed nowadays. Now it is decided by the amount of good information disseminated through media, he added.
He further said that if oneproduces many good and inspiring stories in the field of culture, sports, entrepreneurs and education then it will bring a big change in the society.
He also advised Manipurtimes.com to take an important role in bringing out such kind of news.
Chairman of Manipurtimes.com, Dr. N. Jiten Singh wishes that the stories being told through Manipurtimes will inspire someone in some point of one's life stages and bring some positive images in the society. He also confided that the initial stage is the most confusing stage when one starts a formidable venture. Once we overcome this stage, we can smoothly continue with the venture, he observed.
Manipurtimes will be creating inspiring stories of entrepreneurs, educationists, artisans and entertainers with the aim that such stories would bring positive image in the society
The function was also attended by various personalities like actor Kaiku, model Nirmal Kangjam, singer Bobin, The People's Chronicle's proprietor Sh. Gautam Sharma and Managing Director of Sacred Heart Public School, Rabichandra etc. Mention may be made that the personalities are also advisors to Manipur Times and they will be helping in bringing out valuable news of Manipur.
Besides many other personalities including Journalists, entrepreneurs and well-wishers were present during the launching function.