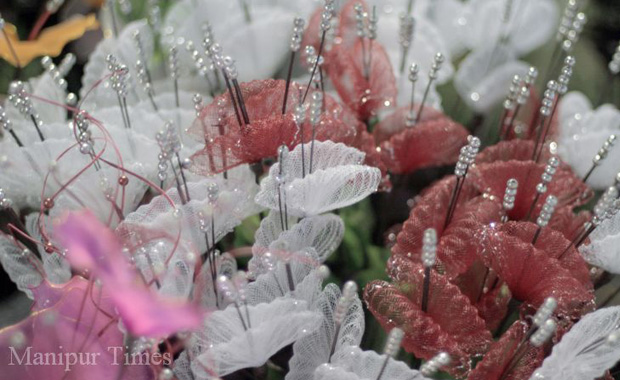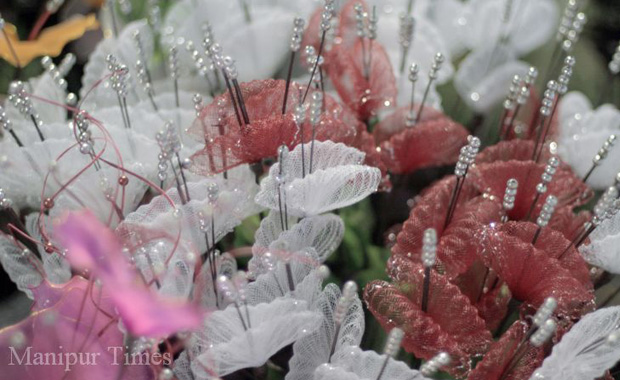 Loud music, lively stage, huge crowd, many police personnel on duty, hot ramps and the presence of VIPS mark the Kut Festival 2012 at 1st Manipur Rifles Ground. An annual festival to celebrate the harvesting of rice plants by the Kuki tribes of Manipur.
At the right side of the ramp a line of ready to pick stalls run by some festival enthusiasts selling food and gift items attract the swarming crowds. A group of teenagers were seen lip singing and shaking their body while selling their handmade dry flowers.
The team from Churachandpur district was headed by Hndmi, an 18 years old skilled dry flower maker.  Around five member teens who have arranged the stall in a tip top flower stand filled with flowers and table flowers wear a glowing smile on their faces.  Confident of their sale they have booked the stall for Rs 2500 on a single day run yet the profit they are expecting was a whooping Rs.15, 000 on Kut Festival where thousand people gather.
On festival eve everyone wants to buy a gift or decorate their house says Hndmi. I have personally made every flower with the assistance of my team here. We import the raw materials from Sarojini Nagar Market Delhi and the Bamboo stem we put are fetch from the local market.
I learn the art of making dry flowers from my elders. The flower business has 70 % profit as the material required for a piece of flower is not much and our hand craft designs and decoration adds a lot of value to it. I am happy when people like it. I am glad when someone passes a comment that it could be kept for long in its original form.
The festival was a boon to us as many people came to know about our products and many have purchased them. I would like to participate in the festival the next year in the same venue. And we have been selling our products from the morning. The peak hour has started now and we have 5 hours to go says the smart and enterprising girl when Manipur Times interacted with her at around 4 pm in the Festival Venue.
Kut Festival got State recognition in the year 1982. Consequently, November 1 was marked as the day for celebrating Kut festival and is declared State holiday every year. Cultural programmes depicting traditional dresses and customs are part of the day's show.
Miss Gracy Haokip won the Miss Kut Title 2012, Khangembam Padmabati First Runners up, and Nameirakpakpam Shinthangambi second runners up. The beauty contest remains the most attended part of the festival and similar programmes are organised at the local level in Kuki inhibited areas of Manipur.