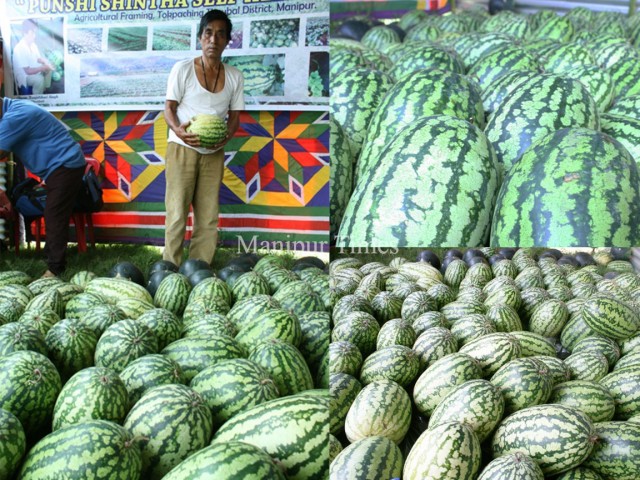 Despite favorable climatic condition and good soil, the state depends on other states for food with the crop production being not sufficient to feed the populace of the state. Dependency on other for food can be attributed to lack of resource mobilization in the state. The extensive fields lying unused in dry season after every monsoon crop harvest needs to be utilized for creating growth in productivity by using the fields for another crop. Neither the government nor the people are seen adopting any measure to bring green revolution in the state. We cannot dream of an economically self reliant state in such a situation, observed Oinam Kunjabihari, a success watermelon farmer.
 Oinam Kunjabihari, 64, hails from Tokpa Ching Mayai Leikai, Thoubal district  and initiated multi farming of watermelon, pineapple, cucumber and gourd and other vegetable crops for the past 15 years in his field located at the foothill of Tokpa Ching extending more than two acres.
Born to late Oinam Yaima as the eldest son among three siblings, Kunjabihari was the Pradhan of Tokpa Ching Gram Panchayat from 1992 to 1997 prior to adopting his multi-farming business. Except him, his younger brothers are government employees – one is a college lecturer while the other is Inspector in SSB.
Kunjabihari narrates why he became a farmer while his brothers are government officials." It was a hard time for our poor parents to run the family with the little earning of my father. Being the eldest son, I had to drop out from my studies after passing class eight standard so as to support my parents. I had to sacrifice my education for my family. I began earning by working in the field and other available jobs to support my parents which later on compelled me to pursue my career in farming while my two brothers are in white collar jobs."
With his successful venture on multi-farming, it caught the eyes of other farmers and they have now converted their fields into farming of watermelon and other vegetable crops giving the vast field of Tokpa Ching Loukol a green landscape year round while rest of other fields in Manipur use to lie barren and dry after harvest of paddy crops. The farmers of Tokpa Ching Loukol now forms a self help group under the banner 'Punshi Sintha Agricultural Society' with the objectives of extending co-operation among the farmers and increasing business growth with good production.  The iconic initiative of farmers of Tokpa Ching probably directs the state, hinging on other states for essential commodities, towards a green revolution.
This year, Kunjabihari could produce around 20,000 kg of watermelon with which he could earn 2.8 lakhs as profit. He usually starts plantation of watermelon saplings in the first week of January and harvest the fruits during May or June. Madhabi 10 and Madhuri 64 are the main watermelon varieties he grows in his farm. He produces watermelon weighing 3 to 12 kg a piece. His products reach  markets located at Thoubal, Kakching, Sugnu, Moirang, Imphal, Churachandpur etc.
Though Kunjabihari could not pursue a white collar job like his two brothers, the profit he earns from his farming business is not less than that of a salaried government employee. He now can make a good living out of his farming career and comfortably manages his family. He has four sons and two daughters.
Akashoi Canal connecting the famous Pumlen Lake next to Loktake Lake is nature's precious gift to the farmers of Tokpa Ching as it makes the vast fields here available abundant water all the year round enabling the farmers to cultivate even after seasonal paddy harvest.  Abundant availability of water is a must for successful production of yummy and juicy watermelon crop.
Stating that good irrigation is one of the most indispensable things for watermelon farming which is usually carried out during dry season, he said that he waters the farm couple of times a day – Morning and evening using water sprinkler to draw in water from the Akashoi Canal. Otherwise, plants get severely affected. Except some seeds from the Horticulture Department, government has not extended any financial or material support to this farmer despite the enormous contribution of this successful farmer in agriculture sector.