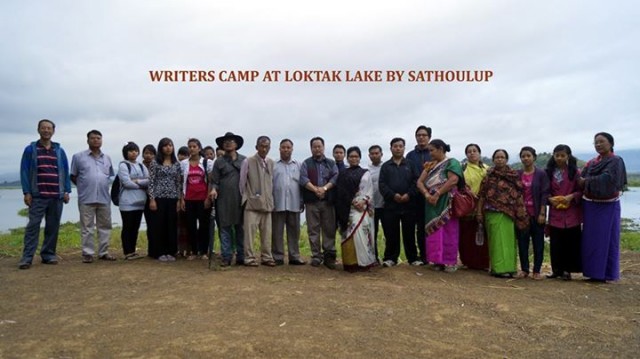 Writers camp at the lake and wrote thematic poems. They watch the sun set and sunrise, Climbed two hills interacted with villagers. Listen to stories and read out poems written during the camp. The initiative was taken up by Sathoulup a literary organization with an aim of promoting Loktak lake from the creative minds in bringing out poetic lines after visiting and spot enquiry giving a realistic touch. The camp director of the recent visit is Saratchand Thiyam.
Some of the eminent participants are –
Raghu Leishangthem – Sahitya Akademi and Bal Shree Award winner
Kesho Irengbam – Sahitya Bushan
Saratchand Thiyam – Sahitya Akademi Awardee
Tongbram Jateshwor – Kavya Bhushan Award
Chongtham Ongbi Subadini -Reknown Poet
Salam Shantibala – Reknown Poet
Thiyam Ongbi Bimabati Reknown writer
Athena Thiyam Child poet and State Bal Shree Nominee in creative writing
Khwairakpam Ongbi Binarani – Pradhan Thanga Part 2
L Bidyapati reknown folk singer
Usham Nirjit Kumar – singer
30 students from Ideal School Thanga, Children Model Academy Thanga
Few more young and upcoming poets as well.
H Nilachandra Local Expert .
Tongbram Bijoy local spokeperson
O Maipak National Youth Award Winner guided to fishing net weaving site.