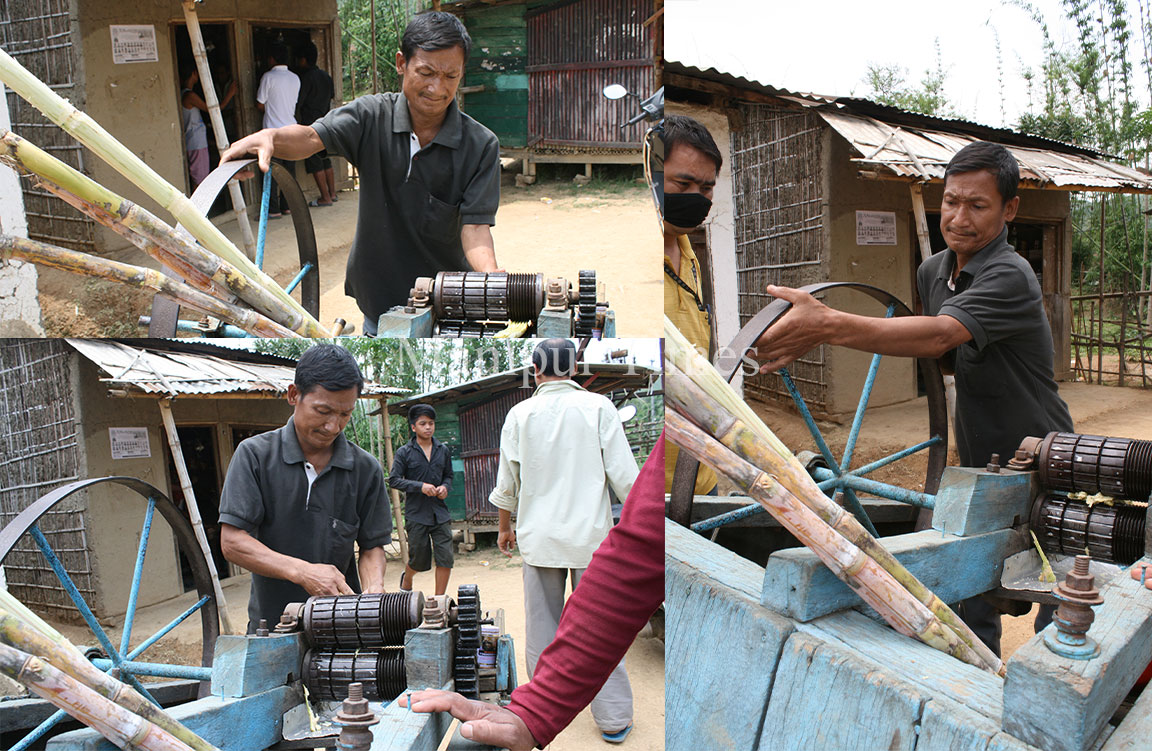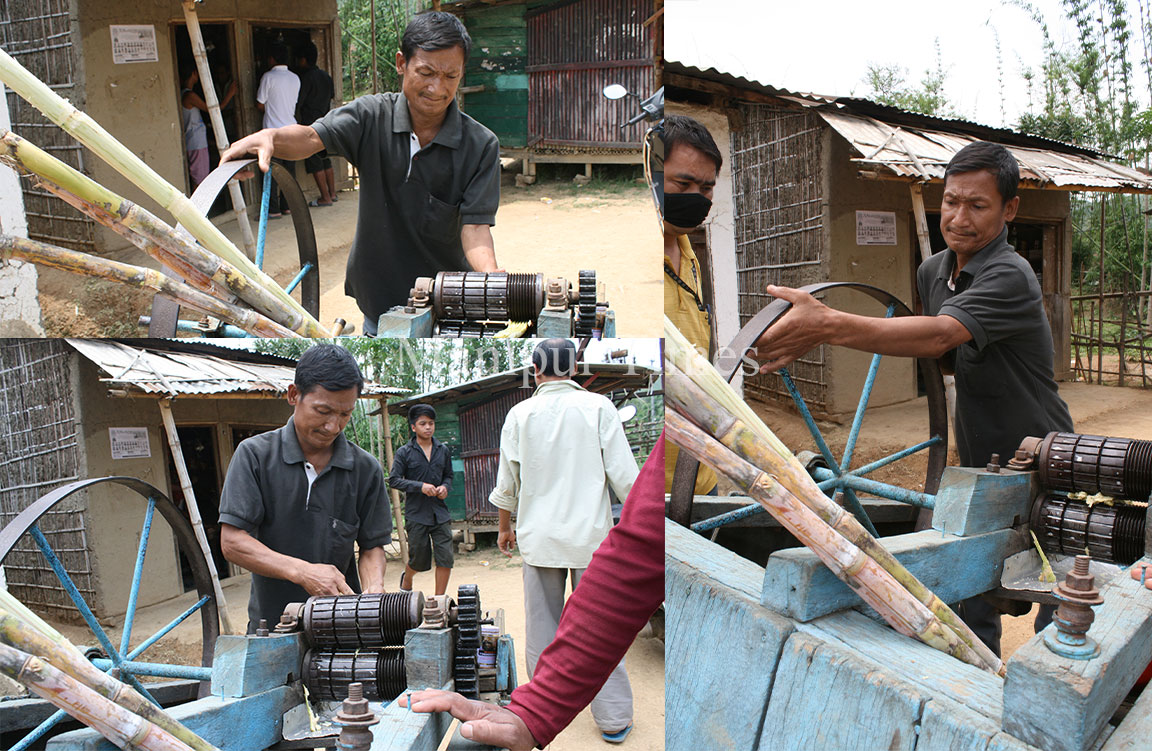 Life is not a bed of roses and we must face all the challenges that come on our way. Keisham Ahongjao is one such person, who has gained strength from life's adversaries. He ekes out living as a mobile sugarcane juice vendor but never regrets life as he rightly thinks that hard earned money never leads man to troubles. He does not mind about weather; Ahongjao pulls his juice crusher from one locality to other every day.
The 50-year-old man earns Rs 500 to Rs 1000 through selling sugarcane juice at Rs 10 per glass daily. Although almost all the sugarcane juice sellers purchase bundles of fresh sugarcanes from the market or sugarcane farms, Ahongjao grows sugarcane on his own in his farm. So, he can save money as he doesn't buy fresh sugarcanes from others.
AHONGJAO'S FAMILY
Born to late Keisham Lala, Keisham Ahongjao, hailing from Chanam Sandrok village is the youngest son among six siblings. With the earning from selling sugarcane juice, Ahongjao comfortably maintains his family needs including sending his children to school. He is a father of two sons and one daughter.
"My happiness knew no bounds when I heard that my youngest son had passed Class XII examination in first division conducted by CBSE. I wish to see the moment when my son becomes an officer someday when he gets matured. This very contemplation revamps my tired mind and body from day's hectic work of selling sugarcane juice", said Ahongjao who looks after his son's studies with his small income from the business.
NO PAIN NO GAIN
Prior to his sugarcane juice business, Ahongjao earned his living as a Kerosene hawker riding a rickshaw on the street of Imphal. Since people started rumouring about kerosene hawkers blackmarketing kerosene, which is one of the Government PDS items, in collusion with the agents, he decided to leave the job and started sugarcane farming at the foothill of Chanam Sandrok hill. Sugarcanes produced from his farm are sold to the retailers at Imphal while he also engages himself in selling sugarcane juice to the local people as a mobile sugarcane juice seller. The rickshaw he uses for selling and extracting sugarcane juice was bought from a non-local at Rs 20, 000 some years back.  
WORDS ON WORK CULTURE
He said, "I don't feel shy in doing this business, which is considered as a humble job by most of the Manipuris. And why should I? It is not the job of stealing other's property and I believe, I am better to earn for my living in this way instead of thievery. I feel proud of myself. For me, it has been a thriving business which can fetch me good income".
While Manipuris look down upon the jobs of Barber, Cobbler and Sugarcane juice selling business and alike, huge number of non-locals have come to the State to do all these works. Influx of non-Manipuri migrants into the state has been a threat to the indigenous Manipuri people now causing apprehension of losing identity.
"We cannot ask the non-locals to leave Manipur by threatening or killing them but we need to take the works that they are doing. They will automatically leave the state when they have no work", he said.
"As compared to other States, Manipur has no resource and it is industrially and economically backward; living like a beggar. When central government stops providing fund, the state suffers bankruptcy. Despite all these facts, most of us are sitting idle, lack of work culture and dignity of labour. Non-Manipuris are taking advantage of this weakness. We need to rectify our perspective first so as to bring about a dynamic change", he observed.
Compelled by poverty, he had to discontinue his studies after class X at Langdum High School. Right from his earlier days of life, leaving school, he has helped his parents in maintaining the family, sending his brothers and sisters to school involving in many manual works like digging local ponds, ditch and working in the field. He went to hill to reap green thatch and sold out them for money with which he could invest for studies of his brothers. One of his brothers is doing job at SSB while the other is working as Advocate after completion of his LL.B course.
TRAGIC MOMENT
"The most tragic moment I ever faced in my life was when my father sustained injury in a jeep accident. With some financial help from my brother working at SSB, my father purchased a jeep to start passenger service in my village. My father could manage family a bit comfortably with the daily earning from passenger service. However, another tragic story added to my poor family when my father met an accident in which he was severely injured. Huge expenditure was to be invested in his medical treatment. We even sold out our paddy field", he recalled.