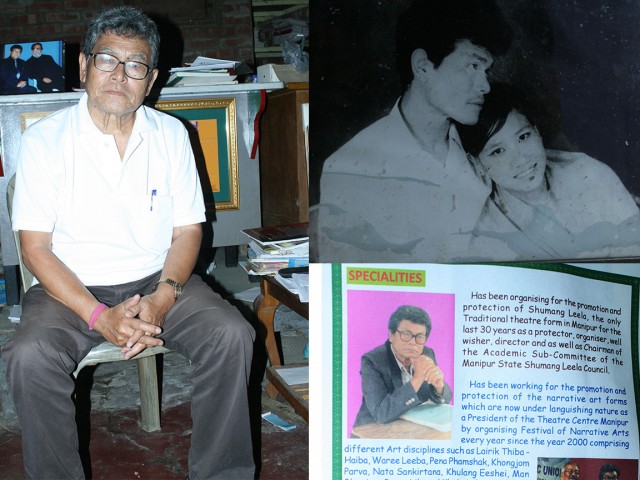 Theatre is a collaborative form of fine art that uses live performers to present the experience of a real or imagined event before a live audience in a specific place. Taking the role of visual media, theatre takes a great role on educating, informing, persuading and motivating the people on a variety of issues apart from entertaining people. In olden times, theatre was very popular with large numbers of audience thronging theatre halls as Shumang Leela plays of today. Theatre movement in the state has declined with swift changing tune of time and declining viewers. However, some theatre lovers are striving for promoting the art form.
Wareppam Naba, popularly known as Wareppa Naba is one of the renowned theatre personalities in the state who has directed several theatre dramas and Shumang Leela plays to his credit in his 74 years old journey in the profession.  He is an eminent actor, play-Wright and Theatre Director.
His yester-years
Born on October 16, 1941 to Late W. Cheitanya a prominent Nata Sankirtana performing Artiste, hailing from Haobam Marak Thingel, Imphal, Wareppa Naba had a great passion for Shumang Leela plays, Proscenium theatre, listening to Wari Leeba (traditional Meetei story telling). Watching of old stage plays like Keishampat Moirang Parava wherein Eigya Nilachandra acted as Thonglen, Kongpal Moirang Parva with Kshetri Kanhai as Thonglen , Harichandra Leela Thok Leela, Sheitya Charit etc. during his childhood days highly motivated young Naba to be a theatre activist in life.
He started his work in the field of theatre since the year 1965 while he was a student of Manipur college. He took part in many competitions like dance, recitation, debate, one act plays. Some students of Manipur College who are interested in acting formed themselves a theatre group and displayed many plays.
Inception of theatre Mirror
Highly impressed by the activities of the theatre group, once Heisnam Kanhailal, a renowned theatre activist suggested him to set up a theatre group. Theatre Mirror was established on May 1, 1965 at the residence of Kanhailal with Kanhailala as director. The theatre group has been one of the most outstanding theatre unit in Manipur well established with reputations and acclamation under the patronage of the Ministry of Tourism and Culture, Department of Culture India, National Sangeet Natak Academy, New Delhi, and State Cultural agencies like Manipur State Kala Academy and Department of Art & Culture, Govt. of Manipur. Theatre Mirror, since its inception in year 1965, has been engaged in multifarious cultural activities with an army of creative artists, challenging with the changing time and interacting with many cultural aspects in new dimensions.
He has acted and directed more than 150 plays and produced 100 plays to his credits.  He completed his Degree in Art Stream and Degree in Education under Guwahati University and Utkal University.
Sharu Machet was Naba's first drama play in which he acted the character of a police constable. Then he started acting in dramas including Taret Leima, Nupee Thiba, Chingda Shatpa, Samajlakta Menaka etc. directed by Heisnam Kanhailal. He also scripted a play Washak which was staged in All Manipur Drama festival and won best actress award.
No doubt, Naba was also a good footballer who participated in CC meet tournaments held in the state.
Naba's view on Theatre
Theatre is like a siege in deep meditation to know what life is and trying to touch the highest pinnacle of life. Theatre aims at understanding life, looking for ways to bring changes in life. It is not a mere entertainment but an art form and tool for social change, enlightening life with a farm determination. Theatre is a therapeutic art which diagnoses and heals the ailing society, he said.
Theatre teaches us how to express ourselves more effectively. It develops our ability to communicate our thoughts and feelings to others, improving our relationships and improving the world around us. It helps us understand how our minds and the minds of others work. It helps us to see how the environments in which we live affect who we are and who we will become. Theatre is a cultural space where society examines itself in a mirror. Theatre has long been looked at as a laboratory in which we can study the problems that confront society and attempt to solve those problems.
Awards and Achievement
In recognition of his relentless contribution in the field of theatre, Manipur State Kala Academy conferred him with the prestigious Manipur State Kala Academy Award in 1990. Apart from this, he had also been honoured with Natya Shree Award in 2000, "Natya Bhusan" honoured by the Theatre Movement Cuttack Orissa in 2008.
Royal Court of his Highness the Maharaja (Meidigu) of Manipur Sjt. Leishemba Sanajaoba conferred him with the highest prestigious Tama patra and Khamen Chatpa in 2009 in recognition of his eminence in the Field of Theatre Particularly in the genre of Shumang Leela Tradition and for its enrichment.
He is recipient of Dr. Ambedkar Fellowship 2007, fellowship Awarded by Manipur state Kala Akademy, 1982, fellowship Awarded by DOC, 1992.  In the field of theatre, he has won Best Actor Awards in 1979, 1980 and 1996 and won on more than 50 Awards for Best Direction Since 1981. He has directed more than 40 Shumang Leela Productions to his credit.
Organisations/eminent personalities he associated with
Wareppa Naba was a former General Secretary of the Theatre Centre Manipur, secretary of the Theatre Mirror Manipur, Executive Member of the Manipur State Kala Akademi (1996-1999) and former Member of the EZCC, Kolkata and NEZCC Dimapur. He was also President, Theatre Centre, Manipur an apex body in the region. He worked as Artistic Director of the Theatre Mirror Manipur and Director Institute of Indigenous Performing Arts IIPA Manipur.
He associated with eminent personalities like H. Kanhailal, Ratan Thiyam, Pukhrambam Shamu, N. Tombi, K. Amuyaima, Guru Manglem, Badal Sarkar, Kavi Ratan Bansi, John Martin(London), Prof. T. Sbaski (Japan) Dr. Suresh Avasthi, Girish Karnard, Habib Tanvir, etc.
Contribution as a director
As a director, he organised and conducted more than 30 intensive Theatre Workshops under his Project Directorship at different areas in Manipur both in the Rural and Urban including different Colleges, High and Higher Secondary Schools. Moreover, he conducted Theatre Workshop at Mizoram under the sponsorship of the Department of Art & Culture Manipur, Department of Art & Culture Mizoram and NEZCC, Dimapur, 2008, one Month long intensive Theatre Training Course every year During May-June since 1994 under the banner of Theatre Mirror, 45 days Residential Cum Production oriented Theatre workshop at Imphal under the extension programme of the National School of Drama, New Delhi with Wareppa Naba as its Project Director from 22nd July 6th September 2009 with a production of " Haya-vadana".
He participated in the National Theatre Festivals organized by the NSD New Delhi and Sangeet Natak Academy, New Delhi with the play "Turel Wangmagee Ahal  Ama", "Kshudita Pasan", "Naothingkhong" etc., festival of OCTAVE held at Mumbai with the Play "Gasiram Kotsal" directed by him under the sponsorship of NSD, SNA and DOC India in 2008, International Dance and Martial Arts Festival, Kolkata, International Cultural Festival and Convention, Imphal, International Film Festival, New Delhi, National Theatre Convention Banglore and National Theatre Festival held at Assam, Nagaland, Bengal, Orrisa, Banglore, Allahabad, Rajasthan and New Delhi etc.
Selected plays he directed
Naothingkhong Phambal Kaba, Ashengba Leishabi, Nongdi Ngankhisanu, Irakhol, Ikangthagi Thambal, Chahi Taret Khuntakpa, Charandas Chor, Ghasiram Kotwal, Mathangi Yeningtha, Angambagi Ka, A Cup of Tea, Antigone, Hayavadana, Naga Mandal, Shri Tomba Amasung Kei, Chthi Puba Uchek, Mathangi Yenningthada, Shri Leikhidraba Tomba, Eraokhol, Anamba Shambru, Ek Aur Dronachatya, Shikari, Karna Numitki Macha, Matongna Kanagi, Khamba Thoibi, Death of a Peasant, Meetkup Amatang, Hingba Tai Karigumba Pambei and Kshudhita Pasan are some of the few selected plays Naba had directed.
Training background
He has completed certificate course on Intensive Training in Dramatic Arts sponsored by the National School of Drama, New Delhi-India, Intensive Training in the Filmic Art under MFDC & FTI, Pune, Intensive Training for Script writing under NCET New Delhi, Intensive Training for Pantomime under Niran Jan Goshwami, Kolkata.
He achieved knowledge for Dramatic Art from H. Kanhailal Singh as his Adi-Guru for six years. He also learnt theatre/ Thang Ta art from Gurus like N. Tombi for four years, K Amuyaima for four years, P. Shamu for six years, G. Gourakishore Sharma for three years and from Guru Gulamachu for eight years respectively.
Research undertaken
He did research Project on Shumang Leela under DOC, India, Moirang Parva under MSKA, Manipur, Moirang Parva under DOC, India, Rural Culture under DOC, India, Ethno-Music and Narrative Art forms in Manipur under DOC. India.
Acted as Panel of judges
He worked as Panel of judges during All Manipur Shumag Leela Festival, Sponsored by MSKA, All Manipur Drama Festival organized by the Langmeidong Dramatic Union, Youth Festivals Drama Competitions, organized by Manipur University and youth affairs and sports, Government of Manipur, National Theatre Festival held at Cuttack, Orissa.
He has been rendering his contribution for the promotion and protection of Shumang Leela, the only traditional theatre form in Manipur for the last 26 years since 1980 as a protector, organizer, well wisher, and director and as well as Chairman of the Academic Sub-Committee of the Manipur State Shumang Leela Council. For preserving the languishing narrative art forms, he has been organizing Festival of Narrative Arts every year since the year 2000 being the president of the Theatre Centre Manipur.
He has been devoting and working sincerely for the promotion and propagation for theatre culture in the rural areas Manipur by organising Rural Theatre Festival since 2000 as mobile character by breaking down the barrier between rural and urban characters apart from devoting and practicing for the revitalization and promotion of Moirang Parva the only traditional theatre form in Manipur since the last twenty-five years.