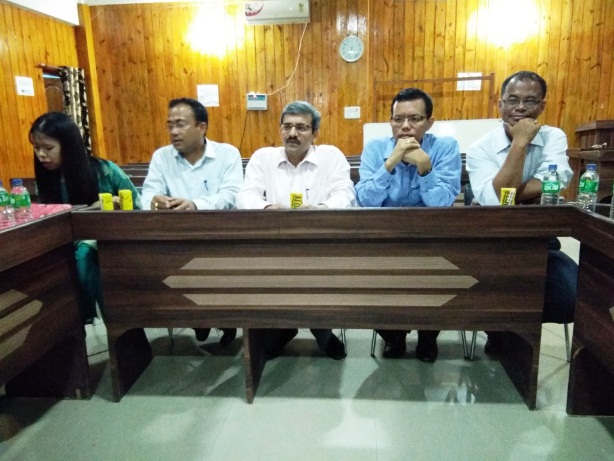 Imphal, 21st July 2017 (DIPR): Principal Secretary Education (S) Vineet Joshi, Director Education (S) Th. Kirankumar along with the officials of Education (S) Department held a press meet making explanation on how and why the lecturers of the Higher Secondary Schools were transferred and posted. The meeting was held at the Sarva Shiksha Abhiyan office, Babupara today.
The Principal Secretary said, the order released for the posting of the newly promoted lecturers of the Higher Secondary Schools was exercised within the norm of the department otherwise the teacher would not be able to get their salary. He also said, the order was exercised with representation from the side of the teachers. The transfer and posting of the newly promoted lecturers were done after thorough calculation of school and subject wise with respect to the sanction and present serving vacancy, he added.
To carry this order, two basic points was kept in view – number of students of the schools and vacancy of teachers' post. Base on these two points, the transfer and posting of the teachers was done, he said. Naming few of the schools, he said the number of posted teacher has been more than the number of the teachers being transferred.
Another reason for the release of the order for the newly promoted teachers from the graduate teacher to lecturer of Higher Secondary schools was because of the need for the teachers to be appointment at the newly upgraded and new Higher Secondary Schools being introduced in the state. The schools have been created for the class 10th passing out students so that they further go for higher education. Otherwise, these students would have drop out or went to the private schools, which again could become a burden for those student belonging to the poor families.
He said, the order was made in the interest of the students and also considering the whole scenario of the education infrastructural requirements in the state, he added. (DIPR)
[ecwid widgets="productbrowser search minicart" categories_per_row="3″ grid="10,3″ list="60″ table="60″ default_category_id="21294227″ category_view="table" search_view="list" minicart_layout="MiniAttachToProductBrowser"]