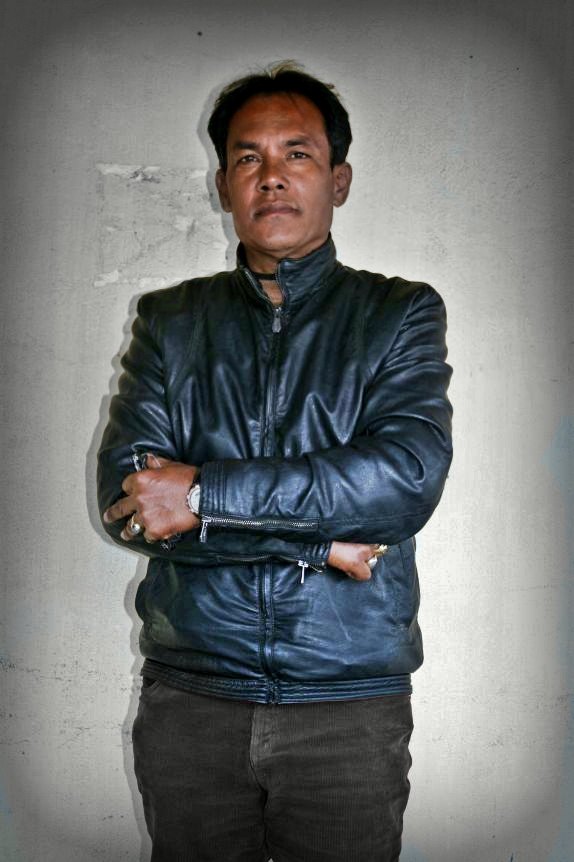 Iboyaima Khuman is a prominent Shumang Leela (Courtyard theatre) actor filled with lots of talents a person could possibly imagine. The roles he took in Shumang Leela plays like 21st century Kunti, Keishamthong Thoibi, Eegi Mahao, Lupa Ani are highly acclaimed till now. The artistes has been conferred best actor, best director awards in his long journey in Shumang Leela, a unique traditional Manipuri Art form not found in any parts of the globe.
His yester-years
Born on March 1, 1953 to Late Laishram Iboton as the eldest son among six siblings (five sons and one daughter),  Laishram Iboyaima Khuman did his primary education at Uchekon Takhok Mapal High School and Wangkhei Boy's School and passed Matriculation from Meetei Mayek High School, Kongba. He got married with Naoroibam Ningol Gunileima and is now a father of two sons.
Compelled by poverty and his great passion for Shumang Leela, he could not continue his further studies and opted for acting career instead. Like father, like sons. He inherited the knowledge of art from his father , a multifaceted artiste who could act both male and female roles. 'Nongmaijing Temkhaige, loktak pat Phumjinge' was a popular dialogue uttered by his father in Shumang Leela. Iboyaima also worked as an employee at Vety Department on master roll basis.
Beginning of his Shumang Leela journey
Iboyaima Khuman grew up as a timid and reserved boy since childhood. That he would be a popular Shumang Leela Artiste some day is an unbelievable journey. Although he was timid, he had a passion for art. All his timidity and shyness banished gradually when he entered into the world of acting career.
He discovered his love for acting in the year 1975, for the first time in his life when he got the opportunity to join SEDOC drama unit.  As an arranger, he started helping the artistes of  SEDOC (South East Development Organisation) drama unit located at his locality Uchekon Kongba.  As a young boy, he used to look at the acting and dialogues performed by artistes. He was impressed by the acting and dialogue of the artistes who were practicing rehearsal. Though he had a great passion to act in drama plays, he daren't express his willingness to be artistes.  After the rehearsal, he imitated the acting and dialogues of the artistes along with his local friends. Later on, the drama guru who knew his artistic talent aksed him to join in drama plays, recalled he.
Under guidance of Sagolshem Shengoi Luwang, his first teacher, he joined All Manipur Touring Drama Party known as Joy Drama at Elangbam Leikai. In 1985, he joined Bir Tikendrajit Artiste Union. He also learnt Leela acting skill from various gurus like Pabung Itukhombi Madhumangol from Thangmeiband, Eigya Ibotombi from Meijarao (BirsIngh Shaba), Tomal of Uripok (Point Kouta) etc. in 1986, he joined Imphal Jatra Assn.
He said that he joined Shumang Leela art out of his passion for the art without considering much earning from the profession. However, the budding artiste of today seem to focus more on earning and are lack of discipline and respect to elders and gurus. Artistes should be well mannered and respect the Gurus.
Negating the public complain about show charge, he said the show charges is not high in view of the crew members. Each crew member hardly gets when the amount is equally divided among them.
Apart from acting in Shumang Leela plays, Iboyaima has acted in some video films too. He made his debut in a video film 'Lammei" produced under Kangla films banner.  An approved AIR drama artiste, Iboyaima also acted in radio play Leikaigi Sorat. Thawaigi Pothafam was his first drama
Achievement as an Artiste
For the first time, he got best actor award in 1985 in a Shumang Leela play 'Imphal Hotel' in which he took the role of James.  He got best director in 2013 and 2014. He got best second actor in Shumang Leela play 'Love 2000' and 'Chahi taret Khuntakpa' for his role of Herachandra, best actor in Nungshi Mapao Takhidrabasu.  He is now a prominent artiste of  Sangai Artiste Association.
He had acted in more than 40 Shumang Leela plays. 21 st Century Kunti, Keishamthong Thoibi, Nungshi Mapao Takhidrabasu, Nongma Haige (Kamakhya Sangeet Mandal),  Eege Mahao,  Lupa Ani, Meigi Ching, 23 rd Century Kunti series, Adhikar, Imphal Diary are some of the popular plays he acted. Among the plays, Eegi Mahao recorded the highest Shows. Due to public demand, the play was shown for six times in a single day starting from early morning. Keishamthong Thoibi also recorded highest shows for consecutively three years. His character of a Kabui brother in Keishamthong Thoibi, Chief Minister in 21st Century Kunti series and a wicket uncle's role in 'Nongma Haige' could win high public accolades.
Acting is my passion and I have no other option but acting. I will continue to serve the people and promote the rare art form as an artiste till my last breath, maintained Iboyaima.
Frequent strictures impacting lives of Artistes
Frequent ban imposed on Shumang Leela shows by many civil society orgaisations during Bandh or general strike directly affects the Shumang Leela professionals. It has been a fashion in the state that organizations both legal or illegal, impose ban on entertainment activities on the eve of students' Examination or for any social issue. Such ban imposition affects the livelihood of the artistes who opted for Shumang Leela as their life time profession. Shumang Leela parties hardly get show time in a year due to frequent strictures. Shumang Leela professionals should be exempted from  Bandh or general strike considering its importance as a traditional national theatre and a tool of media which aware the masses, he observed.
Shumang Leela should not be considered from entertainment point of view only but as a composite indigenous art form of Manipur which informs, educates, entertains, persuades and motivates people on a variety of issues. Apart from entertaining people and making them forget their day-to-day tensions and worries, Shumang Leela, taking the role of mass media, highlights various social issues to the people ranging from the most learned to the most illiterate, the richest to the poorest, and the most foolish to the wisest, he observed.
Young people are negatively influenced by the alien cultural invasion through various new media like satellite channels, bollywood commercial films, advertisements portraying sex for sales, internet blitzkrieg and mobile telephony. These media onslaught on the immature tender minds create delinquent behaviour, easy lifestyles, careless habits, blind aping of the western costumes and dresses, neglect of the past and consequent identity crisis degrading the moral values in society. In such emergent crises, Shumang Leela as a unique traditional media may be the best tool to effectively counter the negative influences of the new media on the youths of Manipur.