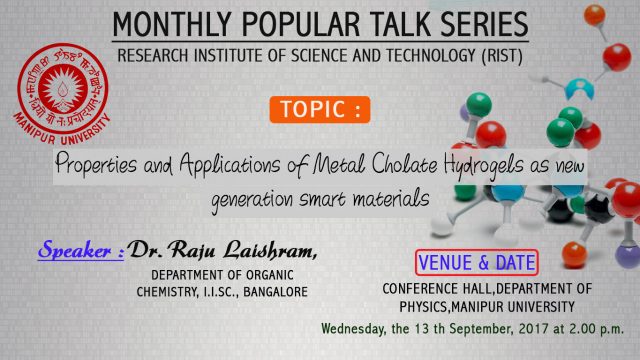 You are cordially invited to attend the monthly popular talk series jointly organized by the RESEARCH INSTITUTE OF SCIENCE AND TECHNOLOGY (RIST), IMPHAL & DEPARTMENT OF PHYSICS, MANIPUR UNIVERSITY.
V E N U E & DATE:
CONFERENCE HALL, DEPARTMENT OF PHYSICS, MANIPUR UNIVERSITY
Wednesday, the 13 th September, 2017 at 2.00 p.m.
Topic: Properties and applications of metal cholate hydrogels as new generation smart materials
Speaker: Dr. Raju Laishram,
Department of Organic Chemistry, I.I.Sc., Bangalore
Abstract: Soft materials from low molecular weight gelators (LMWG) are being developed as newgeneration smart materials. Metal cholate based hydrogels are one such group and these gels have been exploited for various applications in sensor, light emitting materials, template for nanoparticle synthesis etc. Applications of these materials will depend largely on the physical and morphological characteristics of the gels. Tuning of the properties of these materials requires a great deal of understanding of the kinetics and morphological changes that happen during the gelation process.
We decided to explore more applications of the gels and study the detail gelation mechanisms of metal cholates. The unusual properties of silver cholate (AgCh) gel i.e., cyclohexane like hydrophobicity and stimuli responsive nature, was explored. Further, the lanthanide's luminescence, in the lanthanide (Ln)cholate gels were used as a sensor for important drugs as well as preparing white light emitting gels.The roles of gel media in sensitization of Ln's and enhancing its luminescence was also studied in detail. Finally, the morphological changes, physio-chemical changes, dynamics, kinetics and growth mechanism of the gel were investigated.In conclusion, we were able to expand the applications of metal cholate hydrogels and better understandings of its properties were obtained.
(N. Nimai Singh)
Convener,
RIST monthly popular talk series