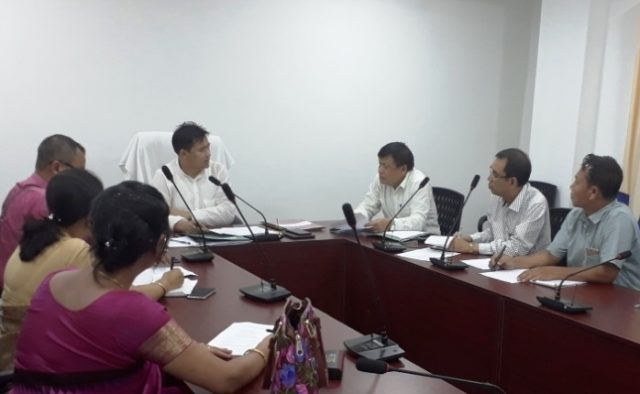 Imphal , 5th September.2017(DIPR). Rural Development and Panchayati Raj Minister Shri Thongam Biswajit has instructed officials and Deputy Commissioners to implement Pradhan Mantri Awas Yojana (Gramin) efficiently in the state by re-verifying the list of beneficiaries included in SECC.
Chairing monthly review meeting of the department at the conference hall of new Secretariat, Minister observed that there is a need to re-verify the list of beneficiaries included in SECC for awarding the scheme.
The minister also asserted that the grant for all the list of beneficiaries who have already been verified should be transferred at the first phase after sanctioning through DBT within September.
He also instructed concerned authority to spread awareness regarding the scheme through Directorate of Information and Public Relations. He also said, hoarding written in Manipuri Dialect regarding the scheme in details should be erected in all districts.
The Minister also sought report regarding fund utilisation of NREGA. As NREGA and PMAY(G) is an important flagship programme of the central government, he  urge all concerned officials to release fund on time regarding the two schemes without delaying.
The meeting was attended by officials of RD &PR and Deputy Commissioners of all Districts.
Chairing another monthly review meeting of Directorate of Information and Public Relation, Shri Biswajit said, as news seven districts have been created, it is necessary for setting up District Information Offices and the required staffs will be initiated very soon for smooth functioning of the district offices.
The meeting also discussed regarding the procurement of new vehicles, filling of vacant posts, enhancement of quality of diary and calendar and also discussed regarding the status of the ongoing construction of DIPR building at Keishampat. The officials of DIPR also appraised the Minister regarding Press Academy, Press Park and Advertisement Policy.
The review meeting of DIPR was also attended by Commissioner (IPR) Shri K Radhakumar Singh, Director (IPR) Shri Meghachandra Kongbam, Deputy Secretary Smt. Maibam Kamala, Deputy Secretary Smt. Ch. Sachi Devi, Deputy Directors Shri Noyon Chongtham, Shri N. Krishnakumar Singh, DIOs and APO. (DIPR)