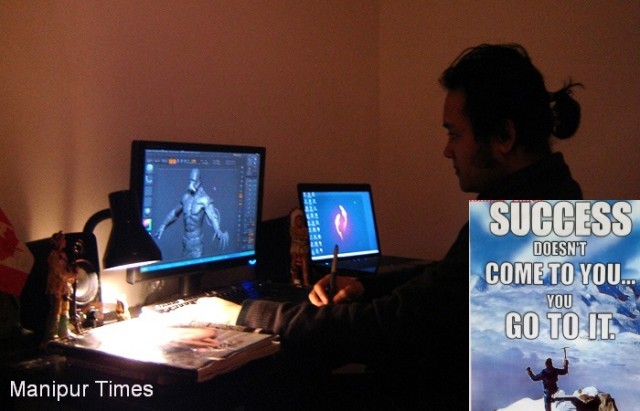 In Collaboration with FindingTheVoices.com
He loves games and comic's character. He would draw and sketch imaginary characters whatever he saw in his dream like that of Little Mermaid, Superman and Batman. Despite of repetitive rejection, he would go to bank every day to seek approval for loan so that his dream of becoming a 3D Character Artist gets fulfilled. One day, while he was walking on a street in Madras City in a dejected mood, he saw poster selling with "Success does not come to you. You go to it" written on it. Buying it at Rs 5 and conceiving the underlying meaning of it, now the man is going places.
This is the journey of Vik Sorensangbam, a successful 3D Character Artist based in Montreal, Canada.
Powered by his love for the art and firm determination, he has come a long way from a sportsperson to a fine 3D Character Artist working in a city like Montreal all the way from Manipur.
He graduated from DM College of Art and is the youngest of between three siblings.
Before tuning into the 3D Animation world, Vik was a body builder for around 6-7 years. He took part in Mr. Manipur 1998 (junior category 65 kg) from Royal Gym Ningomthongjao. He had a motorbike accident and his hand was seriously injured in the accident and there the doctor advises him not to take part in any event for at least one year. In it, he was shattered as he had wanted to achieve something in body building game.
Vik's journey as a fine 3D Character Artist started from a 6 month DTP computer course which he got enrolled at LCC, Lakhotia computer centre, North AOC. There, he was told that he can also join a 3D Animation course after finishing the DTP course. At that time, the 3D Animation course was very new to the State. Going through it, the course attract him and he started searching for more information on about the course. In the process, he came across a magazine titled "Animation Reporter", a Mumbai based magazine which was dispatched in his school. In there, he found some reputed institutes based in big cities like New York, Singapore, Washington DC, Montreal etc for learning the course and also found that the tuition fees charges by such institutes was around Rs 15-25 lakhs. Since his family could not afford such extravagant sum, he started looking for other institutes in India itself which charges affordable fees.
"I grew up adoring motivational quotes and inspirational stories. Having a dream was really important for me at the first place and secondly to strive to reach the destination. The burning ambition to acquire knowledge thoroughly from its place of origin sprouted in the year 2002. But somehow, I had to forsake this dreams for one big reason as I really did not want to put burden to my parents with the financial matter", says a confident Vik who hails from Singjamei, Imphal West.
At one instances, one of his teacher told him that there is a college of such kind in Chennaiwhich avails alike course which he was looking for. Knowing this, he started contacting the college through telephone and e-mail and got admitted in the institute. With a high aim, he came alone in the city for studying the course which he was striving for and got connected with the world of 3D Animation.
There unluckily he found that the methodology, facility and infrastructure of the college was not up to the mark compared with the one he assumed before coming in the place. As of it, he felt heartbroken and left the institute.
Before leaving the city, one day while he was walking in a street, he found some poster selling with slogan "Success does not come to you. You go to it" written on it. Seeing at it, he was moved by the underlying meaning of it and immediately buys it at Rs 5 which he is still keeping it.
"The poster makes me rethink of my dream. There, I made up my mind again thinking that this dream is so special and I cannot forsake it no matter what. It was not just a simple poster for me. I believe, it was a message from the Almighty", he adds saying that his girlfriend (childhood buddies); now his wife has played the biggest role in shaping up his career.
Indeed she is the one who row the boat for me. We were childhood buddies and we used to dream together and still continuing from the last 18 years, Vik expresses.
Vik' s love for the art and desire to draw goes long time back. Since childhood he was interested in comics and used to adore comic's characters like of Phantom, Superman. He was also inspired by his brother who used to do oil painting and sketching. His father also used to guide him in participating in many art competitions.
Since there was not any competent authorised 3D Animation institute in the country at that time, he started looking out for a reputed institute abroad which would accelerate his career. Later he realised that Vancouver Film School is based in Vancouver, BC, Canada would be the right place to mould his dream of becoming a mastered 3D Character Artist as the institute's facility and infrastructure stunned him.
But getting admission at the school was not an easy task for him as the institute charges large sum of money of around Rs 11 lakhs. For this, he was compelled to apply for loan from bank. In doing this, he would go to SBI Bank for seeking approval of the loan. At first, the bank turn down his application as the amount he was seeking was very high to be given as a student loan.
 "Taking student loan from Imphal was not an easy task especially choosing a career like 3D Animation. In my opinion, it could had been much easier to convince if it was for studying Medical or Engineering as it is very popular in Manipur. 3D animation was not only new in Manipur but was still at its infancy in other parts of India too at that time", Vik rues.
After much hiccup, the loan was finally approved but on mortgage basis after his admission advisor knowing his calibre and potential intervene and convince the bank's manager.
There at the institute, he was confined to insight and quality nuances works of 3D Animation. Even though he had received job offer there just after completing the course, he was compelled in returning back to India as he could not get work permit.
Then he started working at Exigent Game Art, Noida for a certain period. For this, he would travel from Delhi to Noida with much sleepless night. In there, he was involved in various 3D works like character sculpting and level designing.
After working at Exigent Game Art, Vik further started working as a freelance character artiste. Recognising his immense talent, it was during this stint that he got a full time job offer from Gameloft, Montreal. Since then there is no looking back for him. Coming up in the next part is the journey of Vik Sorensangbam for VIK3D and life beyond.
Courtesy: Original Podcast is available at FindingTheVoices.com by MONICA INGUDAM  (Episode-17)