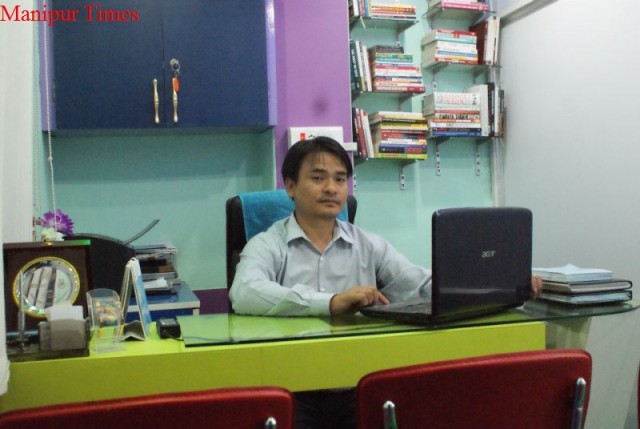 LRS Consultants Pvt. Ltd. is one of the leading educational consultants in India with ten years of rich industry experience. The company has its 'tied up' institutes in Karnataka, Tamil Nadu, Andhra Pradesh, Punjab, Maharashtra, Madhya Pradesh, Assam, Delhi, Uttar Pradesh etc.
About 6000 students of Manipur have been placed in many reputed schools, institutes and universities of India so far. This figure is expected to increase in coming years as the agency is currently delivering quality service.
LRS is an acronym of Longjam Robindro Singh, the proprietor of LRS Consultants Pvt. Ltd whose office is located at Paona Bazar, Imphal adjacent to UBI bank. It is rendering services regarding career counseling and job placement.
Dr. Robindro Singh (35) s/o Longjam Mohindro Singh of Singjamei Chingamkha Chanam Pukhri Mapal, Imphal West founded the company in 2003 with a small margin.
Robindro has passed Matriculation from CC Higher Secondary School and 10+2 from Asem Arunkumar Institute of Science & Technology, Canchipur.
Later, he continued his studies at Dr. MGR Medical University, Tamil Nadu. He has completed B.Sc(Psy), BPT, MD(Acu), Psychotherapy, MBA. He is the life member of International Alma association and Join Secretary (Manipur) of All India IT Association.
Recalling his college days he said that even as a student he struggled to earn money to fulfill his college fees. He had to reel under a hard life during his college days as his parents could not clear hostel and educational fees in time.
"Hardship experiences are the foundation of success in life. With the weapon of tolerance, full determination, one has to face the challenges of life. The road to success is not always smooth, many obstacles are there", he observed.
With the rise of unemployment, political unstability and insurgency problems, more and more Manipuri youths settling outside the state & joining pvt and government establishments elsewhere, has resulted in a brain drain of the talented youths. So, Dr.L.Robindro decided to set up his establishment in Manipur and make a difference. Since then he has shifted from Bangalore and has been working purely for the cause of the society.
Initially he was working in a small room at Hotel Bheigo in 2003. Where he was providing services like career counseling, admission guidance, selection of right courses and institutes in India.
On 25th August 2004, as a president Dr.L.Robindro Singh has formed a public charitable trust in the name of STATE EDUCATIONAL & RESEARCH CENTER (SERC). Since then the trust has started its mankind services to the people of Manipur.
M/S LRSINDIA came into existence in Manipur in the year of 2007. Since then it has becomes the largest, most renowned & leading event management and educational promotion company in the state of Manipur. Moreover, services like Spoken English Training has been added & franchising is also being taken up in a nominal fee.
In terms of event management, LRSINDIA organizes education fairs every year in April & June. The first education fair was organized in 2009 at Classic Hotel, Imphal in which about 50 colleges from different parts of India participated. This year, LRSINDIA is going to organize the event from 8th -9th April at Nupi-Laal Complex, Imphal. The education fair in turn gives the government of Manipur revenue of more than 5 cr a year. So he emphasized, Government of Manipur should encouraged the organizer of such events.
Moreover, with an aim to improve the talents of the students, the 3rd State Level Scholarship Test 2013 will be held during the Education Fair. This state level competition was first organized in 2010 at Bengali High School, Imphal in which about 640 students participated. Cash prizes of Rs.5000, Rs.3000 and Rs.2000 is given to the first, second and third position holders and another 10 consolation prizes of Rs 500 respectively.
Dr. Robindro said that preparations regarding setting up of a Professional College in the name of CENTER FOR HIGHER EDUCTION MANIPUR (CHEM) at Changangei near Tulihal Airport are almost completed. Courses like MBA, MCA, BBA, BCA, B.Sc (IT), B.Sc ( Computer science ), PGDCA, PGDBM, DCA, DIT, DCS, B/M.Lib, BA/MA(English, Political Science, History, Hindi) will be offered by this college.
Regular session will kick start from JUNE this year. CHEM is AICTE – UGC – DEC approved College and affiliated to Lovely Professional University, Jalandhar (Punjab).
LRSINDIA Pvt. Ltd, is now being run with 11 staffs. Now LRSINDIA is aiming to bring more franchise business in Manipur and he said anybody wants to have information regarding opening of franchise in Manipur can approach LRSINDIA. Moreover, the company has also launch a branch office of ANGEL BROKING (stock, Share, IPO, insurance, mutual fund etc), KONARK COURIER (courier services), ALMA COMPUTING COLLEGE (computer related courses), SS COLLEGES(Distance education), in Manipur.
More Photos from LRS Consultants Pvt. Ltd
Photo Credit: Courtesy of LRS India and Manipurtimes
Regarding seeking government jobs, Dr. Robindro said," I never approach Employment Exchange to seek government jobs. I don't care for government job as I can manage myself. Providing jobs to many youths of the state is my dream." 
Despite its high literacy rate, Manipur is still facing the problem of unemployment. As the government has failed to set up industries/Companies, or fail to provide aid in entrepreneurship etc., many educated youths venture outside the state in search of jobs. To solve it to some extent, he dreams to set up industries in the state to provide job.
"If any talented student, who belongs to below poverty line, approaches LRSINDIA Pvt. Ltd seeking for study anywhere in India, the company is ready to extend all possible financial assistance at its best level. The company is not only for commercial purpose but it is also to provide social service", Dr.L.Robindro said.