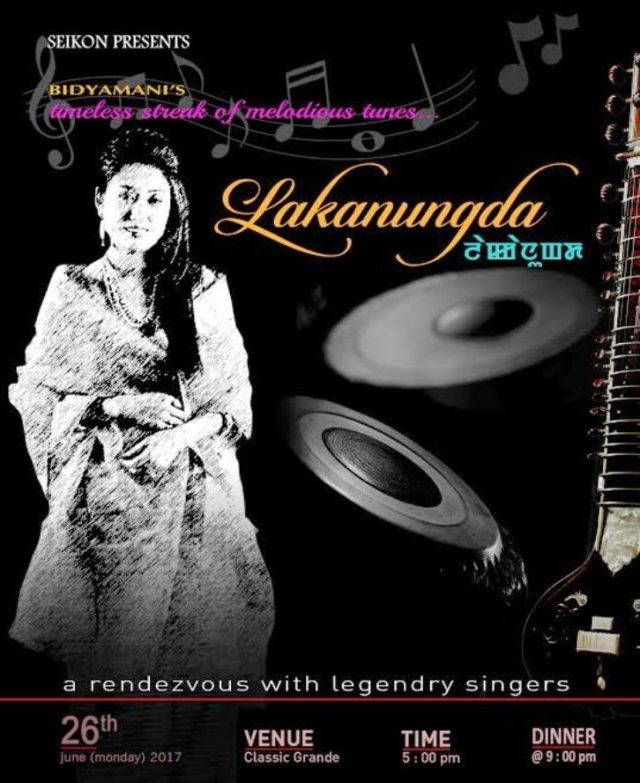 SEIKON take the opportunity to inform you that, Bidyamani, one of the burning bright, promising singers of Manipur is on the verge to launch her debut musical performance, timeless streak of melodious tunes under the name and style "LAKANUNGDA" recollection of the memory lane of the distinguished contributions of the legendary singers of Manipur. This is SEIKON's serious attempt to promote and retain the paramount beauty and aesthetics of the both classic and modern Manipuri music.
LAKANUNGDA REFLECTS THE BOUNTY OF THE ORIGINAL MUSIC OF THE LAND AND ALSO THE PRESTINE GLORY OF IT WHICH PEOPLE LONG FOR….
The most awaited and first ever of its kind musical event is all set to bring a full circle on the 26th June (Monday) 2017 at Hotel CLASSIC GRANDE at 5 pm. SEIKON believe that the musical event will bring in the enthusiasts and the enlightened people together so that the confluence of Manipuri music is being unfolded and take us to the root of our rich cultural heritage.
[ecwid widgets="productbrowser search minicart" categories_per_row="3″ grid="10,3″ list="60″ table="60″ default_category_id="21294227″ category_view="table" search_view="list" minicart_layout="MiniAttachToProductBrowser"]