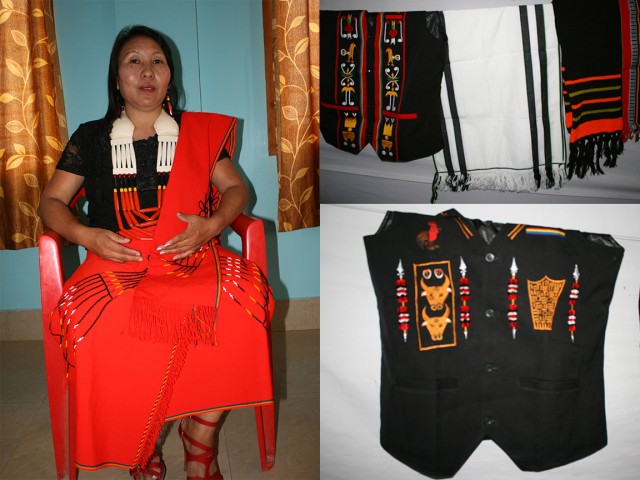 People of Manipur by nature are creative, dynamic and artistic as well as in their outlook and thinking. Manipur culture is closely associated with handloom and handicrafts products and creativity of the people in the state is reflected to various crafts items designed by them since time immemorial. The world knows the aesthetic beauty of handloom and handicraft products made by the people of different communities in the state. Different communities living in the state have their own distinct, aesthetic cultural values and traditional fabrics. Poumai community is also one of the varied communities having its own aesthetic beauty of handloom and handicraft.
Embracing the art of crafting traditional Poumai Naga handloom fabrics learnt from her late mother, thirty eight years old Mrs Solomi, a weaver from ITI colony in Senapati district, is one of the few artisans involved in making rare traditional handloom fabrics of Poumai Naga in Manipur embroidered with meaningful motifs.
The Poumai Naga having a population about 187,180 (2011 census)  is a community predominantly inhabiting the Senapati District of Manipur The people which generally following Christianity are known for bravery, fidelity and wisdom. The language spoken by the Poumai is called Poula.
Solomi has been working with dedication to promote the craft for 10 years. To preserve the age old craft, she provides training to some local women in order to carry forward the legacy. All together 10 women including transgender are currently working under her guidance.
Varied Handloom products of Solomi
Under the banner of Barak handloom enterprises,  she makes traditional Naga fabrics like waistcoat, neck tie, scurf, Teisa (phanek worn by Paomei woman), Tao Hou Khabya ( waistcoat intricate with red stripes), Sorosa (white phanek ), Paomei Natei, Paomei Naka (Phanek).
These traditional handloom fabrics intricately designed with different meaningful patterns and motifs are generally worn by the man and woman of Paomei Naga is special occasions.  Among these handloom fabric items, Paomei Naka is worn by Paomei woman in special occasions and every family should have this particular dress.
During festivals, they wore Roh-lai (diadem), Vee-hoxzü (a colourful bird's feather), Phao-hah, paongi (ivory bangles), etc. Women wore Lakiteisha (a black shawl with red and green stripes), Poüpumü (a white-skirt with black and green stripes), Bao-sa (bangles), Baoda (a brass bangle), and Toutah or Tou (necklaces). The grills could also be woven from the barks of nettle.
Solomi's guide
Solomi inherited the knowledge of weaving mainly from her mother. "I still vividly recalled my mother who used to work on her loin loom till late night burning the midnight oil to maintain family. Bring her children up and send them to school," recalled she.
A thriving business helping others
She sells Teisa suit at Rs 4000 a piece, Tao hou khabya at Rs 5000 and Sorosa ar Rs 7000 thus enabling her  handloom farm to earn above Rs one lakh a month, no doubt. Her fabrics are sold to the villages in Senapati district and Imphal. She also sells her product in the Kohima market, Nagaland. For those jobless women of her village, Solomi's handloom enterprise has been a best support to them in maintaining their families. The workers work in coordination like members in a family.
Her husband Kouhe is an employee of ITI Senapati and they have three siblings – two sons and one daughter.  With her income from the business, she can actively lend a helping hand to her husband in smoothly making their family's livelihood. Having gained an ample amount of experience in her domain of work she now plans to improve the scale of her business
 Achievement in the craft
In recognition to her contribution in reviving the Naga traditional hand loom fabric, Directorate of commerce and Industries, Government of Manipur conferred her with the prestigious state ward 2015 in the field of handicraft on June 2015 in a function held at Lamuyanba Shanglen.
"My happiness knew no bounds when the state government recognized my work by conferring such a state award. It has rather motivated me to work more and carry the legacy forward", Solomi said.
Participation in exhibitions
She has participated in many handloom and handicraft exhibitions including Gandhi Shilp Bazar, sponsored by Ministry of Textiles, HADO Craft Mela, Manipur Sangai Festival etc. Her handloom products have been showcased in some of the handloom exhibitions held at New Delhi, Guwahati, Rajasthan and others as well. With the popularity of the handloom fabrics made by her team on the rise, many costumers continue to visit her residence to buy the products of their best choice.
Message to people
I am very happy think that I have been able to provide jobs to some local women to earn income with which they can support their families. I am planning to expand the business scope so as to provide to more people. My farm doesn't focus on only personal profit making. We can be self reliant and enjoy a decent living only when we cultivate a work culture.
In Manipur, Handloom industry which is the only surviving industry in the textile sector is providing maximum employment to large numbers of women community and supporting the socio-economic conditions of Manipuri families. It is the largest and most important cottage industry in Manipur. The womenfolk of the state are naturally endowed with unique artistic skills in handloom.
[ecwid widgets="productbrowser search minicart" categories_per_row="3″ grid="10,3″ list="60″ table="60″ default_category_id="21294227″ category_view="grid" search_view="list" minicart_layout="MiniAttachToProductBrowser"]