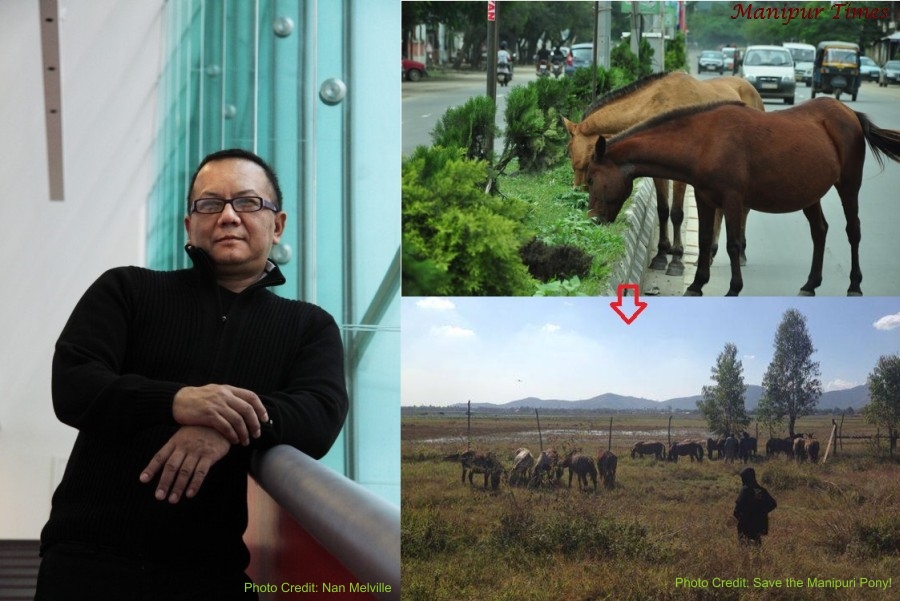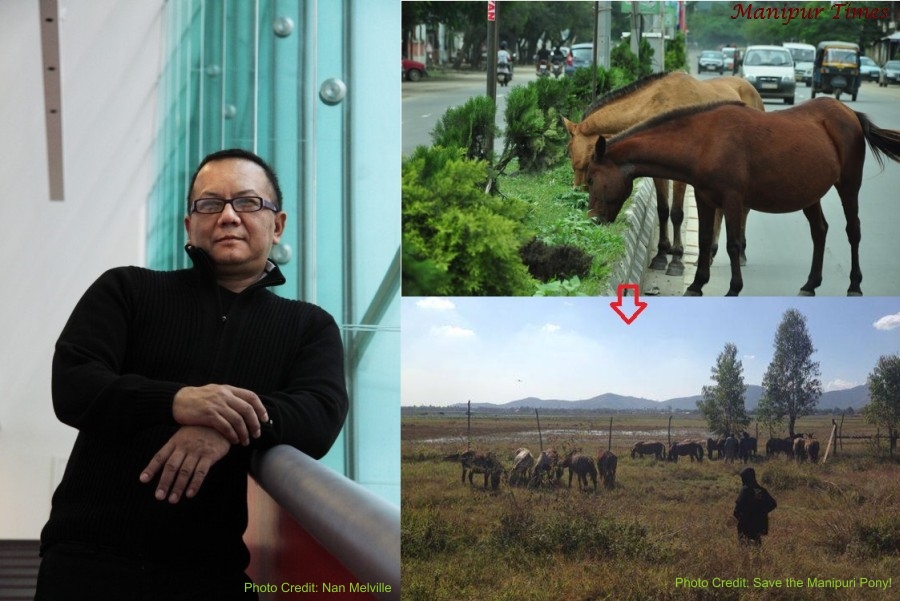 Have you seen Manipuri ponies on the streets? How do you feel when they run amok on busy roads creating traffic disturbances or run over by speedy vehicles?
"We can't be proud of Manipuri ponies and we cannot celebrate polo when we have our ponies on the streets, eating garbage",opined L Somi Roy, who has been pioneering the campaign of providing home to homeless, stray and street ponies of Manipur.
L Somi Roy, who is a New York-based film and media curator, was born in Manipur but he left his birthplace over 30 years ago. He has been dividing his time between New York and Imphal since the year 2000. Somi visits Manipur twice annually and puts in effort to save this endangered rare equine species of Manipur seeking the attention of different people from various walks of life and pleading the state government to provide a safe natural home to them.
During an interaction with the Manipur Times at his Imphal residence at Yaiskul, he said, "I settled in New York for long 15 years without returning to Manipur. When I came home in 2000, I saw our ponies straying on busy streets. I found the scene new to me and felt that Manipur had changed a lot. It was not like this when I left Manipur in 1982".
Later, Somi's persistent calls on 'pony issue' started gaining momentum. Somi started getting supports from various individuals and groups, including government with the Chief Minister O Ibobi Singh taking a personal interest and leadership.
Now, the state government has rolled out a plan for the protection of this unique and rare species at Ibudhou Marjing Khubam in Heingang. And the state chief minister, Okram Ibobi Singh, has also personally visited with a team of officials to assess the existing infrastructure and working conditions of the place in November, 2013.
According to Somi Roy, one section for the protection and preservation of pony is set up at Heingang and the second section over a hillock at Khundrakpam.
When the Manipur Times enquired why he was so concerned about saving this particular species, he said, "Nothing represents Manipur better than our pony. It is not only indigenous, rare and endangered but also has a close connection with the culture of Manipur".
Expressing his view about the role played by Manipuri ponies and its inextricable link between people and its culture, he said, "From warfare to ritual, pony has its own significance. Keeping aside the known fact of presenting the game of polo to the world by Manipuri ponies, even the strings of Pena (traditional music instrument) are made of its hairs from its tail".
Somi has now gathered lots of data and information about pony. He said that many historical events and written records indicate implications of ponies in important ceremonies. Lei-Haraoba, Koriphaba playing Sagol-Kangjei on his pony, Thoibi's escape from Nongban on her pony and Thoibi's homecoming from exile, known as  'Loi-Kummakpa' on her pony.
Somi mentioned some important persons, who extended help and support in his effort to preserve the endangered species. He said that things could not be materialised without the concern of chief minister Okram Ibobi Singh. In fact, Ibobi was spearheading the campaign, he said.
He added, "The chief minister is very dynamic person, he considers things so carefully, and acts so fast". He also expressed his appreciation to MLA N Biren and Animal Husbanday & Veterinary Services Minister Govindas Konthoujam for swinging into action fast after they were assigned the task by the chief minister. Beside this, he showed his thankfulness to RK Nimai whom he addressed as 'Yambung'. Somi said that Yambung's contribution towards the project was soimportant.
Journey towards the Project
Somi's first visit from NY to his birthplace Imphal in the year 2000 after a gap of 15 years, was marked with embarrassment seeing the deteriorating condition of the city with many ponies found straying on the streets. His heart sank seeing the crippled ponies with their foals standing on the traffic meridians and other hungry ponies becoming garbage foragers though they were once treated as sacred animals of Manipur in the past. His first visit, and what he viewed of the deteriorating condition of the place, ultimately led him to decide and initiate something for his birthplace and in the later times he started visiting occasionally following his discretions.
In 2004, Somi took the initiative to organise a 'Field Trip' to Manipur with an objective to see Manipur through the eyes of American artists. He let the artists experience the culture of Manipur as much as possible. He made the exposure of the whole events in situ. He saw through them how culture plays important role in the social set-up of Manipur. Somi also organised a 'Sagol Kangjei' (polo) event at Kanjeibung with support Oja Pabung Kelchandra (Scholar) and his son N. Tombiraj.
For this, Somi came with seven American artists including New York  choreographer Yoshiko Chuma, museum curator Zette Emmons, renowned American documentary filmmaker Les Blank. Roy said that he took them to real events like marriage ceremonies to listen to Nat Sankirtan, weavers' sheds at Kongpal, Maha Ras of Konung (temple), and Maibi Jagoi. He further said the he documented the whole visit to use as a thinkpad for developing future international projects for Manipur that he had in mind.
Somi also said that all this was made possible by Asia Cultural Council (NY) which gave him grants for the visit.
Somi said that his film work in the US took him to Kentucky, which he said is "the horse capital of US". He worked with Appalshop (Appalachian Film Workshop), which is a multi-media arts and cultural centre located in Central Appalachia which is according to him, "one of the most amazing media collectives in the world". While on his business at Appalshop, he met Dr. Evelyn Knight (former director of Appalachian Center at the University of Kentucky) who introduced him to International Museum of the Horse and its Director Bill Crooke.
In the later time, Somi told the significance of Manipuri Polo and the ponies, and he then approached Bill Crooke whether he would be interested to showcase 'Sagol Kangjei' outfits in his museum where Bill gave an affirmative response. Somi brought the good tidings to RK Nimai, former secretary to the Manipur governor, who is also his first cousin brother-friend. Later, they approached the former governor and highlighted the prospect in which the governor gave his approval.
In the later part of 2012, as an important step in internationalizing the efforts to save the Manipuri Pony, the former state governor, Gurbachan Jagat presented, on behalf of the people of Manipur,  'Sagol Kanjei' outfits to the International Museum of the Horse at Kentucky Horse Park in Lexington. This helped to chronicle the contributions made to the game of polo by the people and ponies of Manipur.
And the displayed items are now known to the world as the uniform for 'Sagol Kangjei', the original form of modern polo. It was possible through Somi's initiatives and efforts with the support of Dr. RK Nimai, former secretary to the Manipur governor.
Somi told to the Manipur Times that all the exhibit items were designed and assembled by Meisnam Khelen of Imphal, former captain of Manipur Polo Team. They included a traditional Manipuri polo saddle, braided leather whip, a full set of traditional attires of polo player, two polo mallets, a ball made of bamboo root and a set of traditional equestrian darts. This took two years to prepare as even the lacquer had to be imported from Myanmar.
From Imphal to New York:
Somi Roy is the youngest son of the late Maharaj Kumari Binodini, a member of the erstwhile royal family of Manipur and a renowned state figure and a writer who has won many awards and accolades. His father Dr L Nanda Babu Roy, is the first FRCS (Edinburgh) from Manipur.
It was during 1982, just after his studies in Economics and International Politics at St. Stephen's College and JNU, New Delhi, Somi Roy went to New York as part of a team to exhibit the Manipuri feature film 'Imagi Ningthem', with the state's renowned filmmaker Aribam Syam Sharma, for whom Somi had worked as an assistant.
Although not a premeditated decision, Somi Roy decided to stay back in New York after the film exhibition, and he later joined The Asia Society whose mission is to educate America about Asia. He said, "I was the only Asian working there at the time and the rest were all Americans". He later specialised in Asian cinema, and was the first person to produce and exhibit films year-round on Asian cinema at The Asia Society. Somi later established 'Roy/Emmons Associates', with his partner Zette Emmons, which curated and organised film related events at the national level across the US. They organised Tibet Film Festival for Richard Gere. He said, "We went to 35 different cities".  Later Somi organised the Robert Flaherty Film seminar, one most prestigious forums in the world for non-fiction film.
For various translational media projects, Somi has worked with more than 15 different countries. Besides his interest in Film and Media curatorial business, he has also translated a number of her mother's short-stories and drama from Manipuri into English.
An international project for Manipur with a cross-cultural conceptualization like his other arts projects in the USgoes hand in hand with the preserve. Updates on the Pony Preserves could be followed at https://www.facebook.com/groups/212692982195038/ and Imasi Foundation at https://www.facebook.com/ImasiFoundation .