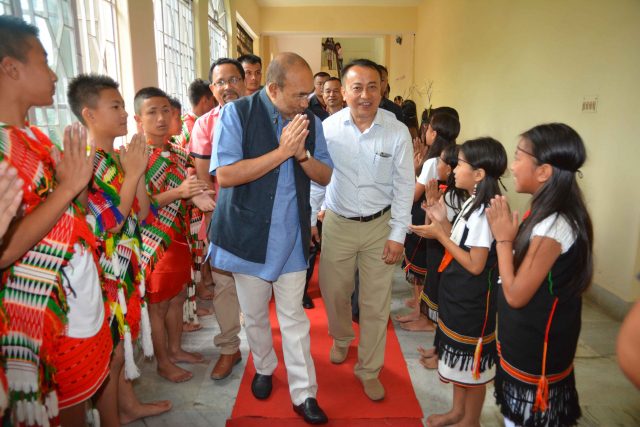 Imphal, September 29, 2107 (DIPR): To ensure that all children live in a child friendly, protective environment, their rights are secured in the state, Chief Minister said that the State Government would discuss and adopt "The Manipur State Policy for Children 2017" in the State Cabinet soon. This was stated by him at the 8th State Level Children's Cultural Meet 2017 held at Jubilee Hall, RIMS, Imphal West. The programme was organised under the theme "Save us from Drugs and Child Traffickers, if not today, there will be no tomorrow" by Manipur Alliance for Child Rights (MACR) and Manipur Commission for Protection of Child Rights, Government of Manipur (MCPCR) in partnership with Child Rights and You(CRY).
Speaking as the Chief Guest of the function, Shri N. Biren Singh cautioned people of the State that human trafficking in the name of religion is rampant in various parts of the region. Many a times, the traffickers promised the families of the victims for providing better education, employment outside the State, he added. Chief Minister appealed the CSOs, village leaders and people to remain vigilant and alert to stop human trafficking and child abuse in the State. He further said that it is our responsibility and make sure that our children are safe in and outside the State.
Stating that children are the future of the Nation, Chief Minister appealed the MACR, MCPCR, NGOs and CSOs to work collectively for the protection of child rights violation such as child trafficking, drug abuse etc. in the State. The true human service is to help the poorest of the poor by providing basic amenities so that their living conditions could be improved which would finally help in bringing growth and development in the State, he added.
Speaking about the government initiatives of the differently-abled persons of the State, Shri N. Biren Singh stated that the government is set to introduce new welfare benefit schemes such as provide employment, loans, and monthly stipends to the differently abled persons soon. Under the new scheme, skilled differently-abled persons would be provided loans at subsidized interest rates to help start their own business, secondly vehicles would be provided to those who are working in government/non-government sector and thirdly the scheme would also have a provision to provide monthly pension/stipends to fully disabled persons.
Chief Minister mentioned that we must strive for transparent governance, employment generation and act practically to bring positive change in the society. We must ensure that social and economic equality is achieved to bring inclusive growth and development in the State, he added. Shri N. Biren Singh urged the people of the state to work with transparency, honesty and sincerity. Chief Minister asserted that after 70 years of Independence, millions of people are living with no proper drinking water supply and electricity in their households.
Chief Minister announced that he would visit Tamenglong district soon and likely to inaugurate the 50 bedded hospital, to lay foundation stone for the construction of Ima market, water supply scheme under NLCPR etc.  Seeking support of the people for a clean Manipur, he informed that a three day mass cleanliness campaign 'Clean Manipur' would be observed from 30th September-2nd October 2017 in support of Swachh Bharat campaign.
Speaking as Guest of Honour of the function, Minister for Social Welfare and Co-operation Smt. Nemcha Kipgen stated that children comprise around 40 percent of the total population so a progressive nation cannot be achieved without having healthy children and we cannot claim a well protected nation when your children are unsecure and unsafe. Children should not be misused in inappropriate ways such as protest, demonstrations for achieving vested political gains which will deeply affect their education, wholesome growth, physical and mental well being, she added.
Mentioning that drop out children are the prospective targets of child traffickers and abusers, Social Welfare Minister stated that bringing the children into formal schools is very important. Stating that minor girls and children are largely affected by child or women trafficking in the state, Smt. Nemcha Kipgen urged the CSOs, NGOs, public to work collectively and be united for protection of the vulnerable children. To protect child trafficking and abuse, Minister said that Village Level Child Protection Committees would be formed under the ICDS scheme of Social Welfare Department soon.
On the occasion, MACR's Child Rights awards were conferred to SP of Tengnoupal District, Dr. S. Ibomcha, Sub-Inspector and in-charge Anti-Human Trafficking Unit Shri Y. Kheda, Senior Reporter of Imphal Free Press Shri Leivon Jimmy and Reporter of People's Chronicle Shri S. Bigyan.
Speaker, Manipur Legislative Assembly Shri Y. Khemchand, Chairperson of Manipur Commission for Protection of Child Rights (MCPCR), Shri S. Sharatkumar Sharma, Convenor of MACR and member of MCPCR Shri Montu Ahanthem and children from various districts attended the function.