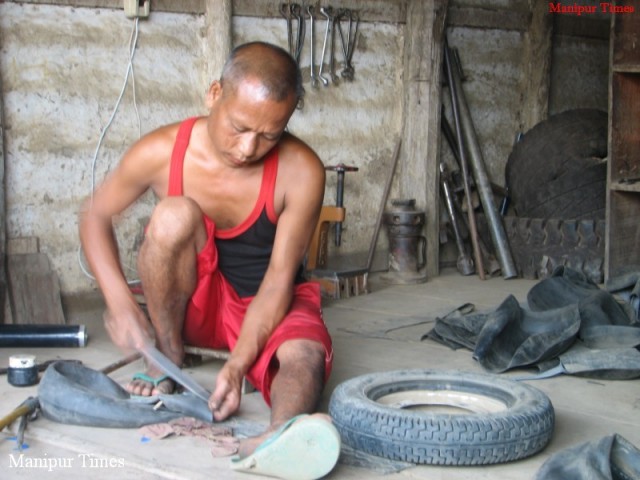 "I was not satisfied with the remuneration received from the tyre workshop with which I used to work. It could not afford to my needs. I realised that working with a firm owned by other people would not help me.  With an ambition to set up my own workshop, I started saving money. With some money borrowed from my friends and my personal saving, the dream for setting up my own tyre workshop was fulfilled at last. This is a challenging journey to set up the workshop with my small saving."
Kongkham Mohon Singh, 42 years, son of late Kongkham Ngangba Singh hailing from Bamonkampu, Proprietor of Mohon Tyre Workshop, shares his life struggle in an interaction with Manipur Times.
Sharing some of his hard experiences he faced in life, Mohon recalled, "The sudden demise of my farmer father, the sole bread earner of the family, was a major set-back in the family. I experienced the extreme poverty of my life when I was 15 years old. My father passed away due to a serious ailment when I was at Tenth Standard. I had to leave my studies to maintain the poor family. When I was 15 years old, I joined a tyre workshop located at Khuman Lampak. With the earning received from the workshop, I managed to maintain my family. I used to earn money for my family working as a salesman in a grocery shop located at Thangal Bazar. I could save some money from this job. After sometime, I worked out a plan to set up a workshop of my own.
Mohon Tyre Workshop, located at Panthoibi Keithel, Irilbung have been providing its services for years. Some of the services provided by this tyre workshop include tyre retreading and puncture fitting for all kinds of heavy and light vehicles. Four men who are expert in tyre retreading and puncture fitting are working in the workshop. They are paid Rs7000 a month as salary. Earlier, the workshop was located at a rented house at New Chekon some years back. It was later shifted to its own land at Irilbung.
Mohon who is looking after the overall day to day affairs of the workshop said, "Presently my workshop charges Rs5500 for a single tyre retreading of heavy vehicles like Tata trucks, Shaktiman trucks and buses, and Rs2800 for 407 Tata mini trucks, Rs1500 for light vehicles such as Maruti car, vans and Gypsy jeeps. At least 10 tyres can be revamped a day. It takes only three hours to complete a tyre revamping. We can earn Rs1000 a day at the average. For punctured tyre fittings, we charge Rs40 for two wheelers and light motor vehicles. For heavy vehicles, we charge Rs100 as it requires heavy muscle work."
The workshop is being supervised by him along with his brother-in-law Nameirakpam Ibomcha of Bamonkampu.
Mohon Type Workshop Gallery
He studied in Irilbung High School from class III to X. He could not continue his studies because of the sudden demise of his father. He is the youngest son among seven siblings of three brothers and four sisters. His father, the bread earner in the family, had been maintaining the family with his meagre income received from his farming profession.
He said, "Since tyre workshop is that kind of job which demands strong and active muscle power, I have engaged four more workers including my brother-in-law. They were all inexperienced in this field. After giving training, they are all experts now. Tyre works involve heavy manual work such as unscrewing the tyre from the heavy vehicle and then removing the tyre from the ring using hammer, iron rod etc. It is not the work of a weak man."
Most of the costumers approach our workshop for tyre revamping works. Almost all the vehicle owners do not want to buy a new tyre as the costs of tyre are too high nowadays.
Tyre retreading means attaching a new thick layer around an old tyre which has grown thinner day by day because of repeated action. When a new layer is attached to an old one, it looks like a new one and can work for long, said Mohon.
He said, "Although I earn good income now, I hardly got any profit at the initial stages. When the location of the workshop is shifted to Irilbung, which is my own land, the workshop has now enjoyed some business growth. With the number of costumers keep on rising, the income of the workshop is also increasing leaps and bounds.
"I am putting in all my best effort to expand the workshop with a view to provide jobs to many jobless youths of Manipur. At present, I am yet to materialise my dreams as I am unable to invest a big amount to my project. I am looking for loans from a couple of banks," he said.
As for the present, seeking for self-employable works is the best remedy to solve the unemployment problem faced by almost all the youths of Manipur.  Educated youths who think themselves as unemployed persons should not remain depending only on the Government for jobs.
"Spirit for entrepreneurship and self-employment has diminished from the mindset of our youths since our outlook for life career is limited to only Government jobs. It is a bad notion which needs to be uprooted at once. We need to cultivate work culture", Mohon pointed out.