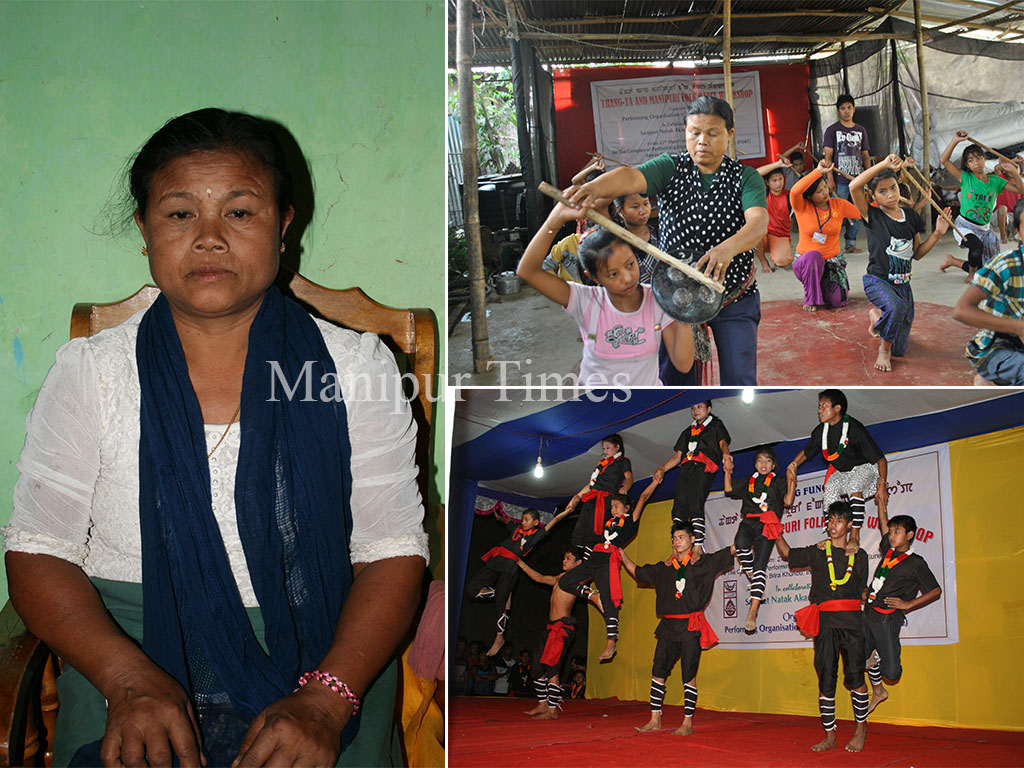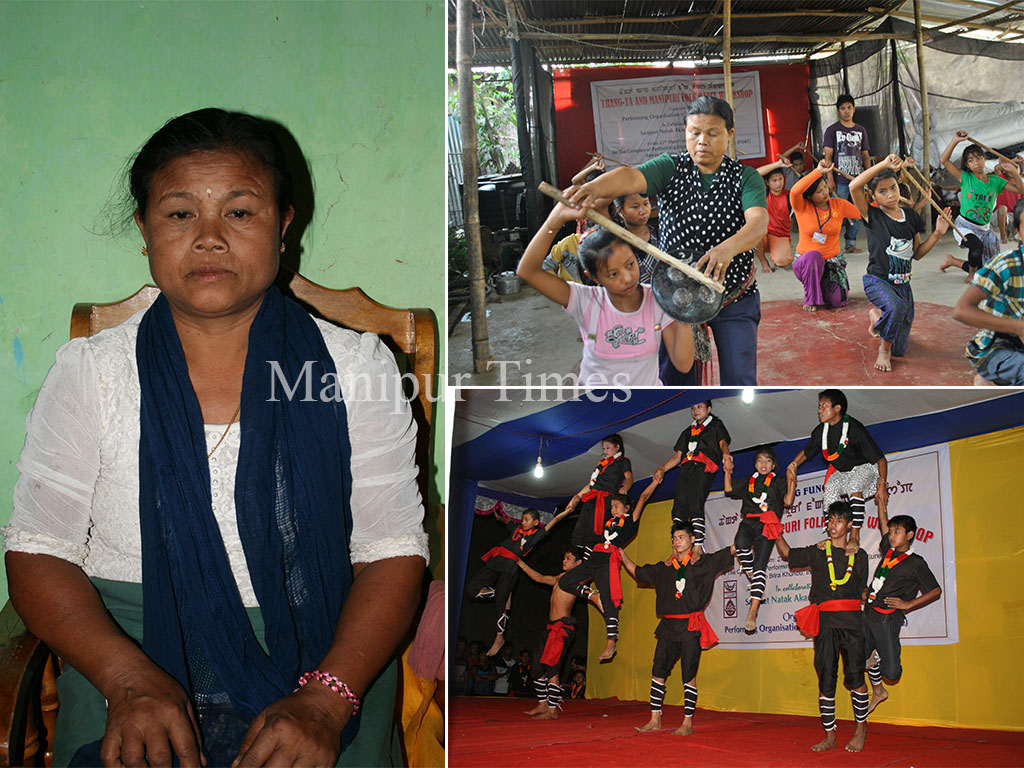 "Though I distanced myself from art, my passion for Manipuri performing art and culture, especially Thang-Ta did not die away from my mind completely and I always dreamt to perform the amazing steps my father had taught me.  With a view to fulfill my father's wish of preserving the family legacy of Manipuri Thang-Ta, a training school christened, Performing Organization of Art and Culture (POAC)  was established in 2001 at  Keirao Bitra with the objectives of preserving the rich heritage of Manipuri art and culture while  providing  training on Thang-Ta and acrobatic games to children.  Presently, about 38 students are being given training of Thang-Ta and other acrobatic games in the school".
Louriyam Thaba Devi, a pioneer Manipuri lady in promoting the indigenous martial art Thang-Ta and acrobatic games recently talked to the Manipur Times.
Born to late Puthem Ahanjao and Thadoi Devi of Keirao Bitra Khunou, she began learning Thang-Ta at a very tender age of 10 under the guidance of her father Puthem Ahanjao, who was a great Thang-Ta artiste. Apart from learning Thang-Ta, she also learned various acrobatic games like Pukham Leibi dance (spinning plates in finger tips), walking over broken glasses etc.
MY FATHER MY GURU
"My father, a great lover of Manipuri Thang-Ta, taught me the basic skills of Thang-Ta and acrobatic games with strict rules and discipline. Until and unless I learnt a lesson properly, he kept me practicing the lesson for hours despite I got exhausted. I was so afraid of my father.  He used to take me to many far-flung festival venues of the State such as Thoubal, Churachandpur, Kakching etc. on a bicycle for showing Thang-Ta performance. I was confined to most of the Thang-Ta practice and shows most of my teenage days and I could not join my friends in merry making during festivals, said Thaba Devi, one of the senior most woman Thang-Ta performers in Manipur.
SHOWS GALLORE
Thaba said that she, for the first time, gave her performance in a tour programme for two years in Assam. After coming back from there, she started performing in shows during Lai-Haraoba festivals and other occasions across the State.
 After learning the basic steps of Thang-Ta and acrobatics from her father, she went on her higher study on Thang-Ta art under the guidance of Padamashri G Gourakishor Sharma, Principal, Hueiyen Lalong Manipur Thang-Ta Cultural Association,  Irilbung.  Thaba is the first woman Thang-Ta student of Manipur's renowned Thang-Ta training school Hueiyen Lalong Manipur Thang-Ta cultural Association.
She also learnt Thang-Ta from her two brothers Puthem Mangi and late Puthem Joy, popularly known as Keirao Machin Manao Thang-Ta troupe who are the pioneers of popularizing Manipur Thang-Ta at the international level by captivating the hearts of many people of the world through their well choreographed Thang-Ta performance, skillfully mixed with acrobatic moves based on gymnastics and traditional dances. She joined this troupe at the age of 13. 
PERFORMANCE in US
Recalling an incident regarding the Thang-Ta performance of her two brothers, Thaba said that my two brothers are popular for their dual fight in Manipuri Thang-Ta. The duo once showed a Thang-Ta performance known as Yotpak Thangjou Yannaba (spade and dagger fight) in the US. The daredevilry fight between the two brothers was so realistic that many people in the audience could not watch the show but closed their eyes out of fear. Organizers stopped the show in the middle as some audience found the fight dreadful.
SCHOLARSHIP
Thaba received the Talent Scholarship of Ministry of Culture, Government of India for her talent in Manipuri Thang-Ta, acrobatic games at the age of 18. She got married to Louriyam Birachandra, a mason by profession, in 1984. She has three children now. After marriage, she left Thang-Ta when she attained 27 years of age as her husband did not like her travelling at far flung areas for Thang-Ta shows. This made her separated from being a Thang-Ta artiste for many years.
REVIVAL PERIOD
Her husband's view on Thang-Ta compelled Thaba to discourage her two daughters from learning Thang-Ta. Despite her discouragement, her daughters are learning Thang-Ta and acrobatic spectacles at their art school because of their passion for the martial art.
"After a gap of 15 years, my passion for performing art got revived when my husband, who slowly began to acknowledge my desire, allowed me to pursue my dream. My happiness was limitless when my husband assured me of financial support whatever required towards realization of my dream. I started gathering children from economically marginalized families and started providing training for medley shows of Thang-Ta and acrobatic games during Lai Haraoba and other festivals. My artistes have been able to enthrall the audience and art lovers in the State and outside through their amazing performances of Thang-Ta and acrobatic shows. We receive good feedbacks and acknowledgement from many parts of the country for our endeavour towards promoting indigenous performing art", she said.
Initially, it was an uphill task when she managed to set up the art school. Some ridiculed and discouraged her in the effort of setting up the school saying her effort would be a fruitless. With some financial assistance extended by her husband for purchasing the costumes/outfits of the students and the contribution from the students for procuring equipment required for Thang-Ta performances, the training school was set up and began its activities.
The training school has been recognized by the Ministry of culture, Government of India and is receiving annual grant from the Ministry.  My training school receives many invitations from various organizations of both outside and inside the State for showing performance.
NEW ADDITION
"These days, our audience get bored in watching only Thang-Ta performance. Inclusion of acrobatic performance in the syllabus of my training school can give our audience a new taste of entertainment. Acrobatic part is a challenging task taken up by my school. My boys and girls in the school, sometimes, suffer injuries accidentally while training and showing performance", Thaba said.
When asked if her age was a problem, the 51-year-old lady said that she faced some health issues like muscle strain and flexibility because of growing age. However, she has been able to revive most of her energy and vigour after continuous practice.
 "I can now overcome three or four young women in real fight alone", she freaked out and then smiled.