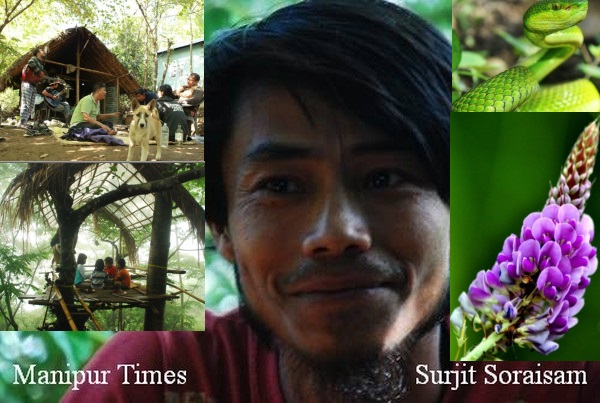 Four like-minded people started the venture of saving a forest. Preserving, nurturing and preventing the matured trees from forest fires. Now the forest is breathing with life. The branches are shouldering the aesthetic looks. There are fruit bearing as well as shade giving trees.
Once you enter the Punshilok forest area, the calm soothing environment gives a peaceful mind set and your tired walk regains strength as you thread by to explore the beauty of the fallen leaves or the yellow bamboo stem in Punshilok.
And as you walk up the Punshilok hill located at Langol hill range, Imphal West you would hardly find a matured tree growing at the foot hill. The phenomenon dates back to a decade where the entire trees were chopped down for domestic use.
At the onset, we paid Rs 2000 each to one Itocha and Joykumar for owning the hill range during 22nd April, 2002. That time, i came back from Bangalore after attending the Roger Water Concert says 41 year old Loya from Uripok Khaidem Leikai who leaded the venture and stayed almost 5 years in gap at the forest dedicating for a bounty growth of trees and plants.
Post-concert feeling was like, I have seen the world, so I climb up the hills and stayed there nurturing the tree saplings, we planted. My friends do not know that I was staying at Punshilok despite knowing that I am at one of the hill range in Langol. After some time they found me. I have dedicated all my time in the forest.
Our first general body meeting was conducted on 26th Jan 2003. For three years I stayed at the hill looking after the trees and Malemnganba a junior joined me for two years, unfortunately he passed away. His short stay for two years was a great help. We both work hard at the forest planting, watering and nurturing the plants.
Lamabam Kiran, RK Roze, Irom Nilakanta, Stallone, Laishram Dickson, Birchandra, Thiyam Chaoba and many others have given their dedication and great efforts in making the voluntary forest conservation and preservation a success so far.
The first shelter home at Punshilok was a 7 feet house. Now it has a good shelter home where far off visitors can stay at the time of inconvenience and volunteers can rest after hard work in the forest.
WAHPS has a 20 member committee including three ladies at present. From time to time lots of activities are conducted. MMTA has done their tracking chapter; Royal Riders have come to plant tree saplings twice so far. Lions club celebrated their World Environment day here.
From time to time it has picked up potential visitors including foreign national. American citizens Brandy Walker booked her ticket and celebrated her birthday at Punshilok recently. The charm of Punshilok captivated her the last times she visited the place. She expressed her wishes in becoming a Buddhist .
WHAPS members explore many places in Manipur specially the hills to collect tree saplings for plantation. Stallone a photographer has collected many rare species of birds, snakes and other insects thriving in the forest area seasonally and un seasonally.
I felt like the hill is my conceived baby says Loya. We carry rice bag at our back in the beginning. Now I am 41. Junior volunteers started helping us and we are having a momentum.
WAHPS - trees and flowers
Fire Line
In November our volunteers and members camp and make fire line. We wipe out green vegetation surrounding the forest in its entire corner and when the shrubs got dried we burnt them in order to protect the forest from fire.
We have experience Forest Fire twice in the last 11 years, where everything got burnt in 50 minutes. It was like a running river of fire says Loya.
Umang Lai
We sometimes felt that Umang Lai and the association with Umang (jungle) have its significant as Umang has the natural charm and peaceful calmness.
We don't say anything to the visitors, the forest only motivates them. The essence of planting trees is very much there. People realises that plantation is good when they come to Punshilok.
Some unique part of the forest plantation is that the ground is well maintained where one can sit around for resting. It is being maintained by a salaried forest keeper who puts up at the site nurturing the trees and safeguarding it from any miscreants who might chop down the trees at their will.
Flowers ranging from Orchid to various leafy decorative ones are grown which adds aesthetic value to the site. The spring water is as lively as it flows continuously. Tapping of the same water in a 4 feet drum for visitors to use the water is another feature of Punshi Lok.
From atop Punshi Lok one can have a Panaromic view of the Imphal Valley which is best when one watches during night time with sparkling electricity.
WAHPS - trekking and camping
When one reaches the hill top the place seem roofed with green leaves atop and floored with red soil. It is indeed a beauty when one sees the branches of the tree spread in different shapes.  More beautiful is the site where one sees the tubular Bamboos standing congested green with sharp leaves swaying as the wind blows.
One finds it more interesting to walk up a more spacious place atop the Punshi Lok Ching. The area is under plantation with small saplings making their way. At present the yellow shrubs are taller than the saplings and the sensation to the legs and body when one tries to make way to the top of the hill passing the shrubs is even more fascinating.
A small thatched hut to shelter from heat and rain is made with a sitting bench to rest by for the climbers. It is indeed peaceful to sit and watch the landscape from atop the Northern peak of Punshi Lok .
More amazing is a small local made sitting pattern attached to a growing tree in the Eastern edge of Punshi Lok where one feels open to the vast sky ready to get a glimpse of the breath taking view of the Imphal Valley.
One feels very close to the nature when one walk through Punshi  Lok. The place is not at a very high altitude, the path is not stiff.   As you walk by to reach the protected forest you would hardly imagine that a treasure full of well-groomed trees might stand tall in a more or less plain like red surface area.
WAHPS - Dedicated Members
Fallen leaves, variety of wood textures, different leaf pattern, thick rubber plant leaves, and yellow bamboos, varieties of decorative plants, palm trees, cactus, flowers and medicinal value plants are grown abundantly in the (area measurement needed here.)
Deer use to roam the thick bushes in the night says the old man who stays at Punshi Lok. He has seen many other small animals that he can't name. The old man use to roam around watching the trees and fencing the entrance. Sometimes he allowed villagers to collect worn out twigs for their daily need. 
His presence has prevented many loses and the old man plays a great role in preserving the forest. He is no doubt the keeper of Punshi Lok forest area. He is being paid every month by WASP members. This man believes in simple living he collects vegetables including mushroom from the vast forest area. If he hunt down eatable vegetables grown wild in the forest area he
Loya feels that the trees are his own children. This man has witnessed the growth of the nature. The hill top was barren, but over the period of time it turns out to be green and thick with branches and leaves everywhere.
Loya runs a family business in Pharmaceuticals for a living. Now WHAPS has a committee. It has its set of rules. The group discusses about preserving the forest and they felt that as the forest grew there is a lot of homework left to be done. Since they have caught people's attention and as the number of visitors including foreign nationals have come down to explore the amazing beauty of Punshi Lok. Visitor's directory, a small house where visitors can stay the night and a kitchen run by the forest keeper are some of the facility Punshi Lok has now so far. Lamabam Kiran Kumar is the present acting president of WHAPS and his active role has earned much success too.
With the kind of natural bounty Punshi Lok has and the kind of spacing where one can walk through for a quick exploration the place has become a favourite of many. Birds find a nice place to nest around. Rodents make their way. There is a lot of peace.
It could be a Sunday trip for many. A healthy climb not far away from the main town.  A living example of youthful energy that have made this forest possible. A dedicated and earnest effort from a group of enthusiastic who have spent their youthful time and energy in a good cause like planting trees in a far off land from their home climbing the hills making a ring fence from forest fires.  The sense of friendship in planting trees for a healthy environment, the passion in them in the adventurous venture has reaped a grand success today. 
Punshi Lok has become a living example of preserving forest through a voluntary approach. There are so many things people living in the region can do. Our hills if nurtured could be a transforming one. With the opening of doorway to the South East Asian Highways, Manipur is definitely becoming a destination or a stoppage point in the near future.
Ecological entrepreneurship like an Eco 5 star hotels could be a turning point as Myanmar is a tropical region with high temperature and mainland India has the same kind of heat waves.
In future eco hotels is promising one as is in practice in countries like Japan. It needs time and effort like Punshi Lok has a development history of above ten years.
Chopping down can pocket few earnings but growing up can multiply the earnings and it's the matter of time. We do not teach our visitors the forest motivates them. 
Now WAHPS has new activity of meditation where people come and practice meditation from time to time. One may join the Facebook Group WAHPS and find more information on Camping and plan for a mediation session at Punsilok.