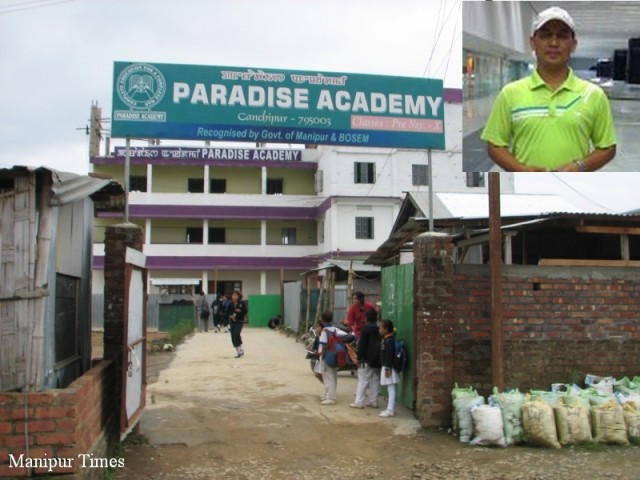 It won't be wrong to say that men build up strength, determination and will power from the hardships, miseries and failures of life. Lourembam Rameshwar Meitei of Kyamgei Mamang Leikai is one among such lucky people who have gathered strength from hardships, and guided himself to a successful life.
As a student, Rameshwar could afford to pay school fees. As a youth, Rameshwar didn't enjoy his life but ran a pan dukan to support his family. But as an adult, he is now one of the founders of a private school and a proud owner of a furniture showroom.
"Determination and will power is the only weapon to get hold of success in life", said Rameshwar. He started his business journey from a pan dukan with an investment of Rs 5000. Rameshwar not only owns a furniture house at Canchipur Bazar, but also a founder member of the Paradise Academy, Canchipur.
Rameshwar (Rame as called by friends) was born to Lourembam Iboton Meitei and Lourembam Ongbi Memcha as eldest of four siblings.
"My father was an alcoholic, and we were brought up by our mother who was running vegetable vendor at Canchi Bazar. I had a good academic record till Class X. I stood 1strank among 150 students at Ideal High School, Kyamgei. But I was about to drop Class-X pre-board exam due to non-clearance of school fees. I still remember the day my school teachers came to my house and consoled me, thus got the chance to appear in Class-X board exam. Since then, I always thought of opening a school where my poor and needy locals could enjoy their educational life. Thus with an objective to provide education facility to poor and needy people, I along with some of my friends as founder members started The Paradise Academy at Canchipur two years back", narrated Rameshwar.
Now the present strength is 700 students.
Rameshwar said,"There are many parents who can't even afford to buy books for their children but have a wish to send their children to private schools. The school offers helping hand to such people as much as it can."
Coming back to his personal career – due to poverty and family responsibility as an eldest son, he could not give much attention to his educational career. He never gave up study and completed graduation from Imphal College. He started taking tuitions since school days to support his family financially.
His business career started when he was in Class XII. He received Rs. 5000 from a 'marup' (a local money saving group).
"With that amount I opened a pan dukan. At that time, I was selling items marketed from Moreh", recalled Rame.
Then after around one year, he changed his business to books. He ran a book store for around 4 to 5 years, and then turned to contract works for around 4 years.
Now he runs a furniture house at Canchi Bazar employing 12 persons. The items comprise of local, Indian and China furniture.
"My dream is to open the biggest furniture showroom in Manipur keeping the target customer as poor and middle class people. Two showrooms are opening shortly, one at Moirangkhom and another at Thoubal. The product rates will be fixed at affordable range of poor people since they are the sections in the society who are greatly affected by ever increasing dowry. I have many poor and needy friends, so I have witnessed the pains and hardships faced by them during marriage of their daughters, sisters and relatives. So, to minimize the hardship, I have started a 'marup' for the people of my locality. I let them contribute some amount every month and deliver the furniture items at cheaper rates helping both locality and my business", Rame said.
Though Rame was born and brought up in a poor family, and had faced ups and downs in life on several occasions, he never thought that he was struggling as he said, " I never took care of obstacles that came to my way, I just kept on going till today,. I firmly believe in will power and determination".
36 years old Rame is a teetotaller and Chamthong (a Manipuri dish) is his favourite dish and do not take meat.
Interestingly, he told Manipur Times that he is lucky as a businessman. He never faced loss, but always enjoyed success and progress only in his business voyage from pan dukan to furniture house.