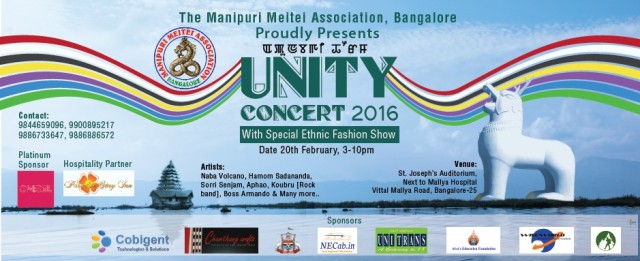 The Manipuri Meitei Association, Bangalore (MMAB), is organizing a musical bonanza
"UNITY CONCERT" on February 20, 2016 at St. Joseph Auditorium, Next to Mallya
Hospital, Vittal Mallya Road, Bangalore. MMAB has always stood for Unity and
peaceful, happy co-existence with everyone, firmly upholding our beautiful culture.
The Unity Concert 2016 is being organized with this motive in mind, to bring the
Manipuri Diaspora in Bangalore together, to develop a sense of belongingness, to
create a homely atmosphere away from home. The Unity here has multiple facets and
meanings – We have got renowned artists like Naba Volcano, Sadananda, Sorri, Aphao
and many more who will come down all the way from home and also the artists who
have settled here in Bangalore, it's about the Unity of all the north eastern brothers and
sisters in Bangalore with the people of Karnataka who have warmly welcomed us and
gave us a second home.
Manipuri Meitei Association, Bangalore; an apex organization for Manipuris in
Karnataka. Registered in year 1996 under the Karnataka Societies Registration Act,
1960.