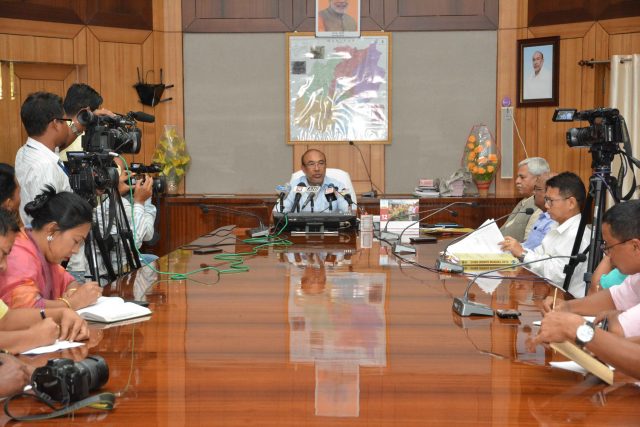 Imphal, October 08, 2107 (DIPR): As promised by the new BJP-led government that the State would witness good networks of roads soon, Chief Minister Shri N. Biren Singh today announced that the government gave its nod to take for the improvement and repairing of various roads under the "Emergency Work" during 2017 as provided in the Central Public Works Department (CPWD) Works manual as one-time measure as an immediate step.
Addressing a press conference held at Chief Minister's Secretariat today, Chief Minister asserted that several potholes had been mended and repaired however, incessant rain and floods over the past few months has resulted the damaged of such repaired roads. Soon after the withdrawal of monsoon in the State, the PWD has started repairing works of various roads across the State, he added.
To ensure that quality is being maintained while constructing of roads, Chief Minister said that a Whatsapp group has been created with Chief Minister, Chief Engineer PWD and other officials of the department as its members. Chief Minister appealed that if one suspects that quality is being compromised in constructing/repairing the roads, then people can lodge their complaint/grievances to the Grievance Cell or Anti-Corruption Cell or directly to the Chief Engineer (PWD).
Chief Minister stressed that in the last six months of the new government, the government has tried its level best to fulfil several basic requirements and aspirations of the people of the State. The government gave its priority to have good road communications connecting to the District Headquarters and other parts of the state, he added.
Chief Minister said that the Government welcomes any positive criticism or suggestions to have better governance and development in the State. He further stated that a Bhoomi Puja would be performed for the construction of two new bridges above the Barak River and Makru River at Barak on 12th October, 2017. On the occasion, he would be inspecting the road conditions of the National Highway, he added.
Stating the significance of "Imphal Evenings" in the trouble torn State like Manipur, Shri N. Biren Singh said that a review meeting was conducted for the regulation of road traffic, electrification, vehicles parking etc. in consultation with the Traffic Police and other departments for the smooth functioning and for a better and more beautiful Imphal Evenings. Seeking people's co-operation and support to make Imphal Evenings successful, he appealed the people to avoid throwing garbage on road and not litter around the area. Chief Minister expressed his happiness that people have civic sense towards making clean city.
Chief Secretary Shri R.R Rashmi, Addl. Chief Secretary Dr. J. Suresh Babu, Chief Engineer Shri Kh. Temba and officials of PWD attended the press conference.