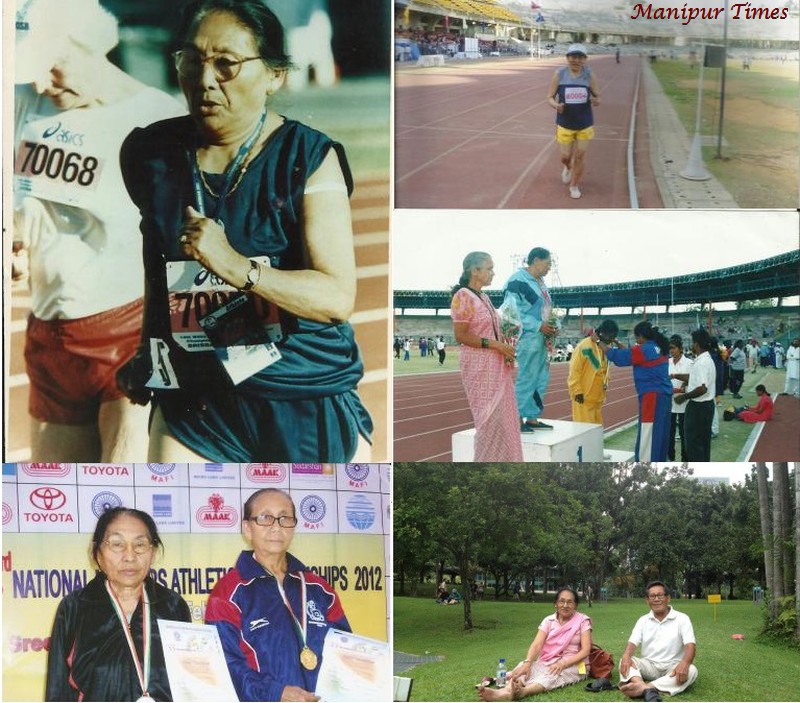 Source: FindingTheVoices.com
Age and health is not a barrier if one has the love and determination for something. An 80 year old woman participating in Marathon might sound unreal.  But Samurailatpam Sanahanbi Devi, a retired lecturer, Botany, ex principal, D. M. college commerce after battling rectal cancer still continues to run.
Ojha Sanahanbi is a cancer survivor, veteran athlete, social worker and social activist hailing from Singjamei Thongam Leikai,Imphal. She served as vice president of Manipur Veteran Athletic welfare association. She was also Ex O.C of Junior girls, NCC group, head quarter Imphal
Sanahanbi is the eldest of eleven siblings and she was fond of games and sports since childhood. She never hesitated to participate in any track and field events while she was in school and Pre– University. In 1950s and 60s, very few women participated in games and sports but Sanahanbi was a sports enthusiast.
Her love for sports never died till old age. She participated in half marathon; 21kms at the Asian veteran sports championship held in China and won a gold medal. She participated in a similar event in South Korea and there too she won a medal. She stood 4th position in 41 km full marathon at the world veteran championship held in Brisbane, Australia completing the marathon in approx 5hrs.  At the 33rdnational master's athletic championship Bengalaru, she won silver medal in 800m and 1500m in 80 plus category. After a year in 2013 in the same event, held from June 27th to 1st July, she won gold medal in 800 m and a bronze in 400m respectively. The sports committee in Manipur initially rejected her application due to her health status but finally gave in when she finished first at the selection run.  The boundless joy, excitement and encouragement of people that day were her best achievement ever. So far she has achieved more than thirty medals in various events. She was also ex president of cricket club organized by G.P college students union
Sanahanbi shares her story of how she was initially misdiagnosed in Manipur when she went to consult doctors about her illness. There was no thorough check up and she was prescribed the medicines for piles. Later in Delhi, after further examination when her health deteriorated, she found out that she was suffering from colon cancer.  She immediately underwent a surgery at All India Institute of Medical Sciences, Delhi. The surgery took nearly 4 hrs but by the grace of God, she emerged as a survivor from the entire trauma. She was never worried once about her illness and assured her family that all will be well and requested them that if she did not make it after surgery, to perform her last rites at Brindavan, Mathura.
Being a liberal mother, she does not differentiate anybody on the basis of religion, caste creed and social status. Though a Brahmin she has a broad outlook on diversity and mixed marriages, love and relationships. She was awarded Best mother 2002 in Manipur for her ideology of a happy family. According to her, a happy family is the result of love and affection, helping one another, healthy life and a maintaining a good relationship with others in the society.
After retirement Sanahanbi actively participated in many civil organizations and social issues. She is an executive member of senior citizens for society, ex-vice president of all Manipur Nupi Marup, advisor in all Manipur social reformation and development for women, advisor, Bal Vidhya Mandir, advisor, all Manipur State Pensioners Association and president of Meira Paibi Nupi Yaipha Lup. Sanahanbi feels that Manipur is one of the best places to live due to its demographic and climatic conditions. But the law and order problems, social unstable issues, unemployment problems and many other issues like water, electricity, price hike etc. always act as a major setback in the development process of our state. She feels extremely upset with AFPSA, the draconian law which still persist in Manipur despite repeated appeals and year's long fight.
As a social activist she also participated in various dharnas outside Manipur. The Delhi gang rape case dharna in December 2012, hunger strike of Anna Hazare about corruption at ram Lila Maidan.
Till date she has donated some of her pension money  to the sufferers of tsunami, earthquakes and flood victims, children's home and cancer patients.
Original Podcast is available at Finding the Voices by Monica Ingudam Episode 23