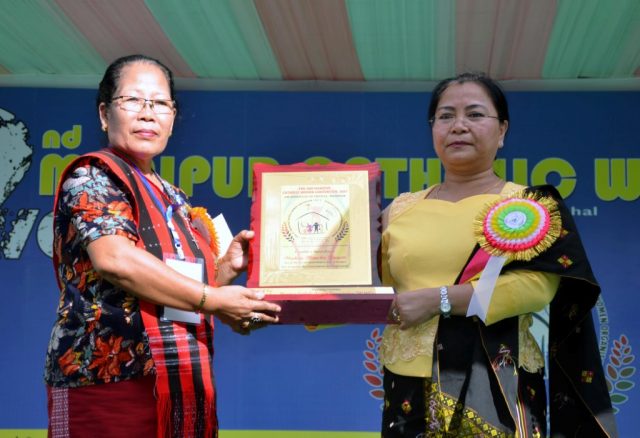 Imphal, OCTOBER 1, 2017 (DIPR): On Day-2 of the 2nd Manipur Catholic Women Convention 2017, Social Welfare and Cooperation Minister Smt Nemcha Kipgen stresses that the chosen theme "Women in the Family, Church and Society" is an extremely relevant one as women of today is the epitome of developed society.
While delivering a speech as Chief Guest, Minister Nemcha expressed that as the lone Woman Minister in the present Government in the State, she felt deeply connected and privilege to be among all the women delegates of today's function.
She continued, women need the attention of one and all, especially in order to push forward our goals to improve the family as much as the Church and our society. There is a common saying – "If you educate a daughter, you educate an entire family," she added.
Social Welfare Minister Nemcha asserted that there is a strong need to acknowledge the importance of the pivotal role played by women in the formation, upbringing and establishment of the family and the society as much as in the Church.
The function was also attended by Most Reverend Dominic Lumon, D.D, Archbishop – Archdiocese of Imphal, Rt. Rev. Gerald Almeida, Chairman of Justice and Peace Commission, Catholic Bishops' Council of India, Fr. Louis Pallikunnel, General Convenor of the 2nd Manipur Catholic Women Convention 2017, and Ms. Ts. Shelvi Monsang, President, Manipur Catholic Women Organisation. (DIPR)