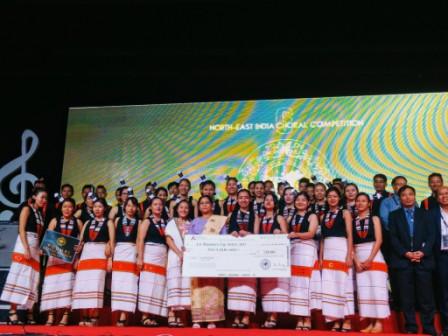 New Delhi, November 5, 2017 (DIPR): Women plays a pivotal role in all spheres of life, be it at home, participation at religious activities or in professional life, stated Social Welfare and Cooperation Minister Smt Nemcha Kipgen while addressing the gatherings as Chief Guest at the evening session of the 6th North East India Choral Competition held at Thyagaraj Stadium, INA Colony, New Delhi which was held on the 4th of this month.
"The role of women in the establishment of a strong and stable society is very vital and the contribution of women is often that of the role played by the corner-stone in the foundation of the house," she expressed.
Minister lauded all the participants especially women participants who participated in this competition as she felt without women, the Church and the home will be half empty. The women singers have stood on equal footing on this competition which makes us extremely proud of them, Nemcha asserted.
Highlighting the theme of the competition -"Togetherness," Social Welfare Minister Nemcha Kipgen urged all the people to come together as one despite the fact that different languages are spoken or hail from different – tribes, communities and from different states. She also expressed optimism that such competition will not just brings together huge number of talented participants and delegates from various churches to showcase their talents but will truly exhibit oneness among diverse ethnic groups and will enrich the participants as well as the audience spiritually.
The 6th North East India Choral Competition was organized by Tangkhul Christian Charitable Trust (TCCT), Delhi. Altogether 9 (nine) choir groups from different parts of North-eastern states competed for the coveted title.
Minister Nemcha gave away the prize to the winner of the 6th North East Choral Competition to Independent Church of India with a cash award of 3 Lac rupees, followed by the 1st Runner-up spot won by the Poumai Baptist Church, Delhi and 2nd Runner-up spot was won by the Tangkhul Church, Delhi. (DIPR)