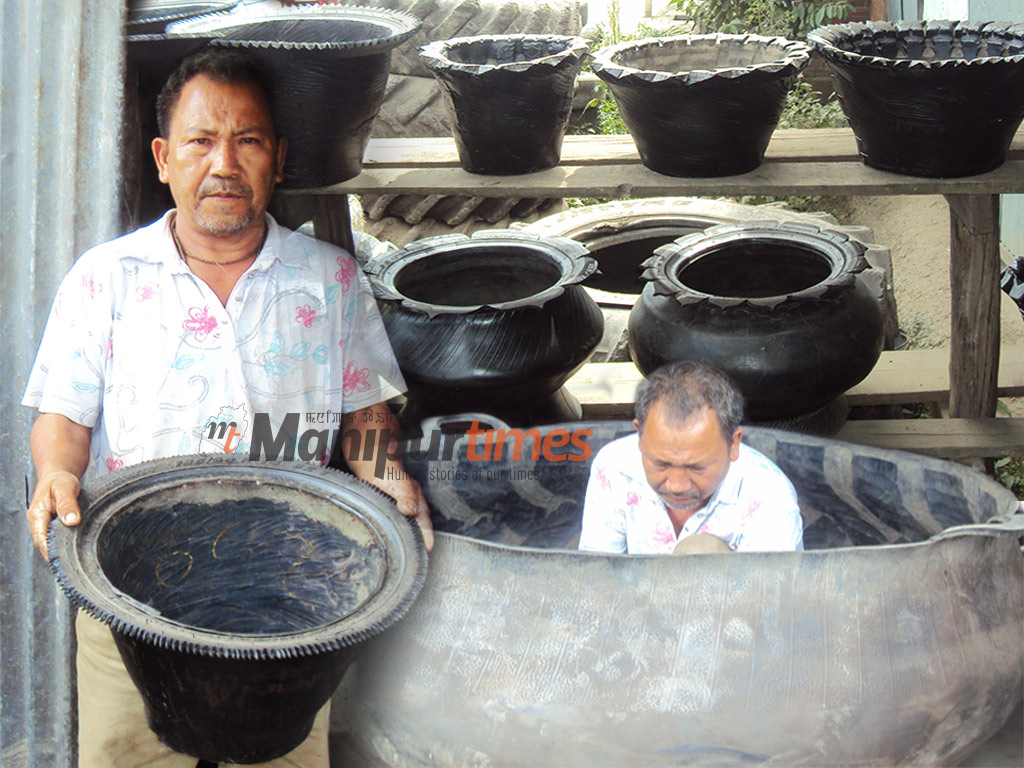 By Rajachandra Mutum
Yaikhom Shamu has been earning livelihood through making various types of household items from worn-out tyres. He generally makes items like bucket, chair, dustbin, pot, vase, khudeng (tub) etc.
Located at Khurai in Imphal East district, his workshop sells a bucket at Rs80  to Rs150, chair at Rs100 to Rs250, dustbin  at Rs400 to Rs500, pot at Rs700 to Rs850, vase at Rs250 to Rs300,  khudeng at Rs800 to Rs1100.
57-year-old Yaikhom Shamu Singh, son of  late Yaikhom Tomba and Yaikhom ongbi Nupimacha Devi hailing from Khurai Thangjam Leikai, Imphal East is the fifth son among seven siblings in the family. Since 1972, he has been maintaining his family by running a tyre workshop which repairs and fits punctured tyres. He charges Rs5 for tyre fitting and could earn Rs3000 to Rs5000 per month. Since his childhood, Shamu aspired to be a craftsman. The monthly meagre income earned through his tyre workshop was not sufficient for family maintenance.
So Shamu charted out a new plan to promote his tyre business. In 2005, he started making different types of tyre-made items such as bucket, pot, dustbin, water container and so on to attract the customers. He could earn a good profit from this business.
Hardship Days
Sharing his hardship days of life, Shamu told Manipur Times, "My family suffered the extreme poverty during the days when I was in the hospital due to a serious BP stroke. I am the sole bread earner in the family. For the last 30 years, I have been maintaining my family with the income from this tyre workshop. How can a family run when the bread earner was lying in hospital bed? I did not want to die because of my children and prayed to God several times to spare my life. My family suffered extreme poverty in making up the expenses lost in my medical treatment. Although I was recovering from the ordeal after some time, I could not work for many months".
Back to Business
Upon recovering from his illness, Shamu again focused on his tyre business. He worked day and night to repay all the debts. Now, he has been able to repay all the debts.
In Shamu's tyre workshop, about three men who are well experienced in making and designing of tyre made items are working. For necessary raw-materials, used tyres are collected from the local tyre workshops. Used tyres of heavy vehicles like truck, bus, jeep, van, 407 Tata truck, Tata Magic van, canter are the best raw materials for making the tyre-made items. These worn out tyres of the vehicles are collected from the tyre workshops or vehicle owners at the rate of Rs250, Rs90 to Rs150, Rs40 to Rs50, Rs15 to Rs30 according to their sizes and quality.
His items receive high demand from the customers living inside and outside the state. However, his workshop cannot meet the public demand on time due to lack of skilled workers. These tyre made products are sold out to the local markets. Demand for supply of the products comes from Thailand.
"According to costumers' demand and choice, different designs of tyre made items are made. When a customer asks for a tyre bucket, we instantly make it for them. We never leave our costumers empty handed. As for the present, I can earn a turnover of Rs30000 to Rs50000 per month through this tyre business with which I can easily maintain my family and expenses of children's education and the contribution to my local development works also," said he.
Shamu studied only up to class II. Instead of attending school, he started helping his poor parents in family maintenance right from his young age.
He has a big plan to expand his work-shed but he is so worried that his dream would not be materialized because of road expansion in the area. Eviction for road construction will affect the area of his work-shed building.
Trainees are welcomed
Shamu said that his workshop always welcomes those who wish to adopt making tyre made products as a profession.
"I will continue this tyre works till death as making tyre items is my passion. Moreover, I have no expertise in other field except this business.  Our youth, instead of looking for only white collar jobs, need to come out as an entrepreneur. Scope of white collar job is now very limited in the state because of restriction on recruitment of employees in many Government departments except home, medical and education. In such a situation, our youths require to cultivate work culture so that they can architect their own fate.