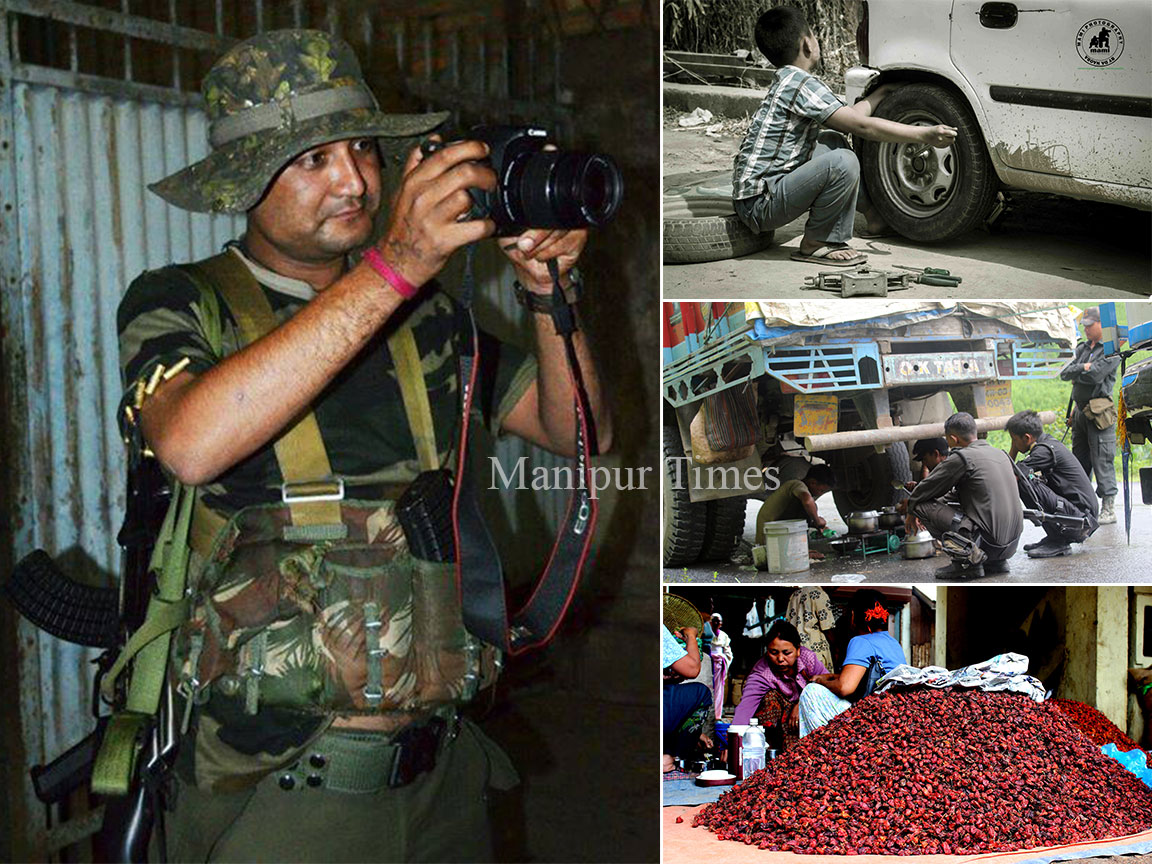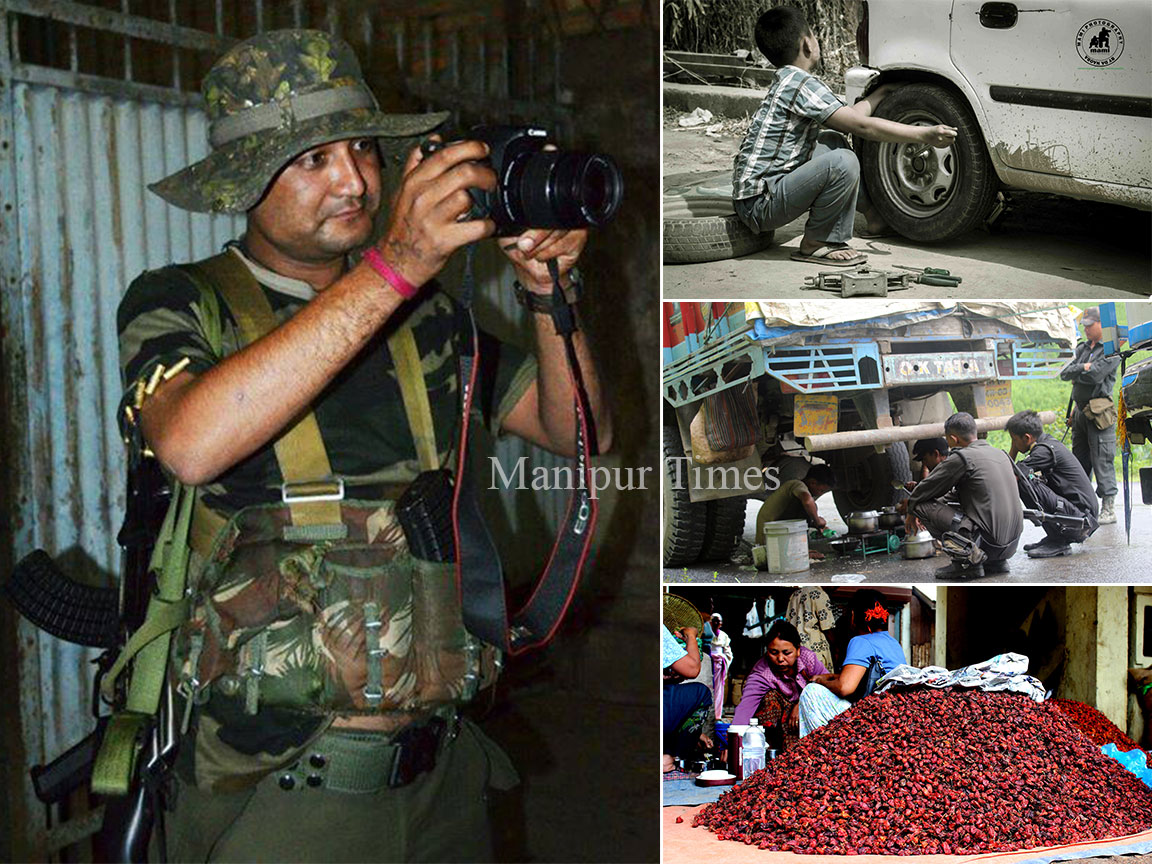 Ajoy Moirangthem (Da Naoba) is a rifleman with 7 IRB, Manipur. He is a resident of Khagempalli Pankha Nganapithong Mapan. Born to M. Bijoy Singh, he is a passionate photographer who self-learns from fellow photographer in clicking snaps with DSLR Camera. His photography highlights social life mostly. Some of the story he wants to share with us in an interaction delves into what photographers are up to. Well let's have a look into what the story has in store for us.
"Earlier I started clicking photos with Yassica camera popularly used at one time in Manipur. 
I also start clicking photo with my Nokia C – 6 mobile and upload it on Facebook. I met Devendra Hijam who is a senior photographer. He also used to upload pictures at Facebook. I was addicted then.
Earlier I was doing photography as hobby. Nowadays I urge for two three special shots on a day. I started clicking vegetables at my garden and even tips of the grasses in the beginning days for my facebook upload.
Then I join Manipur Photography Club on Facebook as an online member getting exposed to pictures of dedicated photographers.  I also join and met different photographers when I become an active member of the club.
I wanted a digital camera. I first bought a 60 D Canon Company Camera. Before, I was using my brother's 60 D DSLR Camera occasionally.
We went for a photo shot at Kanglatombi and my camera gotdip in the water that day as I was careless. Then I bought a 7 D which I am using till now.
Whenever I went to Nungba on my police duty I carried all my camera equipment and laptop. Wherever I go I always carry camera now.
In Manipur I have gone to Tamenglong, Jiribam, Kotha, Indo Myanmar Border, etc for my photo collection", expressed an enthusiastic Naoba.
Social life photography
"Less people shoot social life. I like candid shot so I get to click social life. I have to travel and search to click for social life theme photos.
I take picture first and approach my subject for his or her details in all my social life clicks so far.
When people see my photo people realize that there are such determined individuals and they got motivated.
Yet there are times when people heard story of courageously hard working women but could not actually see them. When they saw the hero and if it is through my lens, I feel like I am serving the people so it is really an exciting and engaging theme like Social Life Photography.
 I need to wait and shot. Once I was going to my office for an urgent task. I came across my subject but I have to wait for a good click. It took me half an hour and I realized I have missed my task at my office. At times photography is really absorbing", says Naoba.
Award and Recognition
Naoba is a winner of people's choice award at 'Finding the Voices photo contest during Yaoshang festival 2014. He got a 16 GB pen drive as an encouragement prize from the media house.
During Indo Myanmar border fencing issue some officials hired me and my photo was sent to the Prime Minister's office and I felt happy as I have contributed for my State through my photo . I shot at an International Business Conference held in Kolkata. A local participant hired me with to and fro air ticket and stay.
Contacts
"People contacted through Facebook for photo shoot. I have less interest in model shoot and it is not my subject. I also shoot event. Presently I am the general secretary of Manipur Photography Society an organization of photographers and wherever our society serve as media partner for an event I am always there to click the events like a fashion show, musical events and film release. Some of the events I have voluntary worked on for promotion of entertainment in the State are Red Carpet, Nongin Music Fest, KTM Stunt Show, Generax 2014 etc", expressed Naoba.
The other side of photography
"I have many unreleased photo and I want to bring them out in competition. I wish to go in certain areas of Manipur for my photo-shoot and one day I will travel. An elderly man suggested me that there is a place passing through Keinou of Bishenpur district where one can see 80 percent of the State from atop the hill. I am planning for a trip there and click the best snap.
From Photography I have no earning. I wish to buy certain equipment to develop photos for my own. I have spent a lot in photography as it is my passion and makes me happy", revealed Naoba.
Learnings
"I concern with Tiken Thokchom who advised me to learn by yourself. At first I was blurred with even my own camera settings. I watch u tube clicking my camera model and learn how to handle my camera. I started learning on my own and through field works. Clicking and getting wiser day by day was my type", says Naoba.
Photographers need to be promoted in Manipur.
"There are many photographers in contemporary society. Some people shoot model, some shoot insects, some follow wildlife, I have a friend insect he use micro lens and is crazy about collecting pictures about insects. One day he bought some sugar, drop on the floor and wait for ants to come for his shoots. Some photographers patiently wait for birds to sit on tree branches to get a click.
There is couple of fashion photographers in Manipur. One of my facebook friend with the Facebook id as lovesonlove uploads lots of social life photos through his lens. It is good to watch the clicks.
While I am on a Journey for my duty I felt like one of those discovery channel work out. I hang gun and camera at a time. I felt like i have to be alert and at the same time click photos while I travel for my duty", continued Naoba.