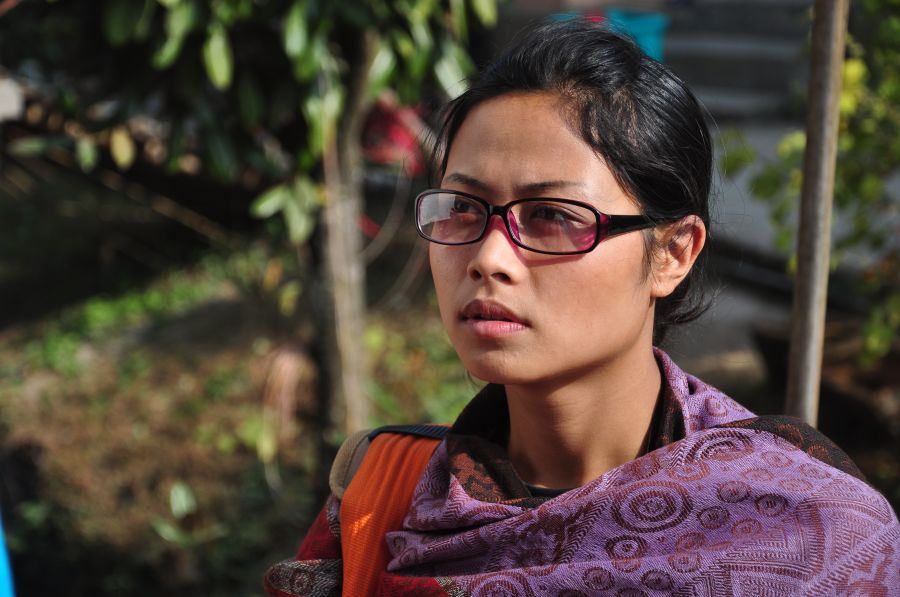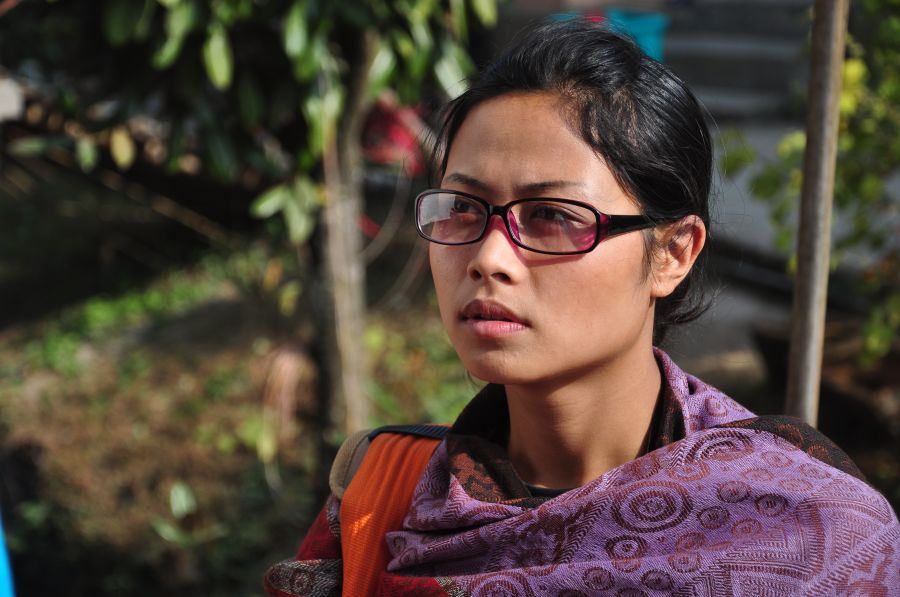 Since her childhood she wishes to enter into the film world. Following her dreams, she first tried to prove her mettle as an actress by acting in a film in a supporting role. But she could not perform as she thought. In fact, her first break in a film disheartened and disappointed her upto a large extent. At times, she even thought of giving a full stop to her pursuit of stardom. On the other hand, this self-depreciation and self-dejection later turned out to be a blessing in disguise and a perfect new beginning in her acting career. As it made her to put in extra efforts and time, she now easily surpasses others and now Tonthoingambi Leishangthem requires no introduction in the Manipur film industry.
Hailing from Chingkhu of Imphal East district, Tonthoi is not only a reigning star but also a proud daughter of Manipur who brought home laurels including the prestigious Silver Lotus Award (National Film Awards for Best Supporting Actress). Among others from different states, she is a new figure, who contributes to validate the vivacious existence and richness of regional language cinema at the national and international arena and its audience.
Today, cine audience feel that her acting speaks louder than dialogues. The character, the role, she has played and enacted in several Manipuri films are so exceptional, distinctive and well-accorded with the situations. Everybody is remembering her performance in Thoicha, Yaiphabee, Leipaklei and national award winning film Phijigee Mani.
While having a friendly tête-à-tête with the Manipur Times at her place, she said giggly, "As a child, I loved singing and dancing. And whenever I played with my friends, I always like posing like a star".
Tonthoi's childhood days were filled with lots of acting, dancing and singing. She dreamt of performing like those imaginations which she got from watching TV and wished a lot that if she could become a star like them. But it never happened till 2006 when she became the winner of Dawn 2006. The talent hunt show was organised by Bright Films. She said, "For me, Dawn 2006 was a gateway for my entrance into the film world". She added, "I don't know what I should say, whether it was a God's grace or my fate, but indeed it was merely like my dream coming true, it provided me a platform".
Tonthoi made her first appearance in silver screen as a supporting-actress in Nangna Thawaini, wherein she played the role of the main male protagonist's sister. After that she went on acting in films one after another. She has acted in more than 20 Manipuri films now. Tonthoi is currently spending her time at the sets of director Pari Khuman's film, Oktabi Natte. Tonthoi is portraying the role of a brave heart woman, who shoulders the heavy weight of economic burden of her family.
Lovingly known as Echantombi in her home, 26-year-old Tonthoi is a recipient of National Film Awardsfrom the Directorate of Film Festivals, India for 'Best Supporting Actress' (at 59th National Film Festival, 2011) for the Manipuri feature-film Phijigee Mani (directed by O Gautam). She also played the lead role of the film Leipaklei, directed by the renowned veteran film maker Aribam Syam Sharma. The film has also won the prestigious National Award for the Best Manipuri Film at the 60th National Film Festival 2012. Leipaklei was screened at Jeonju International Film Festival that was held at Jeonju, South Korea, besides other film festival held in India.
Facing the Real-life
Tonthoi's stardom was not achieved overnight. She has braved many unpleasant and complex situations to get hold of the current status. Like 'Leipaklei' flower, she struggled a lot to blossom as a popular actress in the Manipuri film industry. Even her family, especially her mother resisted her passion to act in films.
She said, "My first film was totally against my mother's will." She added, "She wanted me to go for the medical profession".And her other family members also pressed her to go to Pune, where her elders siblings were staying, to make a try in the medical entrance and pursue her graduation in Science along with it.
It was a dilemma to her, whether to follow her family's pressure or to follow her dream. But Thonthoi decided what her heart told her. She admitted herself in DM College of Commerce in Imphal. She herself paid the admission fees with the amount she saved in her piggy bank.
She said, "I knew that there's less possibility to get admission in the Commerce stream in a college outside the state as the cut-off marks were so high. So, I opted for this stream so that I can stay here and go after my passion"
Tonthoi's first film left her a bitter experience and disappointed her. She said, "I neither had any formal training on acting from an institute at that time nor I knew the film language and camera vocabulary. So, I was compelled to think that I would not be able to do it".
Tonthoi's hope began to spring when the director of her first film approached her for a lead role in Sakhenba Bhoot.But, she requested the director to give her some time to learn and get trained in the role. It was Bishwamitra, one among the phenomenon filmmakers from the state, where he liberally gave his affirmative response by stating, "It Okay! Take your time". Then Tonthoi hit the road towards the various learning avenues along with her Graduation and a diploma course in dance at JN Manipur Dance Academy.
After acting in some other films, she got a turning point in her career with the release of horror film Thoicha. Sheportrayedthe lead role doing a hard act to follow by enacting as a maiden permeated by a supernatural spirit scaring her audience with paranormal activities. She stated, "Many suggested me to think in-depth before I made my decision to act in the film. Even some persons suggested me to drop the offer because the role wasn't a normal one". She then maintained, "But my heart told me that I should go for it, and later it turned out to be a good turning point". The film earned runaway success and she also earned a good name and her popularity gained.
AWARDS AND ACHIEVEMENTS
Tonthoi has earned lot of accolades and awards in her chosen field. In 2010 she got Special Mentioned Awards in the State film festival for a bi-lingual film called Paokhum, directed by Bishwamitra Kwairakpam. She is also the winner of the Best Supporting Actress award in state film festival for Thasi Thanau, directed by Epu. And again in 2012, Film Academy Manipur declared her as the Actress of the Year.
Tonthoi is the youngest among five siblings, and she lives with her parents at Chingkhu of Imphal East district, Manipur. She is now a B Com Graduate. And, the times is an Indian summer for her, besides fame and fortune she has earned from her dedication in acting, the State Government is going to offer her a Government job, as a part of recognition and honouring those film personnel who brought laurels home.  She is one among the list from state film personnel, where the state cabinet decided to offer jobs. 
Photo Courtesy: 'Leipaklei and Crew'